One thing that makes affiliate marketing one of the best online business models out there is that you can start from nothing and grow your business to multiple six – to seven-figures per month.
How much you can earn in affiliate marketing is endless. However, to make serious money from affiliate marketing is going to require the following:
A good-looking website
Quality content
Lead capture page
Email marketing tools
Right product (preferably, high tickets)
Hard work, commitment, and above all patience.
How Much Money Do Affiliate Marketers Make?
Affiliate marketers can make anywhere between $100 to $10,000+ a month depending on various factors.
To break it down – a beginning affiliate can make anywhere from $0 to $1,000+ a month.
The best affiliate marketers are making well over $10,000 to $100,000+ a month.
And super affiliates are earning anywhere from $100,000 – $1m+ a month. 
 And most of these affiliates travel around the world while their sales funnels do all the heavy work for them.
So, how are they able to earn that kind of money?
Well, they're able to earn that kind of money because they continuously spend money on ads on social media sites like Facebook, Pinterest, Instagram, etc, to reach a wider audience and build a bigger email list.
They're also using podcasts, blogs, and YouTube to make money with affiliate marketing.
How Much Do Amazon Affiliate Marketers Make?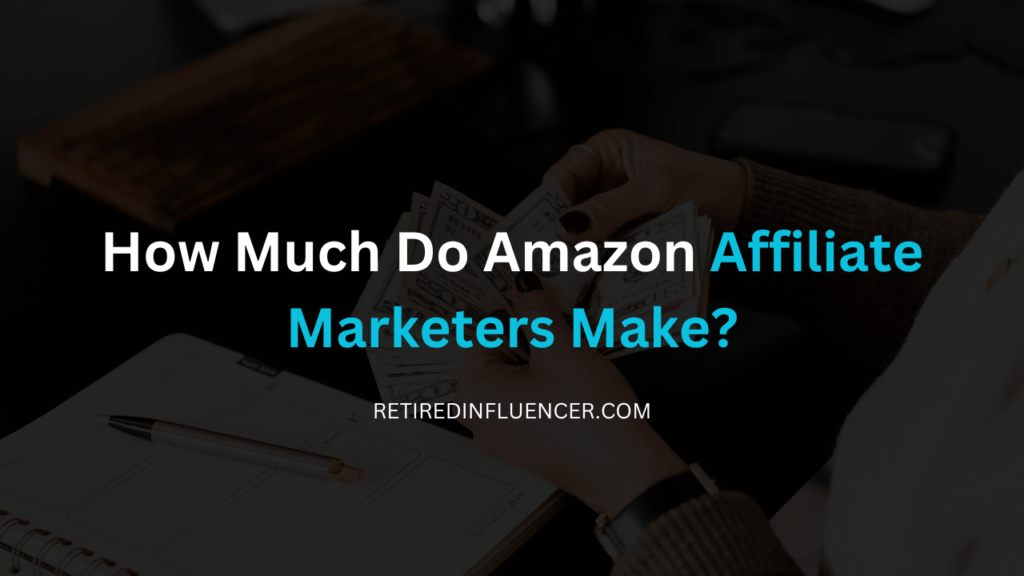 As an Amazon affiliate, also known as an Amazon associate, you can make an average of $1 to $200 for each sale you generate on Amazon.
Generally, depending on the product you sell or promote, the commission will vary.
And how many referrals you generate for Amazon.
For example, if you promote an Amazon product that costs $1,000 at a 5% commission range, then you're commission will be $50.
Amazon has a clear commission structure for all their product, I recommend looking at the commission rate of the product before promoting it.
NB: As an Amazon affiliate, your commissions are not paid out until the items being sold have been delivered.
How Do Affiliates Get Paid To Promote Products?
Affiliate marketers primarily get paid to promote products or services through affiliate programs or networks.
Companies or individuals who have a product or service to sell set up an affiliate program.
And allow affiliates (you) to sign up with the program as an affiliate and promote their products or services to your audience or followers.
And earn a commission for each sale, lead, or action generated through the affiliate (your) marketing effort.
The affiliate typically receives their commission (earnings) through various payment methods such as:
PayPal
Wire Transfer (bank transfer)
Check, etc
Depending on the program and its payment terms.
NB: Some affiliate programs or networks have a minimum payout threshold. 
The affiliate must earn or reach at least this amount before they can withdraw their earnings or request a payment.
Why? This is to ensure affiliates are actively promoting their product.
PS: I wrote another article where I break down different methods that affiliates get paid. Check it out.
How Much Should You Paid Affiliate Marketers?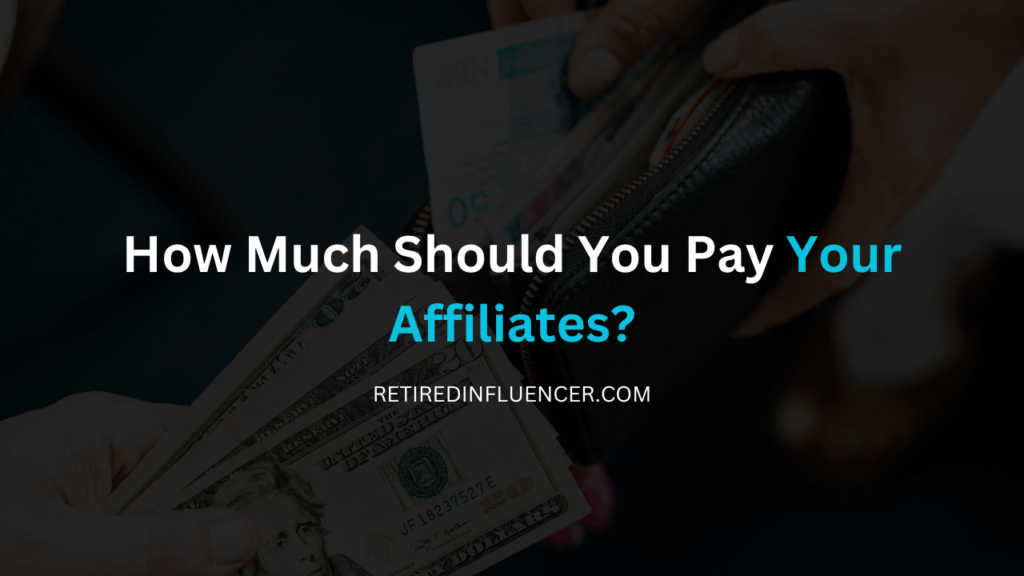 The commission rate you should pay affiliates in your affiliate program can vary depending on several different factors.
If you want my advice, I'd suggest you offer an attractive or competitive commission rate to motivate your affiliates to promote your product while ensuring your business remains profitable.
Or if possible you can seek advice from experienced affiliate marketers or consult with experts in your niche to help you make an informed decision about your product commission rate or structure.
Below are some considerations to help you determine the right commission rate you should pay your affiliates:
Industry Standards: Research the commission rates offered by your competitors or other affiliate programs in your industry. This can give you an idea of what commission rate is considered standard and competitive in your industry or niche.
Conversion Rate: If your product conversion rate is low, you might want to offer a higher commission rate to motivate or incentivize affiliates to promote your product or service.
Product Profit Margin: Consider the profit margin you have for each sale. If your product or service margin is relatively high, well, you may want to offer a higher commission rate. However, if your profit margin is low, you need to be more conservative with your commission structure.
Affiliate Effort: Consider the effort of your affiliates. If some of your affiliates are putting more effort into promoting your product and are sending more referrals to your product – you might consider offering them a higher commission rate as a reward for their loyalty and performance.
Average Order Value: If your products or services have a high average order value – you might want to offer a slightly lower commission rate while still providing your affiliates with a good earning potential.
What Are The 3 Main Types Of Affiliates?
The three (3) main types of affiliates are Publishers/Content affiliates, Coupon affiliates, and Influencer/Social media affiliates. Each of the three types of affiliates has its strengths and strategy they utilize.
However, some of the successful affiliates often combine the three elements to create a well-rounded approach that suits their ideal customer's needs and the niche they're in.
Publisher/Content Affiliate: These affiliates create content online through blog posts, articles, social media posts, videos, etc, and strategically place affiliate links within their content to promote products or services that earn them commission when their audience clicks on their affiliate links and makes a purchase.
Coupon Affiliates: These type of affiliate provides coupons, discounts, and special deals to their audience or to attract shoppers looking for the best deals. They earn a commission whenever customers use their affiliate link coupon to make a purchase.
Influencers/Social Media Affiliates: Influencer affiliates have a strong presence on social media platforms, and their recommendations can have a huge impact on their followers's purchasing decisions. They earn a commission whenever their followers use their unique affiliate links to buy their recommended products or services.
Recommended Reading: How To Sell Products As An Affiliate
Who Are The Highest Paid Affiliate Marketers?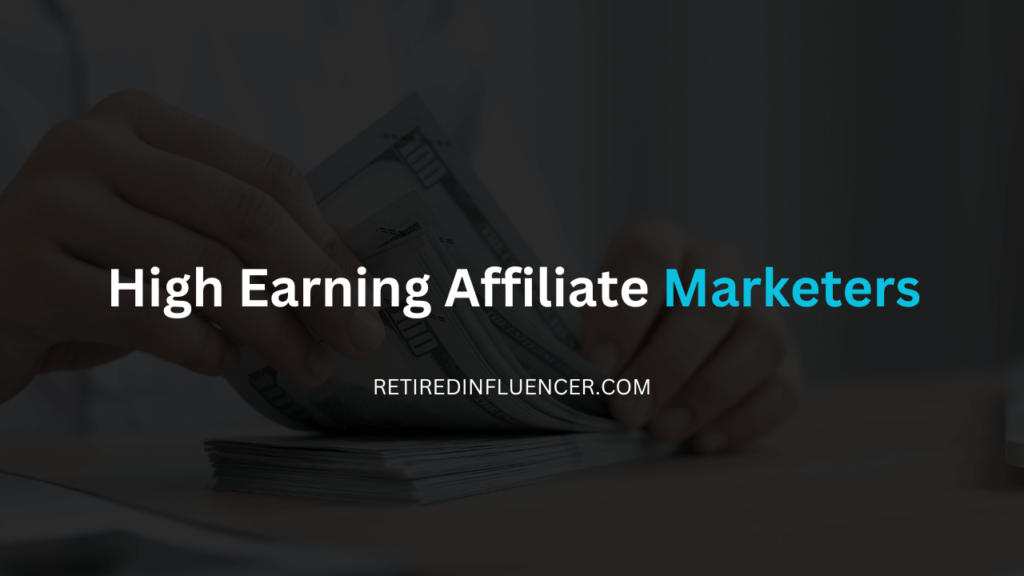 As the affiliate marketing industry is constantly changing, earnings can vary widely and can change over time.
It's very difficult to pinpoint who is the highest-paid affiliate marketer. 
However, some well-known affiliate marketers have achieved significant success and are earning a decent income in this industry.
Here is a list of high earning-affiliate marketers:
Pat Flynn
John Chow
Jeremy Shoemaker
Neil Petal
Affiliate Summit
Darren Rowse
Jason Stone
Nathan Lucas
Finch Sells
Rafael Zelik
Missy Ward
Lorenzo of Mr. Green
Mark Ling
Miles Beckler
Zack Johnson
Matthew Woodward
Shawn Collins
Ian Fernando
Hoffman
Kristy Mccubbin
John Crestani
Melinda Martin
David Sharpe
John Thornhill
FAQ!
What Is The Earning Potential For Affiliates?
The earning potential for affiliates can vary depending on a number of different factors such as the niche you're in, products being promoted, your target audience's purchasing power and interest in the product you're promoting, the commission structure of the affiliate program you join, and your marketing strategy.
However, some affiliates are able to earn a full-time income from their affiliate business, while others may only earn a few hundred dollars per month.
That said, it's important to choose programs that offer a high commission rate and also offer products that are in high demand and of good quality. Also, you need to focus on providing value.
CONCLUSION!
How much money can you make off affiliate marketing is not guaranteed and earnings can vary greatly.
Some affiliates may only earn a small income while some earn no money at all.
Whereas other affiliates may generate substantial full-time earnings or incomes.
However, the earnings of most affiliate marketers are based on several different factors. Here's an overview.
Every affiliate product offers a different commission rate or structure. 
Some affiliate products may offer a small percentage per sale while some may offer a substantial percentage.
Promoting low-commission products may lead to low profits. 
While, promoting high-commission products can lead to larger commission per sale, which can help increase your profits.
In affiliate marketing, not all niches are the same – some niches have higher-paying affiliate programs than others due to the demands or value of products or services being promoted.
For example, health & fitness, finance (make money online), and relations on (dating) niches often have products that offer higher commissions compared to other niches.
If you're in one of these niches, there is a high probability of earning higher income than other niches.
The Quality Of Your Content
Online, it's often said, content is king (and that's absolutely true) High-quality, valuable, relevant, and engaging content tends to attract more viewers and higher conversions, leading to increased earnings.
Audience Size And Engagement
The size of your audience (followers, subscribers) matters whether you'll make more money or not.
If you have larger followers or subscribers that engage with your content and products.
You'll likely earn more money as people see and take action on your affiliate links.
The number (percentage) of people (your audience, followers, or subscribers) that purchase your products or services after clicking on your affiliate links will highly affect your earnings.
A higher conversion rate often leads to a higher income.
In affiliate marketing, traffic is the lifeblood of your success, if you don't get traffic you won't make money.
The source of your traffic (organic traffic, social media, or paid ads) can highly impact your earnings.
High-quality, targeted, and relevant traffic tends to convert better.
Leveraging different marketing channels (like Blogs, YouTube, Social Media, Email, and Forums marketing) can increase your earnings drastically.
Experienced affiliate marketers who understand their ideal customers and their behavior. 
And know how to optimize their marketing strategy and stay informed about industry trends often earns more money in their business.
Recommending Reading: