When you are an affiliate marketer or just getting into affiliate marketing there is no doubt that you would want to know how do affiliates get paid and who actually pays them.
Affiliates get paid in numerous ways such as Cost-Per-Sale, Cost-Per-Lead, Cost-Per-Click, and Cost-Per-Action by promoting other people's products or services and have to do that using their affiliate links and if someone purchases the product or service through their links they get paid. 
These are the options affiliate get paid:
Cost Per Sale (CPS) 
This process is when the affiliate promotes other people's products to a customer and if a sale is made the product owner paid the affiliate a commission.
Cost Per Sale Affiliate Program:
ClickBank
ShareAsale
Cj Affiliate
JvZOO
Amazon
Cost Per Lead (CPL)
Cost per lead is when the advertiser paid the affiliate (that's you) for every sign up the affiliates send to his product.
Cost Per Lead (CPL) Affiliate Programs:
Zenox
Adcrimson
MyLead
PaySale
TopOffers
Cost Per Click (CPC)
This is where the affiliate partner with CPC campaign and show ads on his websites, and when someone clicks on the advertisement and visits the advertiser website, the affiliate gets paid.
In other words, you get paid for driving traffic to an individual or company website site.
Cost Per Click (CPC) Affiliate Network:
OfferMansion
TradeDoubler
Rakuten Marketing
Lemonads
Affmy
Cost Per Action (CPA)
The affiliate sends people to an advertisement and when they complete an action or a certain task, the affiliate gets paid.
Cost Per Action (CPA) Affiliate Network:
Max Bounty 
Peerfly
G4offers
ClickDealer
Performcb
Above are basic option affiliates get paid for promoting other people's products, most of the affiliate programs pay their affiliate via PayPal, Payoneer, and Direct Deposit.
Download our Affiliate marketing ebook for free to learn step-by-step how to build a 6-figure online business leveraging the power of affiliate marketing. DOWNLOAD HERE.
(Disclosure: This page contains affiliate links, meaning we receive a small commission if you decide to make a purchase through our links, which is no cost to you. This helps us to focus on delivering more content for you and others ) Thanks For Support!
Are Affiliate Networks Legit
Yes, affiliate networks are legit, there are people making extra money and a full-time income with affiliate network but it all depends on the one you are working with, is legit or not because there are tons of scam sites out there nowadays.
So when joining an affiliate network, I'll recommend you dive dip more before joining any affiliate networks.
Take time to check reviews, payment methods, and also check other bloggers or YouTubers that are promoting the same product and are making money with it.
When To Become An Affiliate?
The question is not when to become an affiliate, the question is do you reach the requirement to become an affiliate?
So what is the requirement…?
Great question…
The requirement is to first build an audience or followers that Know, Like, and Trust you and slowly offer your affiliate products to them.
 Why do you have to do that…?
This is simply, to have people that will be more likely to buy from you and also you don't want to drive people away from you with your affiliate offer.
You must do that gradually, gradually, and valuable until they start to know, like, and trust you.
How Do You Build An Audience (that know, like and trust you).
the rout to a successful affiliate marketing business is to build an audience who Know, Like, and Trust you.
And are ready or interested in whatever you may recommend to them.
Your audience increases depending on the amount of helpful content you produce.
So how can you build that Know, Like, and Factor with an audience?
You need to know what works for your business, brand, and industry and then grow from there.
Here Is How To Get Know In Your Niche:
1. Pick A Platform
You need to determine which platform works for you and once you have identified the platform that worth your time.
Spend more time on that platform to study it.
Download our Affiliate marketing ebook for free to learn step-by-step how to build a 6-figure online business leveraging the power of affiliate marketing. DOWNLOAD HERE.
2. Know Who Your Audience Are
Don't just market to anybody online. Target only those who are in your niche and create content purposely for them.
3. Create Content People Are Looking For
Before writing your content, take time to research the topic, ask questions, outreach for help if possible, so you can create the right kind of content people would love to consume.
4. Establish Yourself As An Expert In Your Niche
Create valuable, high-quality, and genuine content to stand out as an authority figure in your niche or industry.
5. Offer Freebies
Identify your target audience's biggest problem and challenges and offer them freebies such as free video training, PDF, written content, etc.
And get them into your email list and build more trust with them.
Above are the step to build an audience, that knows, like, and trust you and will eventually buy from you. 
Next, let's see how you can become an affiliate marketer.
Become An Affiliate Marketer
Wow! Congratulation on building TRUST with your audience!
Now that know you know the right affiliate network to join and have built an audience that Know, Like, and TRUST you, it's time to become an affiliate marketer.
But before then, there are some rules you need to understand before joining an affiliate network. 
So what are some of those affiliate network rules…?
Every affiliate network has rules and regulation which you being an affiliate have to be aware of.
Before joining any network or programs, you must know all their important rules and regulation.
Here are some of the rules made by an affiliate program through which many affiliates get banned:
Download our Affiliate marketing ebook for free to learn step-by-step how to build a 6-figure online business leveraging the power of affiliate marketing. DOWNLOAD HERE.
Taking images from a product – Some of the affiliate networks doesn't allow taking an image of a product from their site. Affiliate network sites such as Amazon don't allow that but some do.
So be sure to read the affiliate network terms before taking their image or downloading it.
Using Link Shortener – Again this is another problem, though some affiliate networks provide affiliate links in both short and long-form. 
Still, you can't use any link shortening tools to do that ( not all affiliate networks but I think Amazon does).
So if you are an affiliate for Amazon, you can't use a link shortener to shorten their affiliate links.
Taking a description from A Product – You can't just copy and paste affiliate product description and use it to market the product.
You need to create your own content and description for giving information about the product.
Showing The Price And Rating – You can't show the price and rating of a product because of these changes from time to time.
But if you do, then you need to go back and change it in your blog post as soon as the price changes. 
And if it's a YouTube video then do a new video and mention the new price.
Those are rules and regulation by affiliate networks and programs.
What to do next…?
Now, you need to sign up for an affiliate network and start promoting their product. 
You can typically promote the product by getting your blog or YouTube video rank on search engines.
Whenever some come across your blog or video and click on your affiliate link and buy what you are promoting, the affiliate (that's you) earns a commission.
The affiliate network you sign up for (like Amazon or ClickBank, etc) tracks any traffic you send to their site, sales, and commissions you make. 
They also keep track of anytime someone requested for a refund after they purchase the product through your link.
But the cool thing about affiliate marketing is that you don't have to deal with a refund. 
The company takes care of everything.
Yours is to just promote, promote, however, if the customer who bought the product through your link requested a refund ( send the product back to the company).
You will see a deduction in your account when they return the item or get a refund.
Why…?
That's how it works but the company will let you know a customer just bring back the item bought from you.
Now, let's look how to promote your affiliate in a compelling way.
Where To Promote Your Affiliate Links For Free
The problem here is that many platforms don't allow posting affiliate links on their platform.
And sometime if they do allow you to post your link still it may appear as spammy and people may not click on it.
And also if you are randomly posting your link on any platform you came across, it may not be appropriate to the type of customers you to attract.
So the best way to go about this is to:
1. Build a personal website as a bridge between your affiliate links.
2. Register a .com domain and use a nice name for your site so people can remember you easily and come back to your site.
If you want to build a website for your affiliate marketing business (which is a must).
You can get started with  Bluehost Here with a free domain for 1 year and a free SSL certificate.
Why Bluehost…?
Bluehost is one of the best hosting companies out there, with just a click of a button your site is up and running.
They have the best Cpanel in the industry and also very cheap, secure, and fast.
Here is the Link to Bluehost again to start your website.
(I'm an affiliate to Bluehost, meaning I'll receive a small commission which is no additional cost to you but help me to focus on delivering more content for you and others) Thanks For Support!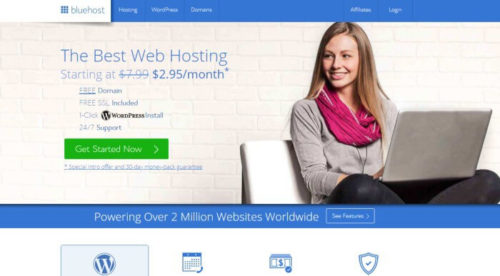 However, if you don't want to build a website for your business, then you can choose social media sites such as,
Pinterest
Instagram
Twitter
Facebook
LinkedIn, etc.
But make sure you check their terms and condition before posting your affiliate link on their platform.
The best thing you should do is to shorten your link before posting it there or else you will get blocked or banned. 
But on a more serious note, I Would recommend you build your own website or blog and create your own content to promote your link.
If you create your own blog and give more value to your audience, you will eventually create more social share than busy wasting your time on those platforms, which you might one day get blocked.
Tips To Become A Successful Affiliate
If you are just starting up in affiliate marketing then you must get a solid foundation and but if you are already into this business, then you also need to take it to the higher level.
Here Is The Tip To Affiliate Marketing Success:  
Learn From Your Mistakes
Mistakes are inevitable, every successful affiliate you see online who are making passive income from the comfort of their own home.
Has all made mistakes when they first got started, if some of them especially the so-called "guru" said they haven't made mistakes when they first started.
They might be selling you a force hope, don't believe them.
So what are you trying to say…?
I'm trying to say if you make mistakes along the way, don't let those mistakes hold you down but rather, do research and learn from your mistakes.
Learn from those who are already successful with what you are doing or find books on the subject and read.
If you can afford, there are a lot of courses online teaching affiliate marketing, join those course and learn from the expert.
But you need to thoroughly do research about the course before giving them your money.
Download our Affiliate marketing ebook for free to learn step-by-step how to build a 6-figure online business leveraging the power of affiliate marketing. DOWNLOAD HERE.
Focus On Driving Target Traffic To Your Site
Getting traffic to your site and probably to your offer is one of the hardest things and this is where most affiliates get frustrated and give up (quit).
Because without traffic you can't make any sales of the product you are promoting.
So the best thing you should do is to, first of all, have a long term mindset, affiliate marketing takes time ( it is a delay gratification). 
Now, the best way you can start driving traffic to your site is to focus on creating quality content that people are looking for and would love to consume.
Your content should address their pain point and also provide a solution to their problems and challenges their facing.
Build A Relationship With Your Readers
If you can build a strong relationship with your readers, they will be willing to purchase from you whatever you recommended to them.
This relationship can be established by creating quality and genuine content and also engaging with them ( reply to their comment and email) people feel better when you take your time to reply back to them.
Participate In Online Communities
Find a forum or online group related to your niche and be active in it by offering advice, asking, and answering a question asked by people.
This will help you build the Know, Like, and Trust factor which can generate very good traffic back to your website.
Build An Email List
Building an email list of your readers and harnessing the power of a sale funnel and email marketing is one of the most important and compelling things you should focus on as an affiliate.
If you are not building an email list and just sending people to a direct link, "boy oh boy" you are leaving huge money on the table. 
And also leaving you out of the equation of increasing your income.
You can also send traffic back to your site by using your email subscribers which will boost you on the platform you are on.
There are tons of email software out there that you can choose from (eg, LeadPage, Aweber, ConvetKit, Getresponse, etc). 
But the one I use myself is Getresponse and my experience with them was great.
Getresponse is all-in-one email marketing software, meaning it has both landing pages to capture your reader's email address and an effective autoresponder to sell your products.
They also have webinar hosting to host a webinar with your customers.
If you want to build your list with Getreponse here is the Link to start your email list building.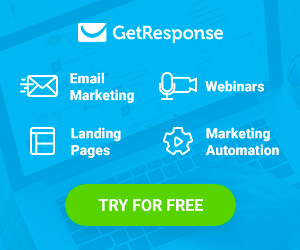 Bonus tip: If you get enough traffic to your site, try to review and compare different products in your post.
How Much Do Affiliate Make? A beginner affiliate can make somewhere between $0-1000 depending on the level of experience and the time you invest in learning, while supper affiliates can make somewhere $10,000 and above.
Is Affiliate Marketing Good Money? Yes, affiliate marketing is a good way to make money, it has been around for decades and it operates the way most businesses operate. You can utilize affiliate marketing to build a profitable business and become successful in life.
CONCLUSION!
Affiliates get paid in many ways and above are the major way most of them get paid.
I believe the best way to make the most out of affiliate marketing is to focus on Cost Per Sale (CPS) because you can make decent money doing it.
If you approach it with the right mindset and take massive action.
Affiliate marketing is like any type of business out there, it takes time, effort, and consistency to see any kind of result.
If you have reached the end of this post, BRAVO! Let us know what you think in the comment below.
And if you have any questions for us or anything, please don't hesitate to let us know as well… We are here to help you!!!
Don't forget to share…
Do You Want To Learn Step-By-Step How To Build  A 6-Figure Online Business With  Affiliate Marketing From Scratch?… Click Here To Join Now.
Download Our Ebook for FREE and learn step-by-step How To Build A 6-figure Business Leveraging The Power Of Affiliate Marketing
SEND ME THE EBOOK
[Retired Influencer.com is dedicated to making money online with affiliate marketing, so please do come back to read more of our post on affiliate marketing and how to to become successful online]
Happy To Hear Your Success Story Soon!
BRIGHT KERSH (Retired Influencer)