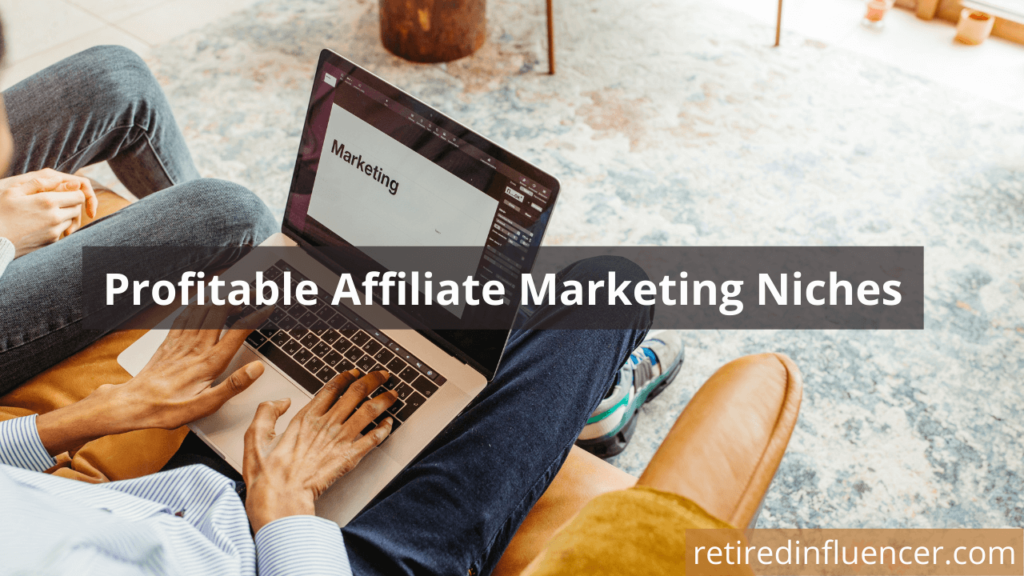 The best profitable affiliate marketing niches and programs: Affiliate marketing can be great and can allow you to earn significant income online if you're working on a niche you're interested in and more important if you have good knowledge about it. 
Going after the right niche is the key to succeeding in affiliate marketing.
Not the one you see others making tons of money from and you also decide to go after it.
Read on, as I share with you some of the best affiliate marketing niches and many more.
So, let's dive in!
What Is The Best High-Paying And Profitable Affiliate Marketing Niches And Programs?
Here are the profitable niches in the world that will make you the most money:
Health and fitness niche
Wealth niche
Relationship niche
Travel niche
Pet niche
Fashion niche
Enaternment niche
Cooking niche, etc
The above are all profitable niches for affiliate marketing success but the first three are more profitable than them all.
The 3 Most Profitable Affiliate Marketing Niches That Make The Most Money
There're tons of niches in different categories out there on the internet but the most profitable ones are: Health, Wealth, and Relationship.
These 3 niches are called evergreen niches: Meaning, people are constantly looking for products and services in these niches, the demand for products is very high and people never get tired of them.
Also, there're many sub-niches that fall within these 3 niches.
How much can you make with these 3 niches? It depends on how much work, effort, and time you put into your business, and how you approach your business will depend on how much you'll earn.  
Below Are The 3 Most Profitable Niches In Affiliate Marketing:
Health Niche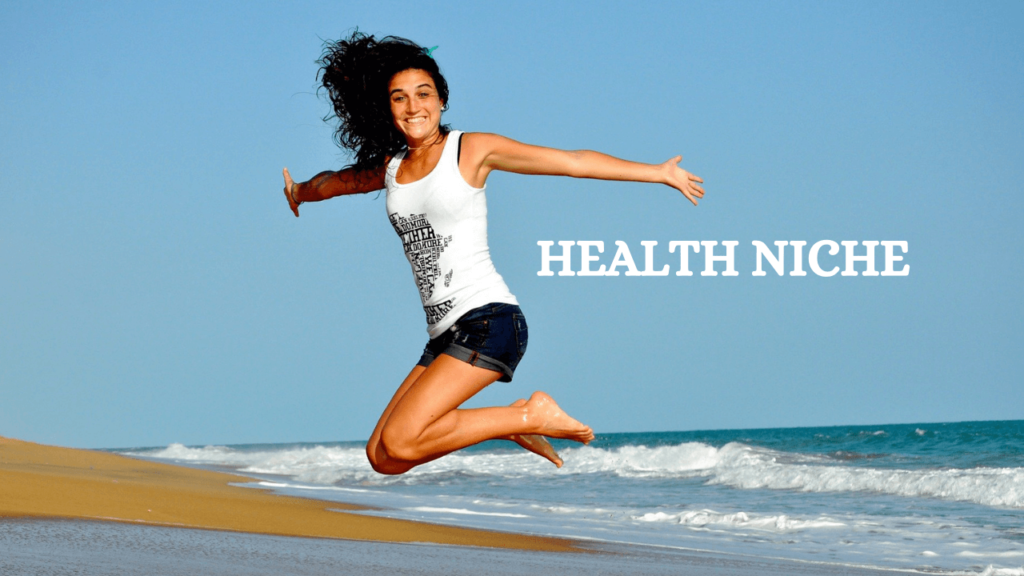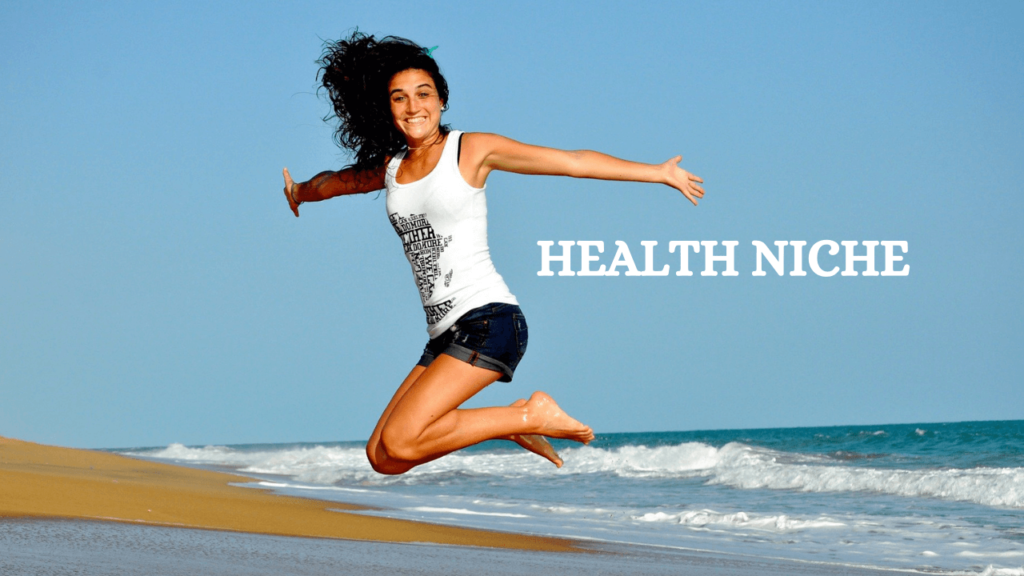 Among the three niches, HEALTH is the most profitable and most demanding niche in the marketplace. 
Day in, day out, people are always going to have problems with their health and will be looking for solutions and ways to improve their health and feel better.
The health niche has many sub-niches, for example, how to build muscles, how to exercise, how to lose weight, Fitness, Diet, etc. 
Now, the reason why the health niche is so important and valuable is that it has a high level of urgency…
Meaning, people are always trying to find an answer to specific problems they're facing and are willing to pay money to solve them immediately.
So if you have any knowledge or know a product that can help people in this field. You can build a business around this niche and help people and at the same time make a very decent income.
Wealth Niche
The second most demanded niche apart from health is the MAKE MONEY NICHE.
Most people around the world are tired of their day job and want to start an online business and start making money from the comfort of their own houses. 
Some want to make an extra income, while others want to learn how to invest their money and make a bigger profit.  
Now…
Due to all this demand, the make-money-online industry has become very popular over the past years.
More and more people are jumping into this space simply because they want to make an extra or a full-time income to be able to cater to their family or have the freedom to do more of what they love. 
However…
Most people in this space don't have the knowledge and the skill set to do this successfully and want someone with the knowledge to teach them. 
So… If you have the knowledge to teach them how to do it the right way, great, you can create your own course and sell it to them.
Or if not, there're tons of great courses and programs out there, find someone else's own and recommend it to them.
And if they purchase you make money.
In my opinion, the"make money online niche" is the best way to make money online as a complete beginner. It has tons of sub-niches but the most lucrative one is affiliate marketing.
Relationship Niche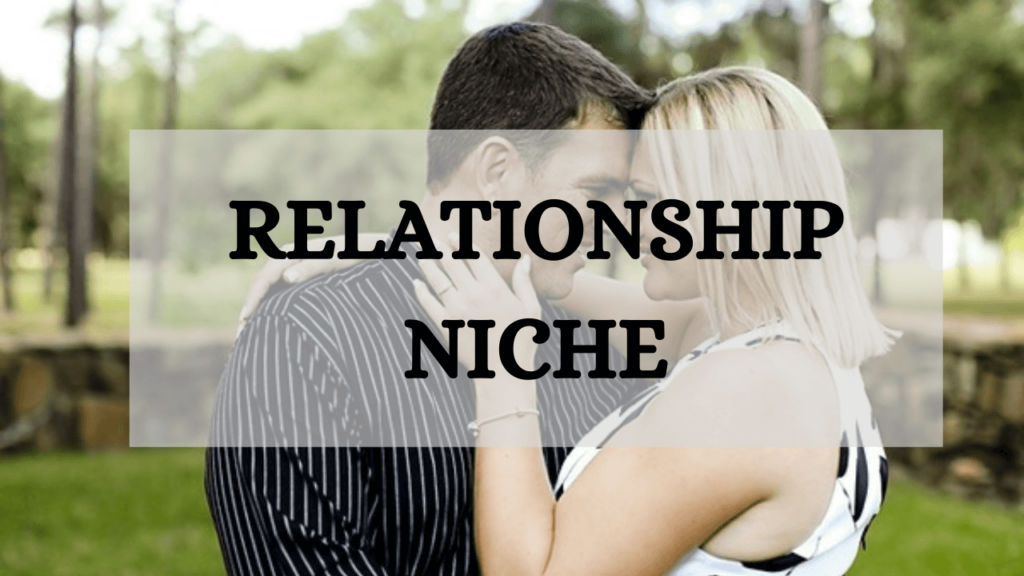 We are all human beings and in one or the other, we're looking for ways to improve our relationships.
Such as how to approach and talk to a lady, how to make a marriage successful, how to win a woman's or man's heart and mind, etc.
Many people around the globe are seeking help in this field and are willing to pay money to improve or fix any damage made in those areas.
And if you can help people in this industry then you need to harness the power of it.
Above are the 3 most profitable affiliate niches out there, but, there're other available ones as well which are also profitable.
Identify the one you're good at or passionate about and dive deep into it and then commit to learning everything you can in order to become the expert in that field. 
And you can build a successful business around it by providing valuable, high-quality, and relevant content that educates, teaches, and helps people. This content can be in the form of: 
Books
Digital or physical product
Membership website
Courses
Apps
Software, etc
I believe you have decided on the niche you want to go for. Great, now let's take a look at some benefits of choosing an evergreen niche.
4 Benefit Of Choosing Evergreen Niches
Since evergreen niches are in high demand online, it comes with so many benefits and has allowed many people to build successful online businesses and grow their income.
Below are some of the benefits:
1. It offers the potential for long-term income and profit
Evergreen niches are the most lucrative niches online that provide anyone the opportunity to make money online with or without their own product for the long haul and earn as much as they want as long as they know what they're doing.
2. It does not need much marketing
Since evergreen niches and products are in constant demand in the marketplace, it does not need any massive and aggressive marketing to sell. 
People are already looking for products and services to buy and it makes it so easy for anyone (affiliates and merchants) to sell their products fast.
3. It represents a lower investment risk
You don't need to invest millions of dollars into products in order to make money with evergreen niches, however, you can start with little or no investment.
Or probably you can find someone else's product and start promoting it as your own and still make a decent income for yourself.
4. They make money year-after-year
People never get tired of evergreen products, every year people are looking for products and services to buy.
And as an affiliate marketer, you can continue to make money year after year as long as you have the exact product people are looking for.
Now, let's take a look at some best profitable affiliate programs that fall under some of the niches we talked about early on. Below are a few of them.
Profitable Affiliate Programs And Networks
Remember, your success in affiliate marketing depends on the niche and the program you choose to work with.
Choose a product that is proven to work, which is in high demand, and is designed to solve a specific problem that the market or people are having challenges with.
Luckily, there're a couple of legit affiliate programs or networks where you can find some great products to promote to your ideal customers.
Below, I have listed some very great affiliate programs and networks you can join for free but I recommend you do your own research before joining them.
You can Google (your niche + Affiliate programs) and you'll discover some really cool ones to join and then you can do your research.
Health Niche Affiliate Programs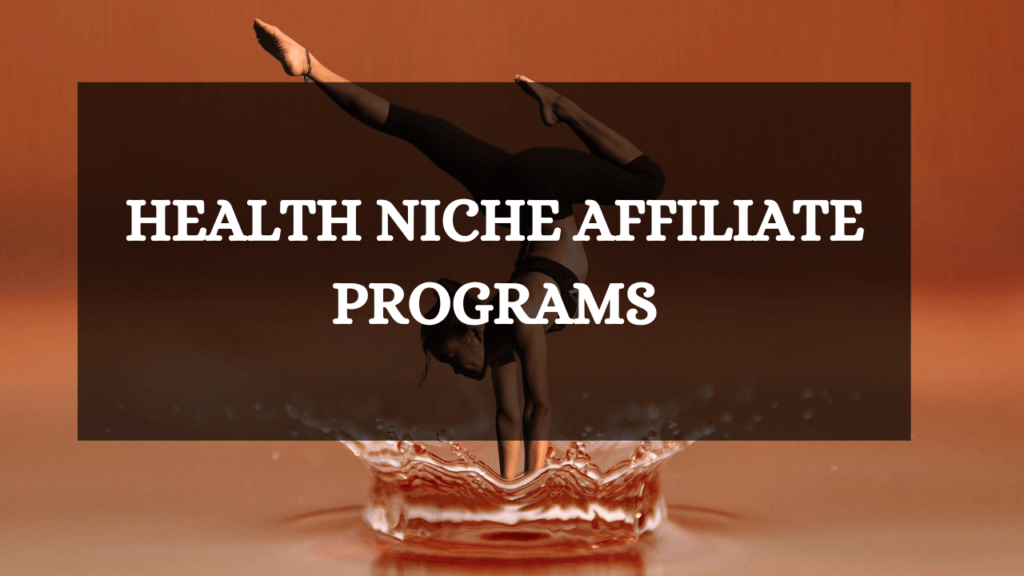 In this section, we're going to be looking at some of the best and most profitable affiliate programs in the health niche.
Fitbit
Fitbit has awesome devices that track your daily activities simply to keep you active and healthy. They have devices such as smartwatches, and trackers to keep you motivated and inspired.
Fitbit affiliate program is only available in the United States and Canada.
As an affiliate of this company, you'll earn 3% in commission which is $12.13 for every product purchase from your link. Their cookie lasts for 15 days.
Just Thrive Health
Just Thrive Health is created by a husband and wife simply to help people maintain and improve their health.
Their product is believed to cure tons of diseases, from stomach pain to stomach bacteria, and so on.
With their affiliate program, you'll earn 5% in commission which is $169. They provide a long cookie lifetime, 180-days. To me it's amazing.
KOS
KOS has an amazing natural base product such as supplements, superfoods, protein powders, etc, to help you boost your immune system.
KOS affiliate program is also one of the best affiliate programs in the health niche. They offer 15% in commission which is $31.27 EPC. Their cookie duration lasts for 30 days.
Sell Health
Sell Health has some really good products for both men and women. They have skincare, and hair care products, etc. With each of their products, they provide a really good description of products and a guide on how they can be used.
As an affiliate of this company, you are given all the necessary marketing tools such as banners, sales letters, full-page ads, etc, to be able to market and sell their product.
They offer 40% to 50% in commission for every complete sale.
They also have a 2-tier program meaning you'll earn extra income for every sale your refer generates.
Market Health
Market health is an online network that focuses on health problems and beauty products in many different ways, from weight loss to skincare, etc, they have any health product you can think of. 
They offer a decent affiliate commission to their affiliate, you'll earn somewhere between $45 to $60 CPA depending on the type of product you promote or sell.
Make Money Online Niche Affiliate Programs
Below are some of the best affiliate programs in the make money online niche.
ClickBank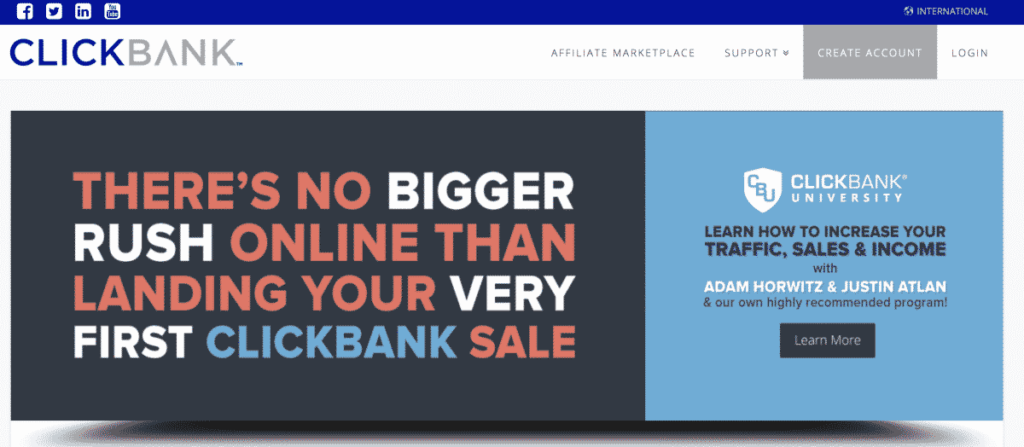 If you have been online for quite some time, I believe you have heard of ClickBank before. To those of you who don't know much about ClickBank, it's not a product, it's an affiliate network with over thousands of products to promote in any niche. 
ClickBank is the biggest marketplace that mainly focuses on digital products. Because of their high affiliate commission rate.
It has become one of the popular and best platforms for most affiliate marketers, simply because they offer commission between 40% to 75% and recurring commission.
As an affiliate of ClickBank, you can select products based on quality, commission rate, and authority that you think will help or meet the requirement of your target audience and then promote it in your own way, It could be through blogging, youtube, social media, forum, etc.
Additionally, there's no fault with the platform and they payout commission to affiliates twice a month, to me it's amazing.
They also allow their users and product owners to advertise and sell their products and services on the platform.
However, if you're a vendor (product creator) bear in mind that, ClickBank keeps 7.5% + $1 from every purchase made whenever someone buys your products.
CJ Affiliate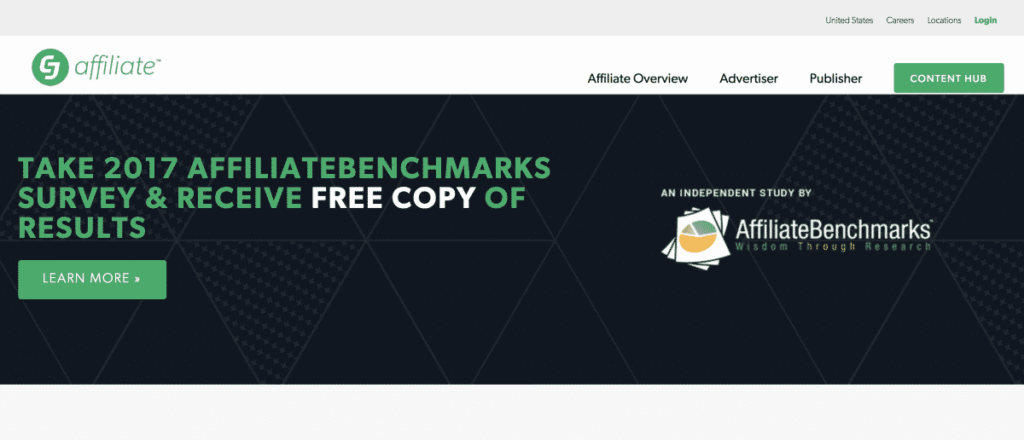 CJ Affiliate, formally known as Conversant has thousands of merchants in every niche you can think of. CJ Affiliate is said to be one of the best affiliate networks simply because they claim to record a 400-day cookie lifetime.
I don't know how true that is but let me know in the comment if that's true.
With CJ Affiliate, you can choose to work with a brand of your choice.
And this can be done by simply filling out an application form and submitting it to the merchant, company, or brand and they will review it.
And when your application has been approved, you can then start promoting their items and earn a commission on any sale you made. 
Amazon Associates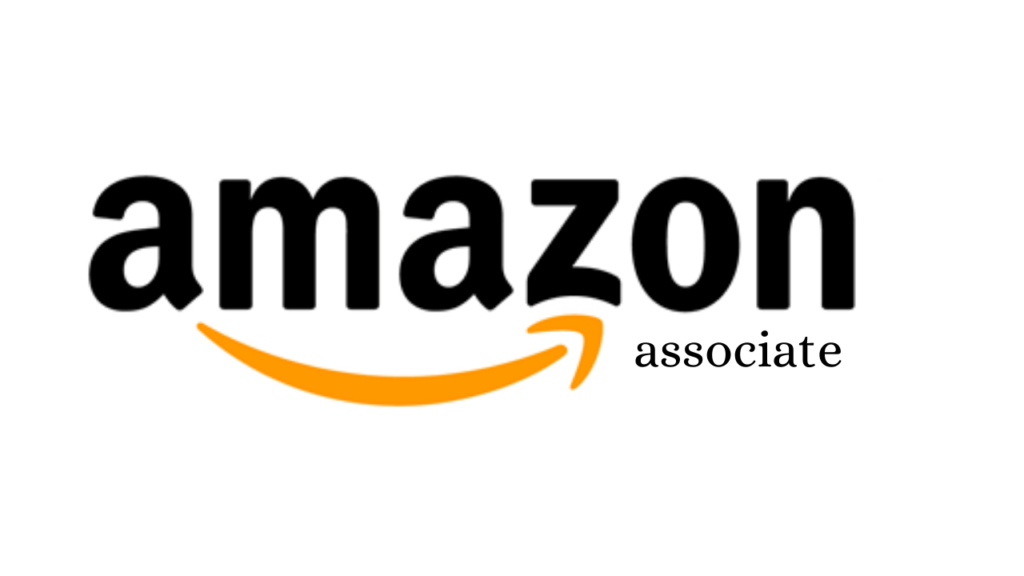 When you talk about affiliate programs to any beginner or even some top affiliate, they quickly think about Amazon.
However, when you think of affiliate programs Amazon is one of the best and most popular programs out there on the web, everybody knows about them.
It has different varieties of products you may think of promoting. From digital products to physical products. It has more than 12 million products on its platform.
If you are just starting up, Amazon might look like a perfect start but the only problem with them is that they offer a short cookie lifetime (1-day) and their commission is very low (2% to 10%) this commission rate is the same for all their products.
ShareAsale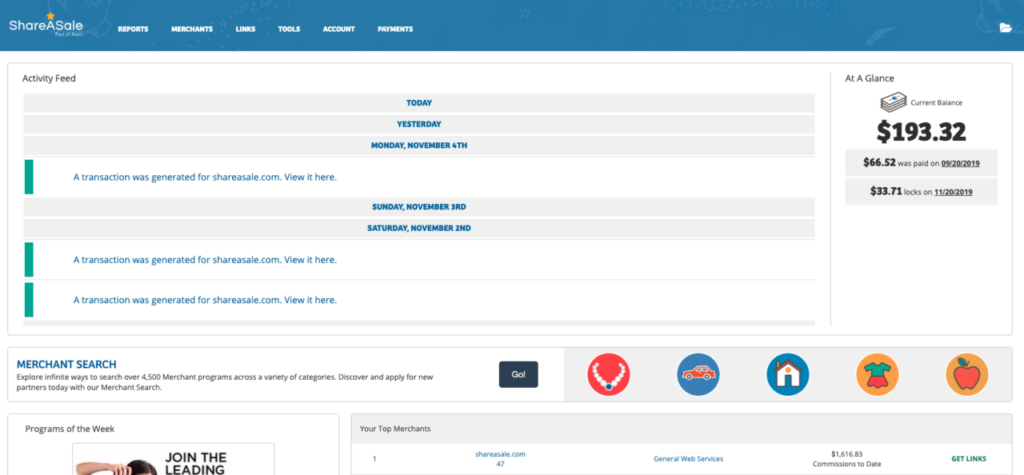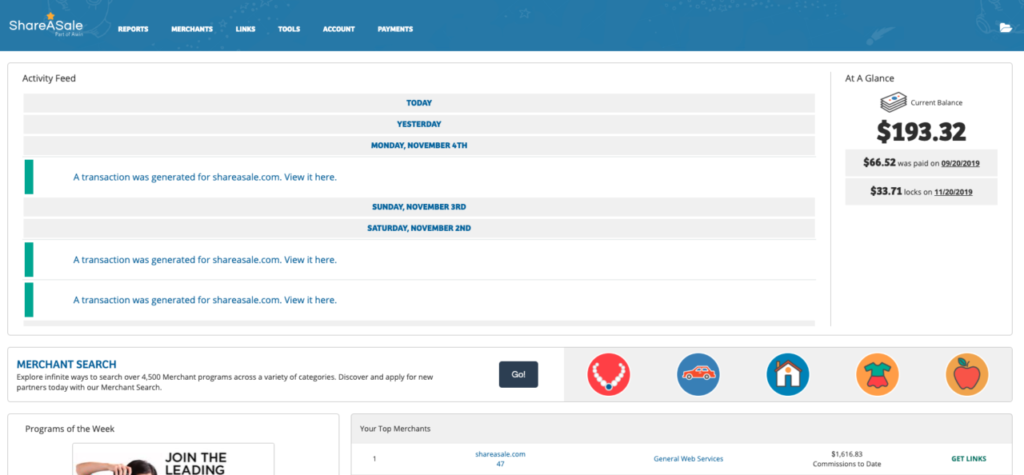 Shareasale hosts the industry's top affiliate networks and merchants.
It has about 4,000 merchants listed, of which over one thousand of them are exclusive. It has more products than CJ Affiliate, their main focus is on digital products.
Most customers believe that any product you promote on ShareASale is valuable and that's absolutely true.
If you want to build trust with your ideal customers, try to get on ShareASale and find a product that falls under your niche and promote it.
But the annoying thing about them is that getting accepted in the platform as an affiliate is not easy. 
They expect you to reach or have a certain volume of traffic before they can get you approved and even sometimes they won't approve you at all. And to me, I think it's the biggest downside of ShareASale.
eBay Partner Network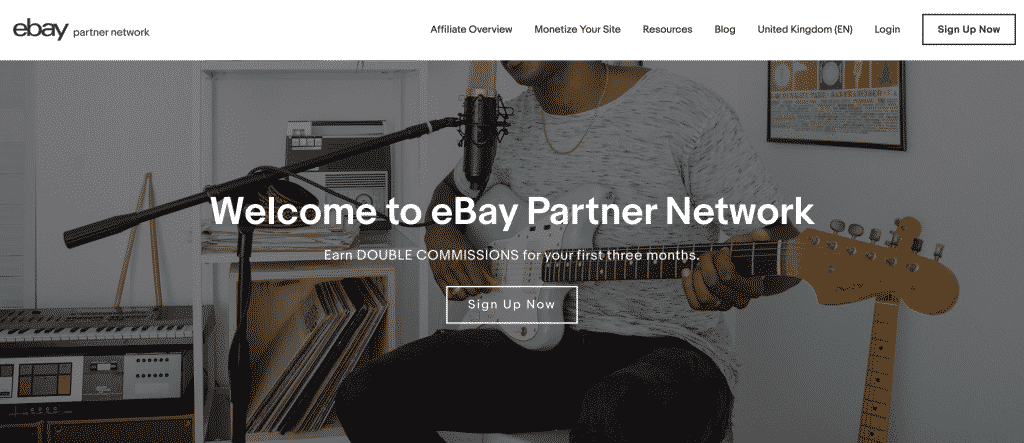 This is also one of the best affiliate networks out there, you can promote products on their platform as an affiliate or sell your own product on their marketplace. 
Actually, they have more products than most of the affiliate networks out there (they have over 1.3 billion listings)
As an affiliate of eBay, you can expect to earn 50% to 70% depending on the categories of products you promote.
They also pay you a 100% bonus for any instant new buyer you refer to the platform. All this may sound like a perfect place for most affiliates.
However, the problem with them also is that they can get your account blocked without notifying you if you violence their terms of use. Another thing is that they offer a short cookie lifetime.
Relationship (Dating Niche) Affiliate Programs
There are tons and tons of affiliate programs out there in the relationships niche, below I share with you some of them.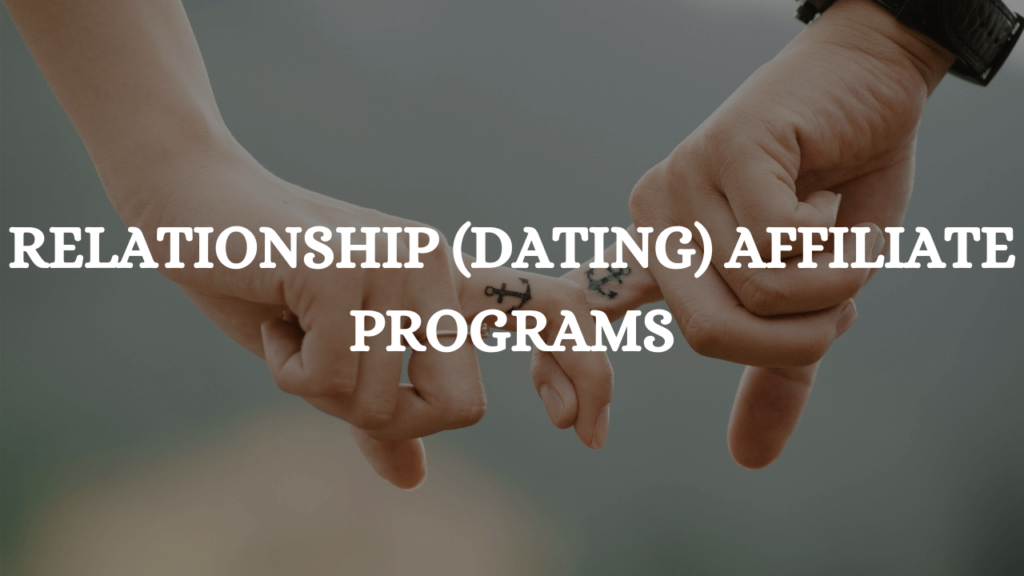 Match.com
This site is designed for people looking for serious relationships or partners. Though their matching process is somehow confusing and the site looks old, however, it's still the biggest relationship site and still growing fast.
Now…
By joining this site as an affiliate, you can expect to earn an awesome 100% commission.
Though their normal commission is 75%, you'll also receive a 25% sign-up bonus on every new sign up so in total it's 100%.
They pay $134.91 per subscriber, so that could be a huge income for you if you sign up more people. But remember, their cookie lifetime is short, for desktop, it's only 1-day but for mobile 30-days which is cool.
Eharmony
Eharmony believes to be one of the best dating sites out there, its focus is to help people who are looking for marriage.
I don't know how true this is: Eharmoney claims to be responsible for 550 marriages in a single day in the United State alone.
Now back to the main point…
By signing up as an affiliate of Eharmony, you can earn up to $90.52 for every complete registration. Their cookie lifetime lasts for 45 days which is amazing. 
If you already have an account on CJ Affiliate, You can find Eharmony on the CJ Affiliate network.
Cupid Media
Cupid is not as popular as Match and Eharmony, however, they specialize in dating niche targeting and have tons of members all across the globe. 
Which makes them the perfect program to join no matter wherever you are in the world. 
With their affiliate program, you'll earn 75% for every referral, you'll also generate more revenue in the back end as your refer upgrades their account to other offers.
People Media
People media is also one of the leading dating sites in the personal development niche with over 255.0090 paying members internationally and 20,000 daily members. They also run other top sites such as.
Ourtime.com
BlackPeopleMeet.com
SeniorPeopleMeet.com
BBPeopleMeet.com
ChristianPeopleMeet.com
LoveAndSeek.com 
LDSplanet.com
SingleParentMeet.com
When you join their affiliate program, you'll earn 50% – 75%, for every paid customer or subscriber.
Elite Singles
This is another cool dating site for mature singles who are looking for marriage. They pay a fixed commission of $7 for every complete member you refer to their system.
This is not enough though, but it can be rewarding if you get a lot of people to sign up.
Their cookie lifetime lasts for 45-days, and their affiliate programs can be found on the CJ Affiliate network.
Travel Niche Affiliate Programs
Let's look at some of the best affiliate programs in the travel niche.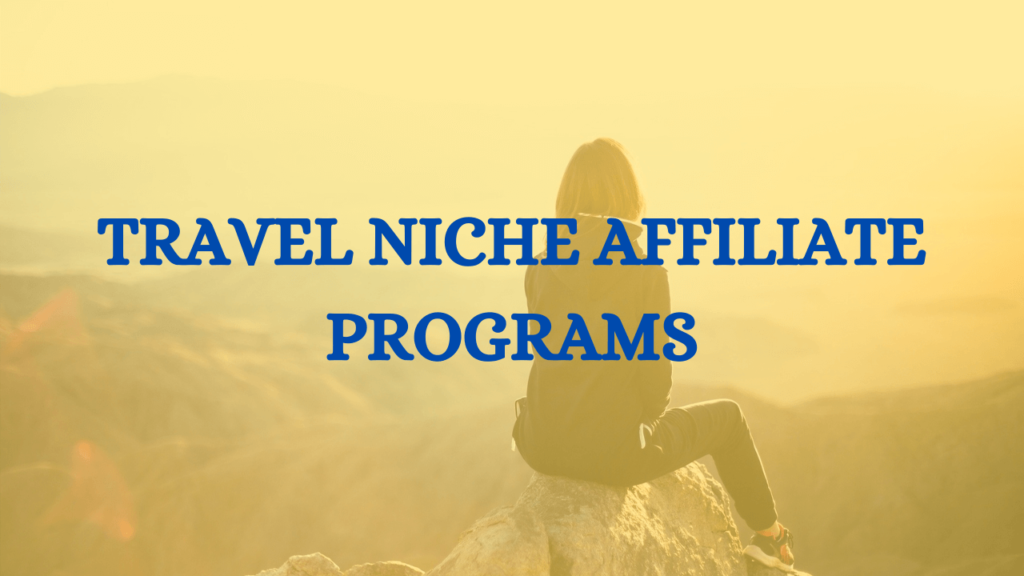 Airbnb
This is one of the most trusted, biggest, and most popular companies in the travel niche. It gets millions of monthly visitors.
To apply as an affiliate for this company, they require you to have a certain level of monthly traffic or subscribers, either to your blog, or YouTube channel, before you can get accepted into their system as an affiliate.
So, if you're a big blogger or Youtuber who gets tons of monthly traffic, Airbnb might be the best program to go for. 
But for people like us who don't have tons of monthly visitors to our blog, Airbnb is not the best way and we might not get accepted.
Now, if you qualify and get accepted into the program as an affiliate, you'll get access to all their program both Guest and Host affiliate program.
You'll earn $100 in commission for every booking made by Airbnb guests or any customer you refer. 
Skyscanner
Skyscanner is also one of the best travel companies out there. They partner with the CJ Affiliate network so you can easily find them on the CJ Affiliate network. 
They turn out to be one of the best programs for many affiliates simply because it's easy to join and offers 50% commission and a 30-days cookie lifetime.
They provide their affiliate with marketing tools for easy advertisement and all you need to do is to send visitors to your link and they pay you as the visitors make a booking. 
However, your income increases based on more successful visitors you send to their site.
Booking.com
Booking.com is also another great affiliate program in the travel niche and also one of the largest online booking websites.
As an affiliate of booking.com, you can earn somewhere between $25 or more depending on where you set up your account. 
Booking.com's affiliate program is far better than some of the travel affiliate programs out there. But one thing about them that's annoying is that their cookies lose once a visitor closes their browser but all the same, it's still great.
TravelPayout
Travelpayout offers great tools for affiliates which makes it easy for anyone to make money with their program. They also work with different companies.
You can earn up to 70% for selling travel tickets, hotels, flights, car rentals, etc. However, their commission is based on Cost Per Action (CPA). Their cookie duration lasts for solid 30-days.
Agoda
It's one of the best and fastest growing online platforms for booking flight tickets and hotels. They have some cool offers which make it one of the best choices for many people.
They offer a very good commission rate for affiliates. $200 booking at a commission rate of 5% which earns you 10% in commission which is far better than some of their competitors. Their cookie duration lasts for 1-day.
Web Hosting Affiliate Programs
There are some reputable affiliate programs in the hosting industry, below I share with you some of them.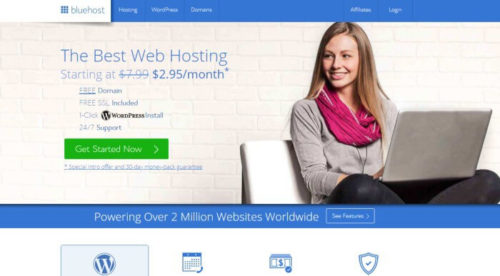 BlueHost
In the web hosting space, the Bluehost affiliate program is one of the most popular and well-known affiliate programs out there.
To set up your website with Bluehost, will cost you $2.95/month.
When you promote Bluehost as an affiliate, you'll earn $65 per every complete sign-up.
To me, I think it's a very cool way to start making money from your blog as a complete beginner.
They provide you with marketing tools such as text links, banners, and marketing tips in order for you to succeed. So what does that mean? They have your best interest at heart because your success is also their success.
The amazing thing is that you can even earn a credit for every referral for up to 45-days.
However, you will have to reach $100 to be able to cash out your commission. Their payment is normally made on the 16th and the end of every month.
WP Engine
This is a WordPress hosting service that provides website owners with a secure site, fast load time, scalability, etc.
Like all hosting programs out there WP Engine is one of the best in terms of commission, it offers a significant commission for its affiliate.
They paid $200 per customer sign up and they also paid bonuses for every multiple refer per month.
WP Engine offers a long-term cookie lifetime which is a half-year and their brand is often recognized.
Siteground
Siteground is also one of the best hosting services out there, with strong customer service, user-friendly, fast, and secure web hosting service, and easy to join as an affiliate.
If you're already a siteground user and want to register as an affiliate, you can easily do that in your dashboard but if you are not already a user you can still join their affiliate program for free.
And start promoting their service, however, there's no limit to how much you can earn. The more complete sign you refer to Siteground, the higher your commission will increase.
Below are how much you can earn in commission with siteground:
1-5 Sales /mon $50
6-10 Sales /mon $75
11-20 Sales /mon $100
21 + sales /mon Custom Commission
If you can generate more sales per month than the ones above, you can earn a bigger commission from siteground.
Hostgator
Hostgator is the world-leading easy web hosting service and is trusted by millions of people across the globe.
When you join Hostgator as an affiliate you'll be given a link and banner, you can place those links and banners in your post or on your youtube video description and start earning a commission if your reader clicks or viewers on your link and purchases their product.
How much you can earn with Hostgator depends on the number of people you refer, you can earn somewhere between $50 to $120 per month for every successful sign-up.
Cloudways
They have flexible hosting plans and a fast web hosting service. Their customer support service is superb, amazing, and has no downtime.
They have a solid affiliate program and commission structure they pay to their affiliate.
Below is how much you can earn with Cloudways as an affiliate, depending on the number of sign-ups.
| | | |
| --- | --- | --- |
| Commission structure  | Monthly Sale | Commission |
| Slab 1 | 1-5 Referrals | $50/Sales |
| Slab 2 | 6-20 Referrals | $75/sales |
| Slab 3 | 21-45 Referrals | $100/sales |
| Slab 4 | 46-80 Referrals | $125/sales |
Above are the hosting affiliate programs, but the one I'll recommend if you're just starting up and don't have a lot of budgets is Bluehost. You can get started with Bluehost HERE as an affiliate or create your website with them.
Educational Affiliate Programs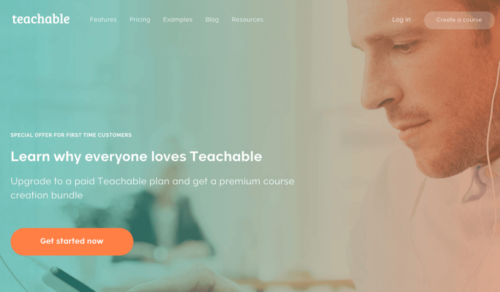 Teachable
This platform is purposely designed for teachers and for those who want to create their own online courses. They also offer amazing offers such as:
Email Integration
Video Hosting
Membership Site
Plugins, etc
With a teachable affiliate program, you'll get a 30% commission for every complete sign-up. 
Their cookie duration lasts for 90-days, meaning if your readers or customers click on your affiliate link but didn't sign up instantly, a cookie will be placed in their browser. And if later on they come back and sign up before the 90-days you'll still receive a commission.
Udemy
Udemy is a popular online platform with millions of courses for those who want to learn online, however, their courses are sold at a high price.
They offer an affiliate marketing program but their affiliate commission is very low. They offer a 20% commission, however, it used to be 40% – 50% for years until they change it.
You can only make a decent income if you make a large number of sales or have a list of audiences who are interested in taking online courses. Then you might make a good income.
DIY.org
This platform is designed especially for children who are passionate about learning new skills, building a portfolio of fun projects, taking on challenges, etc.
You can apply to join DIY's affiliate program and start promoting their platform to parents who want their children to learn new things. You'll earn $5 for every successful sign-up.
Coursera
This platform is a world-class learning platform for both university and college students and probably for anyone at any stage. 
The amazing thing about Coursera is that it's absolutely free to join. However, they don't have many courses as Udemy does but they still pay very good commissions to affiliates.
You can promote Coursera as an affiliate and earn 45% per any successful purchase. Their cookie duration lasts for 30-days.
Skillshare
This is another great online learning platform with over 31,000 online classes and over 60,000 students.
Skillshare offers $7 in commission for every new sign-up.
The amazing thing is that you'll still earn commission not only for premium membership but also for every free trial.
Those are educational affiliate programs but the one I recommend is Teacabe, you can join HERE as an affiliate or you can create and also sell your course on their platform.
Gaming Niche Affiliate Programs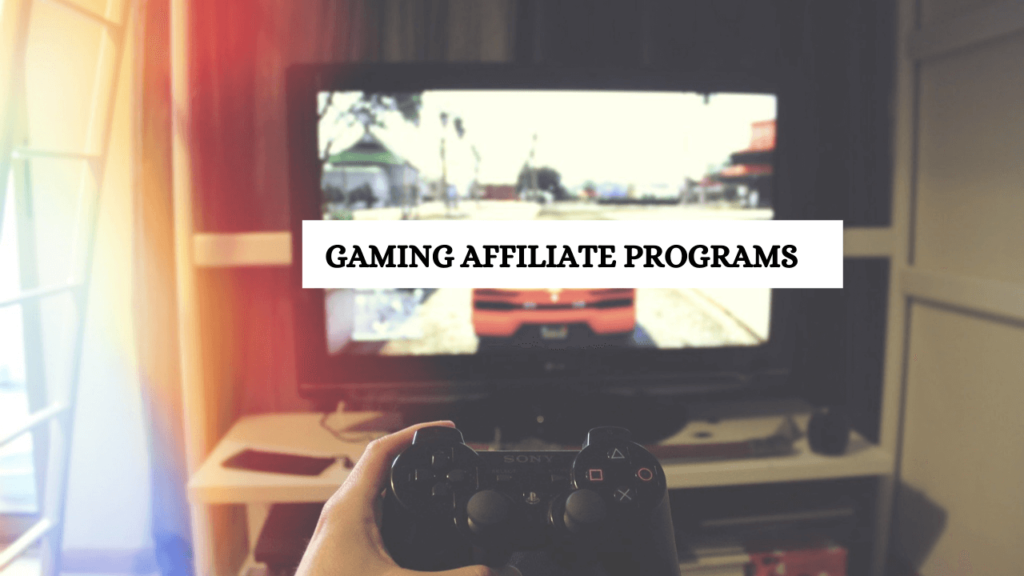 Razer
Razer is an online platform for lovers of games, it is one of the well-known brands in the gaming community with tons of games both online and offline.
You can register as an affiliate with Razer and start promoting their product to your audience and for every purchase you made, you'll receive 10% in commission.
They provide you with banners, links, and special incentives such as offers and promotions to help you drive targeted traffic to your affiliate link. In order to help you make sales fast.
Microsoft
Microsoft is a technology software company which is specialized in the manufacturing of computer software, electronics, personal computers, etc.
With their gaming affiliate program, you'll earn 10% for every qualified person you refer to their system. Their cookie lifetime lasts for 60-days.
Logitech
Logitech is a software company that manufactures all kinds of software to help businesses across the globe. However, their main product is gaming keyboards and mouses, mic headset, etc.
As a Logitech affiliate, you'll get access to all of their product and choose from which one to promote to your audience. Their commission to affiliates ranges between 4% to 10% upon product purchase.
Nvidia
This is also another cool company that specializes in video cards and many other products that you can promote on your website as an affiliate.
They will pay you 2% – 5% in commission for every qualified sale you refer. Their cookie lifetime lasts for 45-days which I Think is cool.
Alienware
If you're looking for the best gaming computers, laptops, and desktop computers, look no further than Alienware. They have very good laptops but it expensive.
Now, with the Alienware affiliate program, you'll earn somewhere between 1% – 6% for every new customer you refer to Alienware.
They also provide you with banners and links and 90-days cookies.
The Alienware affiliate programs can be found on the CJ Affiliate network.
Wrapping up!
Can you become a millionaire from affiliate marketing? Affiliate marketing is proven to be one of the best ways to make money online, so yes, affiliate marketing can make you a millionaire but to achieve that you'll need to follow these steps:
Sell both low and high ticket products you believe in or have used yourself
Produce helpful content
Choose a traffic source and master it
Build an email and follow up with your lead using an autoresponder
Finally, get a mentor and commit to learning
(Appreciate it if you pin this to your Pinterest board)
That's It, Folks! On Profitable Affiliate Marketing Niches And Program
In the internet world today, affiliate marketing is certainly one of the most profitable business models out there.
Joining the best affiliate program or niche can allow you to earn an extra or a full-time income from the comfort of your own home.
However,  you need to understand that, making money online with affiliate marketing or any niche you might choose is delayed gratification, meaning it takes time to make any significant income online. 
It might take months or years depending on your work ethic and skillset before seeing any results. So don't get discouraged and quit.