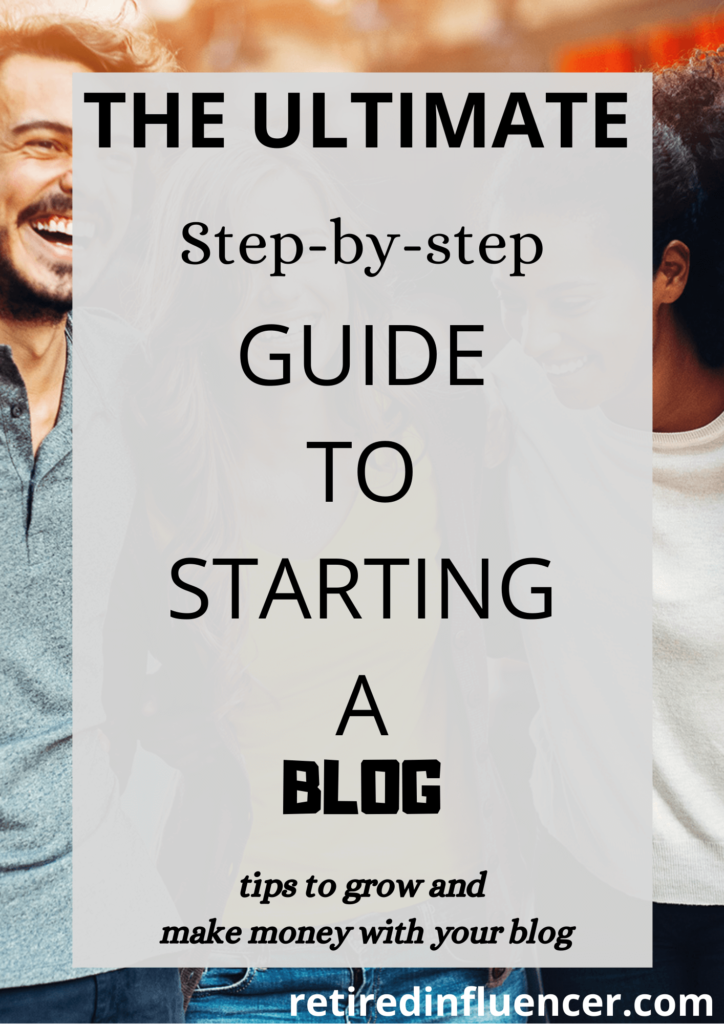 The Ultimate Guide Of Starting A Blog
Blogging is one of the best ways to make your voice heard. There are many people who have become successful as bloggers but still, only 14% of bloggers tend to earn a decent income blogging. 
So, how can you start a blog? Starting a blog is easy, however, the only way to make that blog successful is to offer your visitors something of value that will keep them coming back for more.
If you're new to blogging it can feel like the whole world is against you. You are putting in tons of work but not seeing any result.
Guess what? There's a way you can go about this and become successful and in this post, I'm going to share with you everything you need to create a successful blog that earns money even if you're a beginner.
So, with that being said let's dive in…
Before we start this journey let me ask you a question… Why do you want to start a blog?
I believe you have your own reason why you want to jump into this field right? to be honest with you, blogging takes a lot of time and effort.
And you need to be passionate about it so you can stick with it for the long-haul.
Becoming a blogger and actually making money out of it, is absolutely possible. You just have to be willing to learn, put in the work, and be patient.
Below are steps-by-step to start your own successful blog and start making money online but first.
Why Is It Important To Start A Blog?
There are so many reasons and benefits of starting a blog. Below are a few of them:
You can make decent money passively.
You can work from home or anywhere around the world.
You'll learn and develop a new skillset.
You can completely design your future.
You are your own boss.
To help and impact the lives of others
How To Start A Blog: Step-By-Step Guide
Follow the steps below to get your blog set up successfully:
Step 1. Choose A Domain Name
The first thing you need is to pick a domain name.
A domain name acts as an address that people are going to use to find you online. There are many ways you can come up with your own domain.
You can use your personal name, brand name, or anything that resonates with you. But make sure you choose a name that represents what you stand for or want to do.
Check your  domain name in the box below to see if it is available:
When deciding on your domain name, choose something that is easy to pronounce and spell. Don't make it long, keep it short and unique.
There are so many platforms you can get your domain such as (Bluehost, HostGator, Godaddy, etc.).
I recommend Bluehost. Bluehost is the leading platform in the hosting industry, it has some cool features and also provides you with a free SSL certificate, a free domain for 1st year.
With 1-click WordPress install you can get your site up and running.
Get started with Bluehost here.
(I'm an affiliate of Bluehost and if you go through my link I'll receive a small commission which is no additional cost to you but helps me to focus on creating more helpful content for others). Thanks For Support!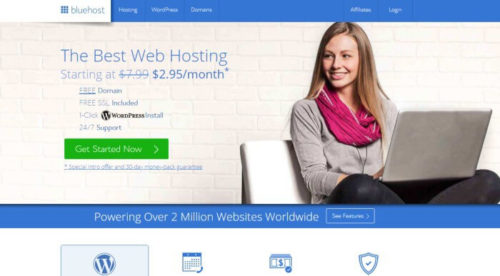 Step 2.  Installed WordPress
There are many free platforms out there you can use to create your website such as (Wix, Weebly, Blogger, etc.). However, they lack so many functionalities.
And it's not recommendable when you want to run a real blogging business, the issue with using these third-party platforms is that you don't actually own your blog.
And you're attached to a host meaning you can move your blog to any hosting platform of your choice. They can decide to close down your account anytime and guess what? You lose.
Now, the reason why I recommend that you create your blog using WordPress is that it's best for creating and designing any type of blog website.
According to W3techs. WordPress now powers 64.1% of websites across the globe. That's 39.8% of all websites on the internet.
Every top brand and website you can think of had their website created on WordPress because with WordPress you actually own and have full control over your site.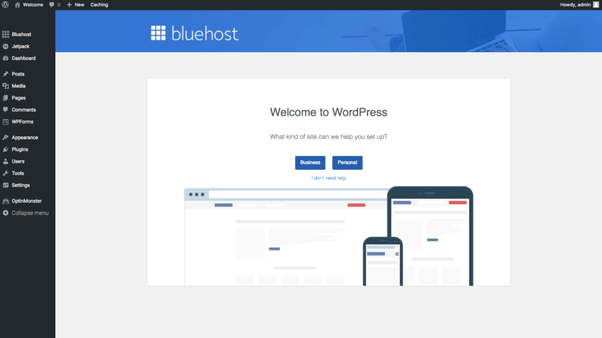 I believe you don't want to wake up one day and see that all your late-night work has gone. 
Then start with WordPress.
WordPress also recommended Bluehost as a hosting platform for their webpage.
Step 3. Pick A Theme Of Your Choice
In web design, a theme or template is a general or ready-made design, the overall look of a website.
There are tons of free and premium themes out there you can choose from to make your website look beautiful, professional, and attractive to your visitors.
The amazing thing about most of the themes nowadays is that you don't have to be a technical expert or do any coding to make your blog look nice.
Most of the themes come with drag and drop already-made templates, so you don't have to go through the headache of doing any coding and stuff.
Below are some of the best themes in the market now:
Divi Theme – By elegant themes, Divi comes with so many functionalities, and if you want a customizable beautiful site. Divi theme is a good bet 
Thrive Theme – Thrive theme is an all-in-one marketing tool. If your main goal is to sell products on your blog, they have all the marketing tools from a funnel to site-building.
Step 4. Create and Publish Only Quality Content
Do you know online content is king? If you're going to really succeed with your blog which is to say make money out of it, you really need to post quality, relevant, and high-quality blog posts.
In my opinion, I believe the reason why most bloggers don't succeed online is that they don't spend enough time creating valuable content.
Creating content is what is going to bring people to your blog and if your content isn't good and helpful enough nobody will read it.
So, make it your number one job to always create content and if you can't create one and you have the budget just hire a writer and they'll get that done for you as quickly as possible. 
Instead of you wasting your time.
BONUS TIPS: The thing that stops a lot of bloggers especially the newbies is that they don't post frequently. 
As you start this journey, you must commit to the process and have a publishing routine to post at least 3 times a week.
The reason is that blog posts take about 6-8 months or even a year before reaching a position of getting organic traffic.
And if you don't have enough posts on your blog it's going to take you forever to reach that growth stage.
Though, you may be a busy type of person or working a 9-5 job and don't have enough time to work on your blog.
But you need to understand this if you don't post you aren't going to get eyeballs (traffic) to your blog, and without enough traffic, you won't make money.
Step 5. Promote Your Posts On Social Media
When your blog is new, for the first few months you're not going to get any traffic. 
And that's absolutely normal, it will be abnormal when you start generating tons of traffic to a new post on a brand-new site.
Remember, it takes 6-8 months, or even a year depending on the niche, before Google can start sending traffic to your site.
So, to prevent your site from being a ghost town, you should try using social media and forums.
And start reaching out to your ideal audience in order to start getting some views on your content.
Join communities, groups on social media related to your niche and start contributing by asking questions, helping people out by answering their questions, and then provide a link to your blog.
But not in a spamming way… Not all social media and forums sites allow posting links on their platform. 
So, provide the link to your blog in your profile or further use bit.ly to shorten the link before posting it on their platform.
Also, you can interact with other bloggers in your space and ask them if they can share your blog with their audience.
Doing this will help you get those early-stage attractions and notice on your blog.
Another method is:
Guest Blogging – Guest blogging simply means writing for a well-known or authoritative blog in your industry in order to attract their audience to your blog.
These blogs are established sites, so you get the opportunity to attract quality traffic to your site.
IMPORTANT: When you're going to do guest blogging I would recommend you link back to your about me page. 
Why?
That way, over time you can start to build E-A-T ( Expertise, Authoritativeness, and Trustworthiness) with Google.
Google is now valuing E-A-T so much in some niches and they are using it as a ranking factor.
NOTE: Don't spend all your time writing guest posts, write one or two and focus on your own site.
You want to make sure your best content is on your blog. Very important.
Step 6. Build An Email List
Have you heard this saying before, "The Money Is In The List'…
Email marketing still remains the #1 way of making money online. The reason is that 90% of people who visit your site are not going to buy your product in the first place.
But having them on your email list can be very profitable because you'll get the chance to re-market the product to them over and over again until they decide to buy.
This also allows you to sell different products and services to them as long as you have them on your list.
Another amazing thing about building an email list is that you can promote your new post to your list.
Which will literally BOOST that post on Google to be shown to more people.
As time goes on and your list starts to expand, your boost and sales will dramatically increase.
This is called leverage!..
If you call yourself a blogger and you're not building an email list which is the best way to make money and grow your blogging business. 
Guess? You're leaving huge money on the table.
Here Is How To Build An Email List:
Step 1. Sign Up For Email Services Provider
There are tons of legit email services out there on the internet, look for one and go with it. For me, I use Getresponse which is amazing. (I'll leave a link below)
Step 2. Create And Embed Signup Form On Your Site
Use the sign-up form on your web page, on the site sidebar, and pop-ups to get people to sign up for your email list. 
Make sure the pop-ups don't pop up immediately when people visit your page, put a time range on it.
Step 3. Offer Freebies
Give away something of value for free to make people give you their email address easily. These freebies can be in a form of (free training video, a course, downloadable PDF, etc).
Step 4. Create Email Sequence
Take some time to create a follow-up email to ensure as people opt-in to your email list they start getting engaging emails from you. 
Also, promote your product to them through the follow-ups email.
Step 5. Ask Your Subscriber To Share
Your email subscriber can become your brand ambassador, so make sure to ask them to share the email if they find it valuable.
This will help you get new subscribers to your list.
Steps 6. Produce Valuable Email Content
The best way to get people to open and read your message anytime you post a new email is to produce excellent, helpful, entertaining, and educative content.
Don't let all your emails be about selling. Let it be educational and your audience will keep reading your messages.
Now, to get this done successfully, you are going to need email service providers such as (Getresponse, Aweber, LeadPage, ConvertKit, etc).
The best email service in the market right now is Getresponse. It's all-in-one marketing tools, it has both a capture page and autoresponder.
(Click here to sign up for Getresponse for free)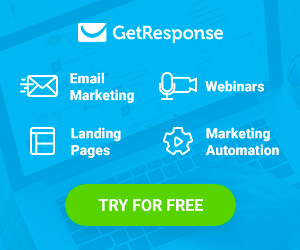 Step 7. Commit to Learning And Take Massive Action
In my opinion, I believe the reason people fail with blogging is that they don't commit to learning the process long enough and lack implementation.
Success comes to those who are willing to learn and take action on what they learn.
How To Make Money Blogging: Best Ways To Monetize Your Blog
There are several ways to make money with a blog. Monetizing a blog the right way can increase your income in the long-haul.
To earn money through your blog below are some of the best ways:
Affiliate Marketing
For 99% of bloggers, affiliate marketing is one of the best and most popular ways they make money from their blog.
The idea behind this is that you promote other people's products being individuals or company products and earn a piece of commission when you make sales.
As an affiliate, you can earn somewhere between 300$ to 10,000$ per day depending on your level of knowledge and the type of product you promote.
Monetizing your blog with affiliate products is very lucrative and works for a lot of bloggers in any niche but in order to become a successful affiliate marketer, you need to promote only products you believe in or have used yourself.
The reason behind this is that you'll feel comfortable when recommending it to others and also build TRUST with your ideal customers.
The few things you can do to make money with affiliate marketing with your blog is to write valuable, high-quality product reviews and include your affiliate links in the post where it makes sense.
IMPORTANT: Make sure in your review, you provide both pros and cons about the product. Doing this will make people TRUST you and just decide to buy from you.
Simply because you're being honest.
If you want to learn how to build a profitable affiliate marketing business, check my #1 recommended program on my resources page that will walk you step-by-step on how to make money online with affiliate marketing.
Sell Online Courses
For most successful entrepreneurs, creating and selling their own course is one of their best ways they make money from their blog.
If you have knowledge in any field, creating your own course and selling it on your blog can be very profitable. Though it takes a lot of time, knowledge, and skillset.
Just make sure before you create your course you do some thorough research to find out what people actually want or are looking for before you go through the headache of creating it.
And if you have found something people are looking for or having challenges with and you think you can help them, then go ahead and create that course.
To create and sell your course, you can use a platform like Teachable. They have all the tools you need to create and sell your course.
With Teachable you don't need to deal with any coding and other stuff. They made everything easy and simple.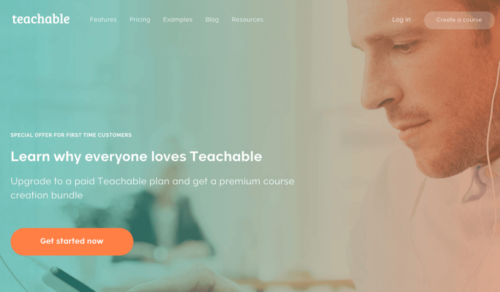 Ads
For most bloggers nowadays, especially newbies, placing ads on their blog has become one of the best ways most of them are making money from their blog.
There are many ad companies out there but the most popular one used by many bloggers is Google Adsense. 
But the issue with Adsense is that they don't pay that much.
If you want to run ads on your blog, I'll recommend you wait until you start generating a lot of traffic then you can go in for premium ad companies like:
These ads networks pay way more than what Adsense pays.
IMPORTANT: Think of your readers first and make sure they get what they came to your site for. Don't block your content by putting a lot of ads on your page.
It will discourage your audience from visiting your site again.
Sell Ebooks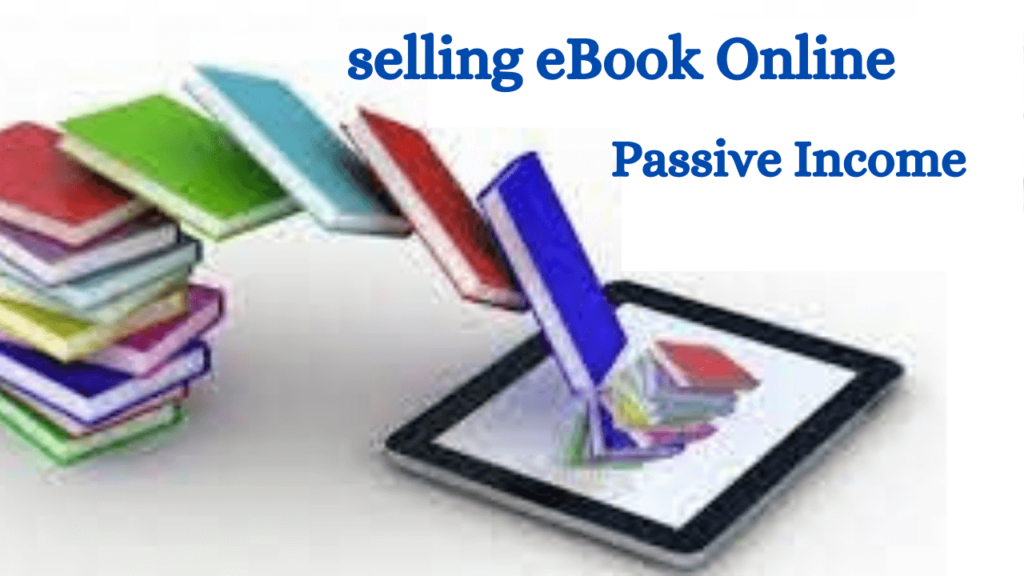 If you have a piece of knowledge or you're passionate about something that you want to teach your audience, you can quickly package that into an ebook in a helpful way and sell it on your blog. 
But make sure you make it beautiful, easy to scan and the cover of the ebook should look beautiful and attractive, or furthermore, make it an infographic. 
Selling an ebook as if selling online courses. For payment methods, you can use PayPal, Stripe, or Bitcoin.
To create your ebook, you can use tools like
Canva
Google Doc
Kitaboo
Pressbooks
Blurb
All of the above tools are great but some lack few functionalities so I recommend you use Canva.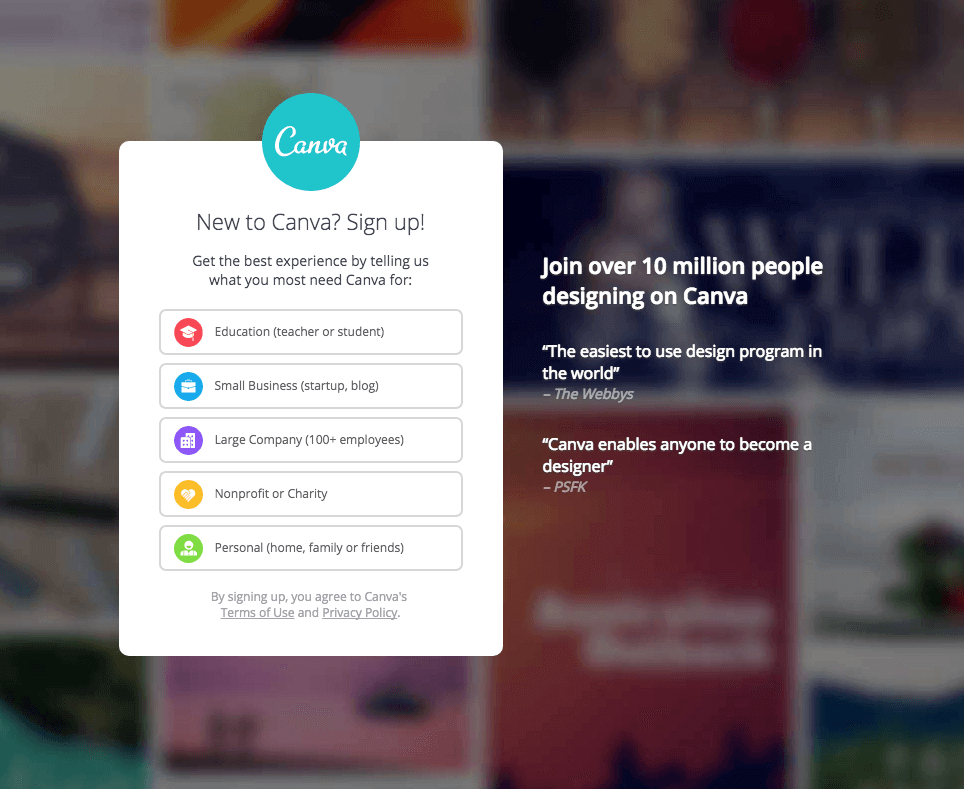 Sponsored Post
Sponsored content can help you increase your earning. You can work with reputable companies where you're asked to either share or write an article about the company on your blog.
For some, they may ask you to write a review about their product, etc. Every company has a way they go about this.
Freelancing
As your blog starts to grow and it starts to generate significant traffic, other bloggers who are struggling with getting traffic to their blog will begin to approach you.
And start requesting if you can help them write content on their site. You can put that into your portfolio and people will start to hire you as a content writer.
Tips To Write A Good Blog Post As A Beginner
Anybody can wake up and start writing a blog post, but as a beginner, there are important things you should be aware of if you want to write a good blog post that ranks on search engines.
Do Keyword Research
This is where everything starts…
You can't just stand up and write about anything that you like and expect people to also like it or read it. No, it doesn't work like that.
You need to write about things that people are actually searching for. And you do this by doing simple research to find out what key phrases people are typing into Google.
These key phrases can be a question such as 'How to Lose weight, exercise, make money, etc.
And as you find those keywords, you need to write an article that matches or answers exactly those key phrases. 
Taking this approach is the best way to get people to read your blog. 
To figure out what key phrases people are typing into search engines (Google). You can use these cool keyword research tools below.
These are paid keywords tools. You'll get hundreds of keyword suggestions and keyword difficulties, etc.
If you don't want to go for a paid keyword tool, you can go for a free one such as:
Ubersuggest
Watch this video on how to do keyword research:
Write About Things You Know
Sitting down to write 2,000 to 5,000 words blog posts is not an easy task, it takes a lot of hours.
But the thing here is that you can cut down that time if you really know and understand the topic you're writing about.
Also, writing about things you understand can really help you come out with something that's actually original, unique that your competitors cannot overcome.
For example… Some of the bloggers out there, just copy other people's blog posts and change the words and the post format and make it their own. Doing this doesn't help.
In the end, it leads you nowhere.
The benefit of having knowledge in what you're writing about is that you'll always win the number spot on Google search results. Which will help you earn more money.
Ask Questions
You may not be an expert about the topic you're writing or you just have a little knowledge about it.
Don't worry… Even the gurus out there don't know everything about what they are doing, that's why they constantly commit to learning.
So, when writing a blog post, you can go to Facebook groups, communities, or forums related to your niche and just ask questions. 
Taking this approach, you can find some really helpful answers that you can rewrite or package into a helpful blog post.
Use your Blog To Teach People Something Valuable
The main reason people visit your blog is to learn something useful that will transform their life, not what food you have eaten today.
When you use your blog to answer, teach, and solve people's problems and challenges, they'll keep coming back for more and eventually sharing your blog with their friends and family.
Which will set your blog up for success. So, use your blog to teach people something important and they will thank you later.
8 Tips To Have A Successful Blog
Gone at the days you can just write a few blog post and boom you rank #1 on Google but nowadays it's not like that. Blogging has changed dramatically.
And more and more people are jumping into this field making blogging hard, however, only a few people are making money through it. 
If you're just starting out it can be very difficult to really find some sort of success among the billions of blog posts published per day.
However, don't be disheartened, there are some things you can do to make your blog succeed despite all the noise around.
Having a successful blog is a dream for every blogger, below are some tips to have a successful blog:
Niche Down
The only way to beat the big guys in your niche is to focus on one specific topic over time to build an authority in that area. 
But once your blog grows you can diversify and cover other topics on your blog. But for now, focus on only one aspect of the topic.
Only Write About Thing People Are Searching For
Like I mentioned early on in this article, only write about things that people are searching for. 
Use keyword tools to find what actually people are looking for and write your article answering those questions.
Make Your Blog Easy To Read
Make your content educative, use short paragraphs, break your content by placing relevant images in the post, use an infographic, keep your sentences short, etc.
All of these will make your post easy to read.
Create Unique Content
Try to make your content more helpful than the other ones out there, provide your own point of view, do unique research, and provide your own stats that nobody else has talked about.
Write Good headlines
Writing good, enticing, and descriptive headlines is very important. For most people, they read the headline before actually clicking on the post.
Write Amazing Introduction
For people to read your post to the end, you need to hook them with your introduction. 
If you don't first hook people with your introduction and give them reasons why they should read your post and how it's going to help them, they won't read to the end.
Get Someone To Proofread Your Post
When writing, it's a fact that you're going to make tons of mistakes. 
So, getting someone to read your post before publishing it can be very helpful in terms of grammatical errors and other things.
Write Every Day
The only way you get better at something is when you practice it over and over again. 
The best writers in the world didn't wake up one day and become good writers, they practiced for years before becoming better at it.
So, just make it a habit to write every day.
5 Mistakes To Avoid As A Blogger
First thing first, mistakes are part of the process but if you want to succeed quickly then you need to avoid those blogging mistakes below:
Expecting Quick Money
Running a blog is like running a business and as we all know that running a real business takes time to grow and so do blogs as well.
A lot of bloggers make the mistake of approaching blogging as a quick way of making money online, which in the real world it is not. 
Blogging takes a lot of time to grow and most newbies don't realize that in the beginning and their blog fails.
Not Updating Your Blog Regularly
Building a successful blog is like waking a 9 to 5 that you have to wake up every morning and go to work. 
Running a blog is a lot of work.
Most newbie bloggers just focus on posting tons of new blog posts on their site and never think of updating the old ones. 
As you have enough content on your blog, you need to go back and update all your old content to make it either relevant or fresh.
Not Working With Plan And Strategies
The thing that separates a successful blogger from a struggling blogger? Is the plan of action and strategic approach they take toward their blog.
When you're new to blogging it can be very difficult to know what action to take every day toward your blog to grow it. 
And this is where it's best to connect with other bloggers in your niche to find out or learn what is working for them, so you can know what to do every day on your blog.
Not Scheduling New Posts
It often said more content, more traffic and I absolutely believe it true. As a blogger, the only chance you have to prove to Google to trust your site and start sending you organic traffic is how often you post.
So, to gain Google TRUST you need to consistently post new content. You can wait for months or years before you post one content.
Scheduling your post can be of good help.
You may not know what post is going to work. You're just testing things out but as you have enough content, however, some of them might start to take off.
Getting Discouraged Over Low Traffic And Revenue
If we can write a blog post and post it today and tomorrow we start generating tons of traffic and income to that post, then everybody in this world will become a blogger.
But here is the thing, it takes about 8 months for every new blog post to reach the position of getting traffic even sometimes a year depending on the niche.
So, you just have to be patient and put in the work long enough.
Don't Copy Or Spin Other Bloggers Content
This is very common nowadays as a lot of people just copy other people's content and just rewrite it in their own words.
Don't do that. 
Be you, try to do your own proper research and come out with something different, something unique and you'll stand out.
Devote your time to learn what makes a blog successful and I bet you, you'll enjoy the reward in the long run.
CONCLUSION!
Blogging is one of the best ways to make your voice heard and at the same earn money online, however, keep in mind that it doesn't happen overnight.
It takes hard work, dedication, consistency, and above all patience BUT in the end, the result is worth it.
If you've taken the time to learn how to create your own blog that generates consistent income for the long run. BRAVO!