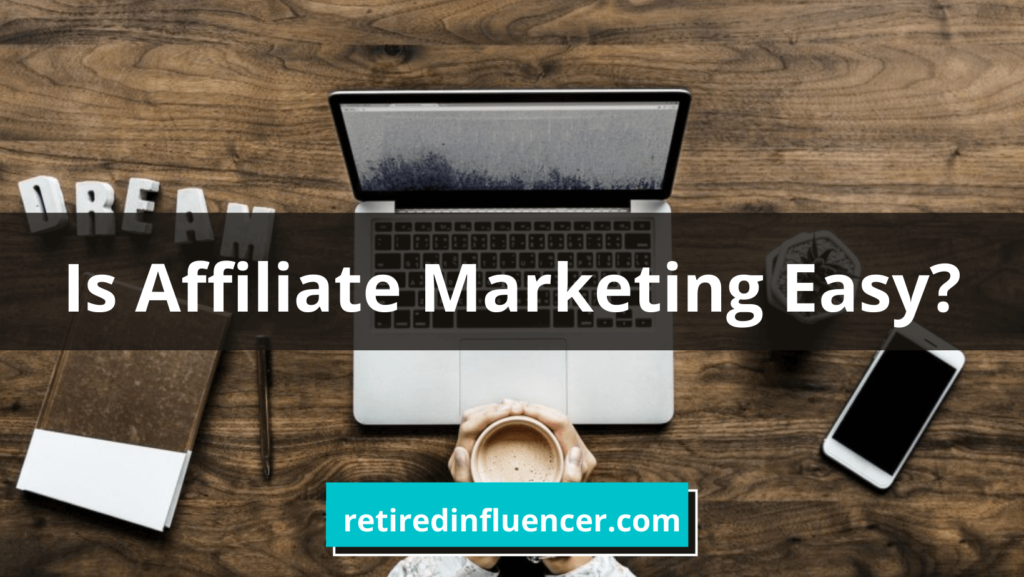 If you're new or have been online for a while, I believe you've seen some online marketers making a decent income doing affiliate marketing and it got you wondering if this whole business model is easy or not. right?
Is affiliate marketing easy? Affiliate marketing is proven to be one of the best ways of making money online, however, it is not as easy as you hear people say it to be. If you're just starting out, it is going to be a little harder for you to get your first sales. But it is worth a try until your first commission.
A lot of people jumped into affiliate marketing without knowing what it takes to succeed in this industry. Don't just start as soon as you hear about it.
Take time to do proper research, watch a few video tutorials from experts who are already in that niche to learn how to properly start by promoting an affiliate offer to the right person.
If you want to take it to the next level, you can enroll in a good affiliate marketing training course that way, you'll learn step-by-step how everything is done when it comes to running affiliate marketing as a business.
How easy Is Affiliate Marketing?
To put it simply – no, it is not easy, though, in theory, the concept is easier than it is in practice. Affiliate marketing is more than just selling a product, it requires a lot of time, effort, and hard work in the beginning. 
To make good money doing affiliate marketing you have to be consistent, willing to learn, and most importantly patient.
After joining an affiliate program, what you have to do in order to make money is to drive tons of targeted traffic to your link and that takes a lot of work and time which most people can't tolerate.
The only reason why people said affiliate marketing is not hard but it easy is that:
You don't have to create your own product.
You don't need any technical experience to get started.
It doesn't cost any money to start.
You don't have to deal with customer services, refunds, and shipping.
You can earn as much money you want as long as you know what you're doing.
Those are all true but the real truth needs to be told, it's not an easy way to get rich, it takes real work especially in the beginning phase.
Affiliate marketing is like any type of business model out there but the only thing about it is that you don't need to create your own product.
The only thing you're responsible for is to market or promote the product to others and if they buy from you, you're then compensated.
The whole process with affiliate marketing is to generate or drive enough quality eyeballs (traffic) to your offer. And if you can do that then you're on track.
Check out my #1 recommended program on my resource page if you want to grow a full-time online business leveraging the power of affiliate marketing.
And in the long run, everything can become easy for you as long as you figure out the basics of affiliate marketing and all the parts are connected and are working properly.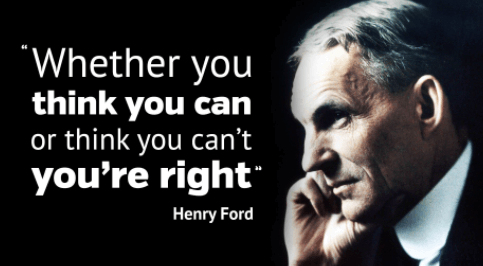 Here Is The Basic Of Starting Affiliate Marketing:
Step #1: Choose your niche
Everything starts from choosing a niche. A niche is a topic you're going to be writing content around for a very long time.
If you're going to be the person who's going to do all the content writing, it's very important you choose something you're passionate about or interested in or want to learn about.
That way, you can be able to stick with it for the long-haul if the going gets tough. Many affiliate sites don't succeed simply because of the inability to take action.
Building an online business requires consistency.
Now, the best possible chance to succeed in the niche you pick is to narrow the niche down till it hurts.
What do you mean by that?
What I mean is that you should focus on one aspect of the topic. 
For example, if you're in the "Make Money Online niche" this is a very huge and competitive niche.
Going for a niche like that as a beginner, you'll find it hard to rank your content in search engines. 
But you can niche down and try something more specific like:
Affiliate marketing
How to build an online business
Work at home
Niche website building for beginners
Investmentment for beginners, etc.
Keep in mind, you don't have to be an expert in this field. Just go and learn about the topic, implement it and then turn around and teach it.
If you take this path, you'll attract more interested people to you, who will just like you for who you are.
Don't try to be what you are not, be real you.
Step # 2: Find an affiliate program to join
As you have selected your niche, the next thing you need to do is to pick an affiliate program you believe in or more importantly the one you have used yourself.
Make sure it congruent with your niche. You can't promote dog food to cat owners, promote a product that matches the niche you are in.
There are three main affiliate programs to choose from:
High-Paying, Low-Volume Affiliate Programs: These are affiliate programs with high ticket products and pay high commission but it's not in high demand.
Low-Paying, High-Volume Affiliate Programs: These are programs with low payment but have high-interest rates.
High-Paying, High-Volume Affiliate Programs: These are programs that are in high demand, which also pay high commissions.
All of these programs exist and deciding which one to join depends on your niche and your level of experience.
If your plan is to target buyers and acquire a customer which you can market different products to then choosing the second option will be very much profitable.
Step #4: Choose a platform/ Traffic Source
Now, as your product is ready, the next step you should take is to pick a traffic source where you're going to promote that product.
Traffic is the most essential part when it comes to making money with affiliate marketing. 
That means without eyeballs (traffic) on your affiliate link or offer, clicks and no earning.
There are tons of traffic sources out there online but not all of them are good sources. Choose a place where your target audience mostly hangs around online. 
Here are some good traffic sources:
Blog
YouTube
Forum Marketing
Social Media, etc
There are so many of them, but when you're just starting out just focus on a single platform until you have enough attraction with it before moving to another one.
I recommend you start a blog or a Youtube channel. If possible, start both, with these two platforms it's much easier to build targeted audiences and increase your sales and income.
Blogging
Starting a blog nowadays is very easy and inexpensive. And probably one of the best methods when it comes to affiliate marketing.
If you enjoy writing, then blogging is your best bet. There are tons of tutorials out there online that will walk you step by step on how to start a blog.
If you're ready to start your own blog check out this post on how to start a successful blog step-by-step.
NOTE: To start a blog, costs a few dollars a month. You have to pay for domain and hosting.
Now…
Once, your blog is up and running, you need to write content that people want to read and then optimize it for search engines (SEO) so people can find your post and actually click on it and read it.
And from there, you can add your affiliate link to the part of your content that makes sense. It has to be natural, not in a spamming way.
In my opinion, blogging is by far one of the best ways to promote affiliate links, as long as you own the domain, pay for your hosting packages and keep adding more valuable content and keep your site updated.
REMEMBER: Blogging is a long-term plan but it will surely grow to where you want it to be if you don't quit.
YouTube
Apart from Google, YouTube is the second-largest search engine in the world. 
It works like blogging when it comes to SEO and creating content, but with YouTube, you create videos instead of articles.
Creating a YouTube channel and uploading videos to YouTube is absolutely free, if you have a Google account, you automatically have a YouTube channel.
Creating YouTube videos can be a little bit quicker than blog posts and you can also earn more money from YouTube when you allow ads from Adsense to be run on your videos.
In the internet marketing world now, video marketing is now the best and fastest way to build the Know, Like, and Trust factor with an audience.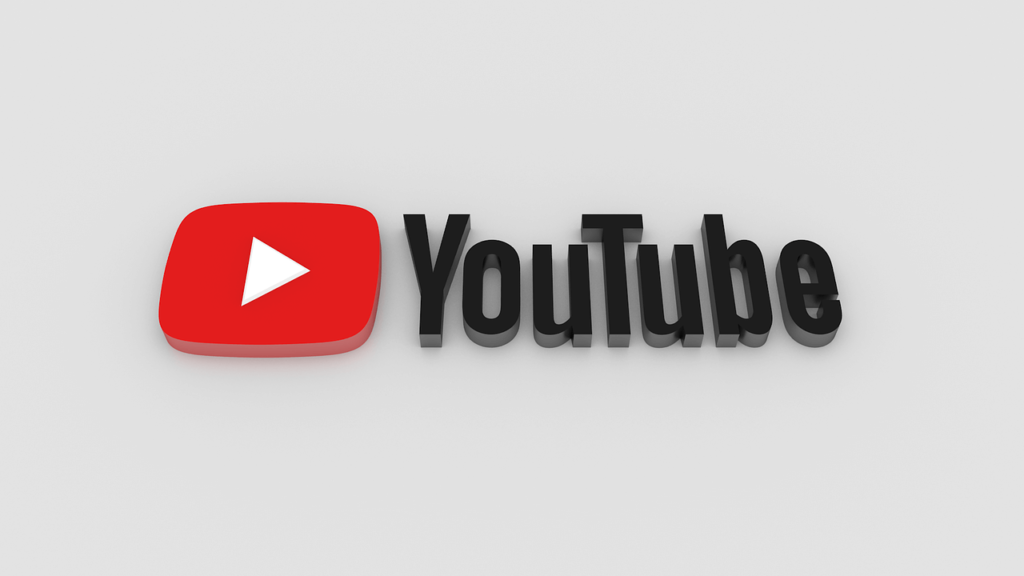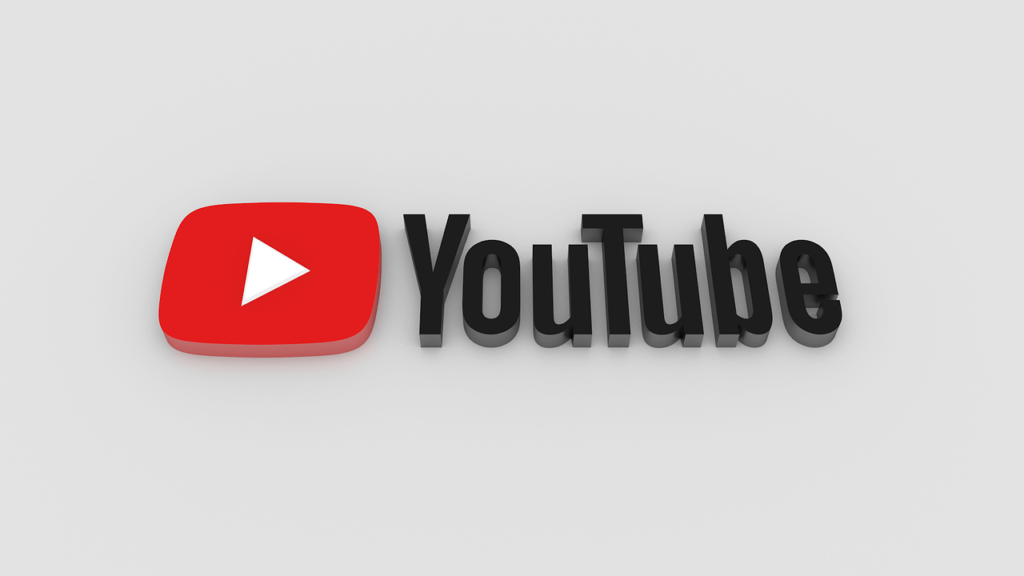 The reason is that you're going to show your face on camera and if people see and know you're a real person, they will be able to connect with you more.
If you don't mind being on camera, then starting a video marketing can be a little bit profitable for your business.
My recommendation, start both a blog and a YouTube channel.
Steps #4: Know Your Audience
People didn't visit your site to read about what you eat today, they came there to learn about something or need an answer to their problem.
You need to put yourself into the shoe of your audiences in order to understand:
Why do they come to your site or view your videos?
What problem and challenges are they facing?
How can I help them solve their problems?
Can my product help them solve their pain?
Why do they need my product?
When you understand your audience, you're able to speak directly to their interest, desires, challenges, problems, and pain points.
It helps you promote the right product and also create the right content that speaks the language of your ideal customers and generates more clicks on your content and offers.
Step #5: Create great content
Have you ever heard this saying before, 'online content is king'? And that's absolutely true. But quality content is indeed king.
You don't get to become that 10k business owner without first doing the work and online that work is content creation.
As you understand what your targeted audience wants or are looking for, you need to take a step back and focus on that.
Creating valuable, relevant, high-quality content that educates, teaches, or helps your audience in one way or the other is what will help you win.
If you ever want your affiliate marketing business or affiliate site to be successful, then make it your number one priority to focus on creating high-quality content.
Step #6: Capture and Build A List
The big mistake I see most affiliates make, I also make this mistake when I first get started is that they send people directly to a raw affiliate link without bridging a gap between the product.
What do you mean by that?
What I mean is that they don't create landing pages to first capture visitors' email addresses before sending them to the product.
If you're directly linking people from your content to a product, you are leaving you out of the equation.
For example, If that person didn't buy the product, which majority of them will not at their first exposure. Do you guess? You lose a customer which you can do a repeated market with.
If you're listening to the sound of my voice today, please, whatever product you're promoting, don't send people directly to that product.
You're leaving huge money on the table doing that.
Instead, create a landing page to first capture their email address before sending them to the actual product.
And if they decide not to purchase the product, you still have them on your email list and you can remarket the product to them over and over again till they decide to buy.
If they still didn't purchase the product after you promote it to them, maybe they need a few extra emails for you or more information about the product
Or they want to know more about you. And this is where the power of email marketing comes into place.
You have to follow-up with them through an email autoresponder on a daily basis and in your email, you should try to provide value before trying to sell to them.
Email marketing has so many benefits.
One important of building an email list is that you can promote other products to your list if someone doesn't like the first or the original product.
You can also create your own product in the future and promote it to them.
That's called leverage!
There are tons of landing page builders out there, I suggest Getresponse, it's free for 30-days, they also have an effective autoresponder to follow up with your leads and sell your product.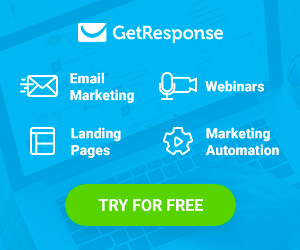 Step #7: Be Consistent
Whatever promotional method you choose to promote your product, you've got to be consistent, especially with YouTube and blogging.
With these two platforms, the more content you get out there or have, the more people you're going to reach and the more chances your offer is going to be seen by a handful of people.
If you have 200 videos or blog posts, you probably have 200 chances for your videos to go viral or 200 keywords that can start ranking on Google, compared to 3 or 5 posts.
If among your 200 posts and one manages to bring in about 1,000 views, you have 1,000 chances to sell your product.
So, it's all about consistency and the effort you're able to put in.
So, affiliate marketing is easy if only you can connect the above and master them and don't give early.
(Pin This Into Your Pinterest Board)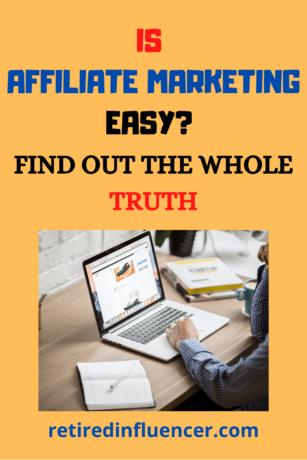 CONCLUSION!
In my opinion – affiliate marketing is only hard or difficult for people who are looking for a quick way to make money.
Making money online with affiliate marketing is possible, it just takes time but the chance of you becoming successful with it will depend on your seriousness and commitment.
The 97% of affiliates fail to earn their desired income simply because they don't commit to the process long enough and also they lack an effective marketing strategy for promoting their product.
They rather start by spamming social media with their link instead of providing value. 
Affiliate marketing is a value game and if you can provide enough value to the marketplace, success is bound to happen for you.
Follow a plan or a system, and help your audience by solving their biggest problems, and build an email list and affiliate marketing will be easy for you.
Let me know your thoughts in the comment below!.. 
What has worked for you in your affiliate marketing journey?
Affiliate marketing FAQ
Is it hard to make money in affiliate marketing?
Yes, it can be hard to make money from affiliate marketing if you go about it the wrong way. However, the best easy, and effective way to make money with affiliate marketing is by obtaining quality targeted traffic for affiliate links and that can only happen by creating valuable content. It also requires training, work, effort, dedication, and perseverance in the beginning.