How to earn $1,000 a day with affiliate marketing?

Are you an affiliate marketer and want to earn $1,000 a day? Well, in this post I will be sharing with you how you can make $1,000 a day and more with affiliate marketing.
Making $1,000 a day with affiliate marketing is absolutely possible to make but you can only make that happen through a high ticket affiliate program.
So if you are new to affiliate marketing this will help you to speed up your process of making money with affiliate marketing and if you are already into it, great, I will share some tips with you that can skyrocket your income fast.
But before we dive into this, making money online with affiliate marketing and becoming successful is not the easiest thing and it is not the hardest thing either BUT as far as people are making money with it you can. So I want to share with you what it truly takes to make that happen.
There are people that really work hard with their affiliate marketing business 24/7 but never make any money with it, so you have to understand that making money with your affiliate marketing business is not about hard work.
But rather there is a step and balance you need to follow and understand before you can become successful and that's working smart not hard.
The fact that you are working hard does mean you are going to be successful, what if you are working at something but all that you are doing is taking action on the wrong thing, when you get to figure it out that you are working hard on the wrong thing, it can get you frustrated and even want to quit.
The other thing that keeps people from making money from their business is the mindset they have about what they are doing. Most people who fail at internet marketing don't believe it possible for them and guess what, they try to run their business on luck but I'm here to tell you that, it doesn't work like that.
Though you do have to work hard and take massive action on your business, it is far more than that only. So if you really want to earn $1,000 a day with affiliate marketing be sure to read this post to the end.
With that being said let's dive in:
Steps To Make $1,000 A Day Online With Affiliate Marketing

Affiliate Marketing is a process of promoting other people's or companys' products/services and getting paid for a commission when someone buys through your recommendation. 
You find a product you use or like then you promote it and when someone clicks on your unique link provided to you by your affiliate company and makes a purchase you get paid.
If you want to earn $1,000 a day with affiliate marketing, you need to follow some steps, getting started the right way is the key to make that $1,000 per day. There is so much to learn as you go, but this step below can give you a nice head start to start making some income.


1. Thinking Long Term Not Short Term

Making $1,000 dollar a day with affiliate marketing, you must commit to the process for the long term, Why, because this type of business model and probably making money online with affiliate marketing is not a get rich quick scheme, you must focus and commit to the process for a long time.
The people that you see online who are making a killing doing affiliate marketing and probably making $1,000 a day or multiple 6-figure a month didn't make money in their first year or short term. It really took them years before they started seeing some success.
So if you are into this, thinking you are going to make money in just a couple of weeks or months or even years then you are not going to reach anywhere before quitting.
So what I'm trying to say here is that it will take time before you will start making money online with your affiliate marketing business and if you could hold that thought firmly knowing that it will take time and stick to it then you are on the road to success and could possibly make $1,000 a day or even make more than that.
(My #1 recommended program to learn and make a full-time income online with affiliate marketing from scratch. Click Here to join now…)
But depending on how serious you are with your business and also the action you take daily on your business will determine how long the process will last for you. 
Taking massive action on a daily basis, that's what really matters for your success and if you are lazy, then you need to stop joking and take this seriously and focus.
If you are focusing on too many things all at once this could delay your success, for example promoting multiple affiliate programs all at once can get you overwhelmed and make you focus on doing the wrong thing. 
So focus on one thing for the long term until you are successful before moving to different things.
2. Promote High Affiliate Products And Recurring Programs

The mistake most affiliate marketers make is they go to any affiliate platform like ClickBank, ShareAsale, Cj Affiliate, or JvZOO and pick a product that pays commission somewhere between $20 to $50 per sale.
Promoting something like that will not change your life and not to talk of making $1,000 a day, if you promote a product that pays you $50, it's going to take you more sales and traffic to convert into sales to even make $1,000 a day.
If you want to make $1,000 a day this is not how you have to do it, you have to partner with a program that pays 50% monthly recurring income for every sale you make and that's passive income right!. But that's what will prepare you to make $1,000 per day.
Then you have to focus on finding a product that pays $500 to $5,000 in commission per single sale. This is how you make $1,000 or more per day with affiliate marketing and change your life completely.
The name of the game of making $1,000 per day is to find a product that pays you $1,000 straight forward for just a single sale.
But no matter what program you join I want you to learn the skills of driving target traffic to that product. Driving targeted traffic is the key to make that $1,000 per day and the same amount of work it takes you to make $20 is the same amount of work it will take you to make $1,000 per day.
The work that you put into making $20 dollars a day if you put in extra work into that making10 sales of $1,000 products a month, imagine how much you will be making a month? That could be $10,000 a month right!.
And this is the reason why you see a lot of successful affiliate marketers saying oh I just make this amount of money a month and it true and all that happens by selling high affiliate tickets.
3. Learn Marketing And Strategies To Increase Your Skills

The number reason why almost everyone who started affiliate marketing fails to make money in their business is because of a lack of marketing skillset.
Most of the affiliates lack in marketing and don't know how to properly market their product, even those who think they know marketing are not doing it the right way.
So the only thing you need to do to be successful is, you need targeted traffic then you generate leads and as you generate leads. The second thing you have to do is to then follow up with your leads with an email to build trust. 
The next thing is to sell to your list and if someone buys from your list now you have a potential customer that you can promote other products to and even make more money from the same people and on the back end, you are making even more money because you are selling high affiliate products that pay you more money.
Harness The Power Of Value-Ladder

As you grow your influencer over time by creating content that helps people you can then sell low ticket products and get them into your sales funnels fast and as that product add value to their lives, you then sell more products to them which even cost higher than the first product.
Doing this will help you, marketer, your product faster and easier and it allows you to build trust faster with your customer as you add value to their lives which can make your business increase and grow.
4. Focus On Getting High-Quality Traffic

You don't get to make money online without first getting traffic, so your main focus should be on how you are going to get traffic to your offers. 
So where do you get traffic online?

There are many ways to get traffic online to your offer, you can get traffic to your offer through YouTube, Blogging, Forums, Instagram, Pinterest, Quora, Reddit, etc… There are tons of places where you can get traffic to your offer fast. But you need to focus on one traffic strategy until you are getting 10 to 20 leads per day from that platform.
But you can get the traffic as well and don't make money, Why? Traffic is good but if you don't have marketing knowledge all that traffic will be a waste. So you have to learn marketing to drive the right traffic to your offer.
So how do you drive the right target traffic to your offer that converts? 

You can drive the right targeted traffic to your offer through creating content for the right people who are interested or in need of what your product solves and they become leads, then you then promote your offer to them through email.
For example, if you are in the entrepreneur space, you can be creating content for those who want to lose weight, they are not your target customers, you need to find those who want to make money online or start a business, etc…
So the whole problem to this is marketing and the solution is to learn marketing and to stick with it for a long term. 
Starting an online business is one of the rewarding things you can do and the earlier you decide the better you can harvest the result. 
The best thing you can do for yourself is choosing a niche you are passionate about and building a business around. And it is very important for you to stick with it for a long term because it's going to take time before you will start seeing results. 
But if you are not passionate about what you are doing, you are going to quit so fast when you put in the hard work but you are not getting the result fast, that's why it is recommended to be passionate about what you are doing.
Is Affiliate Marketing Still Profitable?

Yes affiliate marketing is still profitable and it still works but there is a big change to how it used to work back in the days.
Back in the days, you could just run Facebook ads and Google AdWords and get traffic to your landing page or offer and make a sale but now it doesn't work that way anymore. 
But in today's world, we leave in now, everything is about SEO, and the only way you make money from affiliate marketing is by writing quality content and optimizing your site for search engines to rank higher on Google because people trust search engine results to be the very best and legit. 
Due to scam and all other things that people have encountered have made it so hard to just run ads and make money with affiliate marketing. 
So if you can produce quality content and rank on search engines, either by Google or YouTube, it is really possible to make money online with affiliate marketing.
You make money with affiliate marketing by driving targeted traffic to somebody's product and as the traffic and sale is made you make an income which can be a passive income for you.
And if you are not getting traffic to your offer you are not going to make money with your affiliate offer, that's why it's important to get your content rank on search engines to get organic traffic rather than paying for traffic which doesn't really work effectively now.
The more traffic you get the more money you will make and that can be passive income and recurring income for you if you get consistent traffic to your content. So the point I'm trying to make here is that, produce quality content to rank well organically and you will have money rolling in like that.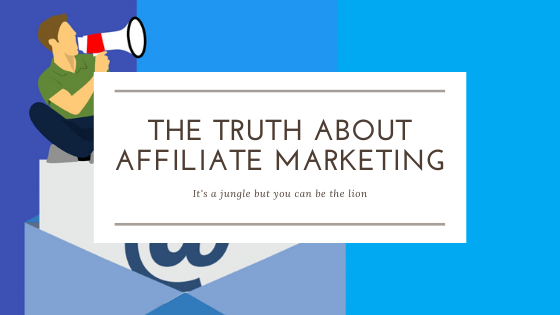 So How Can You Really Do Well In Affiliate Marketing And Be Profitable?

1. Find a niche you are passionate about:
If you are an affiliate marketer and all you want is to make money you're going to fail and will not make any money but if you are doing something that you are passionate about, you are going to put in all the time, work, patience and effort to succeed.
And it won't feel like work for you because you really love what you are doing and even if you are not making money from it you will continue doing it, which will probably help you to make even more money because this game is all about 'long term".
And now that you find what you love, it 's time to choose an affiliate product in that niche to promote. You can go to ClickBank to find the most popular affiliate program that people are promoting and making money with and pick that and promote.
Why do you have to choose popular products that people are already promoting?
This simply because people are already making money and it has proven to work and people love it why it's trending, and also it is a chance that when you also promote it you get people to buy.
2. Google The Product

As you have found the product, the next thing you want to do is to head over to Google and just Google the name of the product and you will see all the top websites that are promoting that same product and the keyword they are using to rank for that product.
Then what you have to do is take notice of the keyword terms they are using to rank for that product and also check each of them the kind of content they create.
3. Create Better Content Than Others

As you have studied their keyword and the kind of content that is working for them, it is time to create your own unique content that is far more better than theirs. If their content is 1,000 words make yours 3,000 to 5,000 words and add more information in yours than theirs.
If in their content they don't have pictures and videos add that in yours. Just make sure you create something that's far better than what their ranking for in search engines and as you do so, you will outrank them and you will get more organic visitors to your content which may turn into leads and sales.
Once you use this affiliate marketing strategy over and over again you are going to master the process and everything will become easy as time goes on.
If you want to learn and as well as make a full-time income online with affiliate marketing, click the link for my number #1 recommended program.

Now let me tell you why affiliate marketing is still profitable not just for some years but it sustainable for many years to come?
1. You will get to make money and can scale it as a business and make more money.
2. You don't have to be a super or an expert marketer before you can make money, you can make money in affiliate marketing as a complete beginner when you follow a step-by-step process or good affiliate marketing course.
3. You get people to pay for the tools you are using to grow your affiliate marketing business when you refer others to join and use the tools.
4. You will get to run it as a part-time business along your other business and still make money.
5. You don't have to create your own product, deal with customer service or chargeback, everything is done for and all you have to do is to just promote.
6. You will grow your email list faster and can make more money from your list.
7. You can start an affiliate marketing business with no or little investment.
8. You don't need to pay for advertisements to promote your product before making money, you can get organic traffic and make money.
9. You don't need a website or blog to start affiliate marketing.
10. Affiliate marketing is a win-win for both affiliate and merchant.
Affiliate marketing is a great business model that can make you rich if done well and follow the right affiliate marketing course. So let me share with some of the things to consider to scale your income when implementing affiliate marketing.
How To Scale Your Income
1. Know the product you are promoting or buy the product and use to have little knowledge about what you are working with.
2. You need to know the kind of content to create that will drive in the right people who are in need of what you are selling.
3. Choose evergreen products. Choosing to promote evergreen products like health, wealth and relationships can really make you profitable and can increase your revenue because this kind of niches are very popular and people are always interested to lose weight, make more money and want a better relationship and if you can build a business around those niches. 
And can help them with a product that can better their life, they will be willing to pay you money for it.
4. Educate yourself by investing into courses and training to learn more skills to increase your influence and marketing skills as a marketer.
5. Invest into tools to automate your process to grow your list and to increase your sales.
Why do people fail at affiliate marketing?

It is because anyone who tries affiliate marketing fails due to lack of effective strategy, impatience and lack of marketing skills. It is reported that 95% of beginners who start affiliate marketing fail because of high expectations to make money quickly and if they don't make money during their first year they give up and quit.
I came to the conclusion that 95% of affiliates that jump into this business model just because they hear and saw how people are making a killing doing it and they also jump into it without knowing what it takes to make that happen.
Can You Become Rich Doing Affiliate Marketing?

A big YES, affiliate marketing can make you rich, but if you think you are going to make money quick then you are not going to make any money, because affiliate marketing is not a-get-rich-quick it takes time, consistency, effort and massive work to be able to make a good money.
Being successful with affiliate marketing and becoming rich, there's more that goes into it and that's, you need to have the right "Mindset" for success.
If you don't work on your mindset and commit to learning and reading books and work on personal development and marketing you will fail.
If you develop a mindset that it's going to take time and work to be able to make it, then success is bound to happen for you.
Remember, along the way it's going to feel like you are failing when you are not seeing the result but don't let that put you down but rather let it motivate you to keep going and as you go through that phase and don't give up you are going to make it.
What do successful affiliate marketers do?

Like I said in this post earlier on, the only way to become rich with affiliate marketing is to create content that people love to consume. Your content has to educate and teach people and help them solve a particular problem.
When you create your content, don't send people directing to the product or service you are promoting but rather send them to a landing page then from the landing page to a bridge page where you talk little about the product then you can finally send them to the product you are promoting.
Why all those processes?..

Because as you take them through those processes you will get the chance to capture their email address and when they see the offer and don't purchase instantly, you now have the chance to email them the product again and again and again, which they might eventually might buy.
The mistake I see most people make, especially beginning affiliates and some super-affiliates, is that they send people straight from their content to the offer and if you are doing that you are leaving yourself out when it comes to marketing and also you are not building trust with your customers.
Now as you capture their email address you have to follow up with them with an autoresponder and build what we call the Know, Like and Trust factor
If you are ready to build your list you can "Get started with Getresponde here for 30 free trials to build your list and autoresponder.

(it an affiliate link, which mean I get a little commission which  is no additional cost to you but help me to focus on delivery pure content)
Remember, the only way to make money online is by first building trust with your audience before you can sell anything to them.
Highest Paying Affiliate Marketing Programs

Affiliate marketing is a business model that involves promoting a product you know (and probably use yourself) to a customer that trusts you and is in need of that product you are promoting.
When it comes to promoting a product to your ideal customer I recommend promoting only products that you are very familiar with. When you promote a product that you have used yourself and are familiar with, knowing it will provide value to your customer, you will feel confident and motivated to promote it.
Because you know it is going to provide value to their life which will make them trust you and will buy whatever you recommend to them the next time.
As an affiliate marketer you need to understand the only way you make money and increase your income is by first establishing and maintaining trust with your audience.
5 Affiliate Marketing Tips To Sell Your Product Or Service Fast:

1. Relationship: A lot of marketers make the mistake of first finding a product before thinking of building a relationship but that is wrong marketing.  Building a relationship with your potential audience first is the main foundation of trust which will eventually lead to them deciding to buy what you offer.
Because this game of affiliate marketing is all about trust and if you lose that trust with your, hello, Mr. Affiliates you are going to fail and won't make money in your business.
– What do I have to do then?

Before you even think of finding a product to promote, take your time to build a relationship with your audience first, so you can understand their needs and pain point then you can identify the type of product that fits them to solve that particular problem.
– How do I know their needs and pains?

You need to become friends with them who visited your website, comment on your post, like, share and retweet on any of your content. Find time to reply back to them and as you do that over and over again.
It makes people feel important and will love to connect with you on a deeper level and there you will start to build that relationship and get to identify their problem and as you identify their problem it is time to find the right product that can solve that problem for them.
You need to be an affiliate to that product but only if their problem can be solved by the product you are an affiliate for, then just recommend that product to them. 
Remember: We are building trust and as a smart marketer you need to approach affiliate marketing as a long term and never start with a product or commission in mind.
2. Product: Once you have built that relationship with your audience and identify their problem and needs. It is time to find a product and recommend it to them that will meet their needs and help them in their journey.
If you are not an affiliate for that product don't worry, still recommend it to them because you are trying to build trust and relationship with them.
– How do I build trust with new visitors to my website?

When a new visitor, visite your website you need to first identify their needs, that first lead them to your site then you define their path and road map that will lead them to success.
How do I define the road map that will lead them to success?.. 

Simply list all the tools and products you have used yourself that have helped you to achieve success and recommended it to them. Remember: don't start with a product to make a commission, start with your audience goal and pain in mind and find a product that will help them get where they want to be.
It is very important and this can hurt your business and you can lose Trust with your audience if you are not promoting or recommending only products and services that will help your audience along their journey to success.
If the product can't help your audience to their path of success don't promote it to them.
3. Experience: If you have find the right product for your audience that will lead them to success, Great, now don't start to spam them with your affiliate link but what you have to do is to first have an experience with the product to know how it works and the best way you can explain it to your audience and show them how the product work and how to use it if they buy it.
Why experience?…

Affiliate marketing works best, when you know the product you are promoting and treat it as your own. You need to know and have the experience that your customer will have if they decide to purchase that product.
So the best way is to buy it yourself and use and learn the good and bad aspects of that product and see if it is a good fit to promote to your audience and if it does, then your audience is going to find it helpful as well. 
4. Proof: The world we leave in now, people love to see proof before they can take out their money to buy something, they want to be sure if it will help them to achieve success in their lives.
You can say a product will help  people without showing proof and real tangible reason that the product actually works.
What do I have to do to show proof of a product?

Simply find people who have used the product you are promoting and gather their testimonies and results they have had using the product and add that to the product you are promoting. 
Remember it has to be a real testimonial and it can be in the form of video or text or furthermore you can show them your own proof for using the product.
5. Pitch: This is the last part to now ask for the sale, as you have earned trust with your audience this step is actually easy and most of the time this process comes naturally. So most of the time you need to reduce the amount of pitching and focus on the first four stages.
But still, you need to make the sale and you need to find a way for people to click on your affiliate link to purchase the product you're promoting. 
This means in your blog post, Landing page, Email, Webinar, Social media post or Video, etc, you need to insert a link in a specific area for people to see and click on them.
What do I have to do for people to click on my affiliate link and make a purchase?

1. Always Be Honest

When you have an affiliate link in any of your posts, always be clear and make people know that your post contains affiliate links that will earn you a commission when they click on the link and make any purchase.
– Why do I have to do that in the first place?

If you do remember everything we talk about earlier on in this post, by first building relationships, trust and also helping your audience to achieve their success. This will actually help you because they will want to pay you back for the help you have given them.
And some people will just want to buy from you because of you being honest and stating that you are using affiliate links and want you to make that commission.
2. Offer Help And Support

Telling people you are using affiliate link is great, what you also have to be doing is to offer help and support by answering a question and providing the necessary help they ask you for.
– Why?
This is to show your audience that when they purchase your product or anything, you are here to help them with whatever help they may need.
3. Provide Multiple Product (Opportunities)

When adding affiliate links being in blog posts, email or any piece of promotional content, you need to mention your affiliate link at least 3 times in those content. Most of the time people fail to do this and only mention their affiliate link just on in their blog post.
– Why mention it 3 times?

A lot of time your readers misses your link when scrolling through your post and forget to scroll back  and if it happens that way, you miss out on commission there. Instead, add the link at the beginning, middle and at the end of your post.
4. Offer Free Bonuses

Offering bonus on your product and especially in affiliate marketing is a great strategy and great techniques to increase your sale rate and also to know if it is your audience that goes through your link or someone else.
What are the bonuses?

-These bonuses can be in the form of PDF that show people how to use the product or something helpful.
-A coupon code or discount on a related product, etc.
5. Remember Your Why

Now, remember why you started affiliate marketing. This business model is not for the commission. Everything is about your audience and how well you can help them to achieve success and if you can first focus on that, you will earn more money in the long run, the more people you help.
Remember: Use affiliate as a way to help your audience and the commission will follow.
In the next chapter, we'll dive into some of the trusted and high paying affiliate product that'll will increase your income and take your success to the next level.
High Paying Affiliate Marketing Product
So let's look a some of the best affiliate marketing product to increase your sales
1. WP Engine
WP Engine is definitely one of the best and highest paying affiliate programs that pay up to $200 to $246 in commission for a single referral. If that's not high enough for you, they also have additional bonuses for high performers.
2. ClickFunnels
ClickFunnels: You will earn 40% recurring commissions per month per user for life. This can add up really quickly. Plus you can also win your dream car that they'll pay for.
3. Legendary Marketer
This program is built for those who want to learn how to start a successful affiliate marketing business the right way and make full-time from it. It is purposely dedicated to helping entrepreneurs to build strong home businesses and it allows you to earn money while you learn about marketing online.
This program is not a get rich quick scheme but if you put in the work, time, and effort you'll probably see results.
4. HubSpot
Hubspot is a service that helps business owners through content management, tools for effective social media marketing, web analytics, landing pages, etc…
As an affiliate to this program, you earn $1,000 per sale from your content when some purchase through your link.
5. Shopify
This is an eCommerce store and a subscription-based service that offers an easy way to create a website and you use their shopping cart to sell, ship and manage all of your products and services.
 When you partner with their program you earn a commission for each new Shopify merchant you refer to their software. You earn $58 for each paid member you refer and $200 for upgraded members.
Conclusion
Affiliate marketing is just a business model that can change your financially if you just decide now that you are going to learn the process of how it works and to take action on what you learn.
Affiliate marketing is a journey, you will grow as a person if you commit to learning and it is exciting. 
Follow those you have the success that you want and learn from them what they are doing.
Never give up and stand the chance of becoming successful with affiliate marketing… There are time you will feel like giving up but I have only two words for you ( Have faith and press on! press on!! press on!!!)
If you reach the end of this post I want to congratulate you for taking the time to reach here.
If you have any questions or something we should add to this post and also any help, rich to us in the comment below…
I hope to hear your success story soon!
(RETIRED INFLUENCER.COM)
Do you want to learn how to make money online by learning how to start an affiliate marketing business from scratch? CLICK HERE to join now.
Download my Ebook for FREE and learn step-by-step How To Build A 6-figure Business Leveraging The Power Of The Affiliate Marketing
SEND ME THE EBOOK