Making 6-figures income with affiliate marketing is absolutely doable or possible if you're willing to put in the hard work and the time and more importantly if you focus on promoting high-ticket affiliate offers. 
Because promoting high-ticket affiliate products, there is a high possibility of you making 6 figures much faster than promoting low-ticket items. 
And with high ticket offers, you don't need huge audiences, customers, or followers to make a lot of money from your affiliate business.
Can You Make 6-Figure With Affiliate Marketing?
To put it simply – yes, you can make 6 figures from affiliate marketing and you can even scale it to 7, 8 figures, or more, only if you're willing to put in the necessary work, effort, time, and commitment to learning the process and the steps it takes to achieve that.
And above you'll need to focus on promoting high-ticket affiliate offers.
You'll never make a six-figure income from affiliate marketing selling low-payout affiliate products or services.
So, to boost or scale your affiliate marketing, it's advisable you partner with an affiliate program or network that pays a higher commission between $500 to $1,000 per sale.
That's the only way to scale your affiliate marketing to 6 figures per month.
Affiliate Marketing: What's All About 
In a nutshell, affiliate marketing is a process or a marketing strategy, where an individual (an affiliate or a company) promotes a product or service created by another individual or company. 
And gets paid each time a purchase is made through their unique affiliate links.
How Affiliate Marketing Works:
The concept is simple – when you refer or recommend someone to any product or service (which is not created by you).
And when that person purchases the product through your recommendation.
 The company (the product creator) pays you a percentage of the sales product.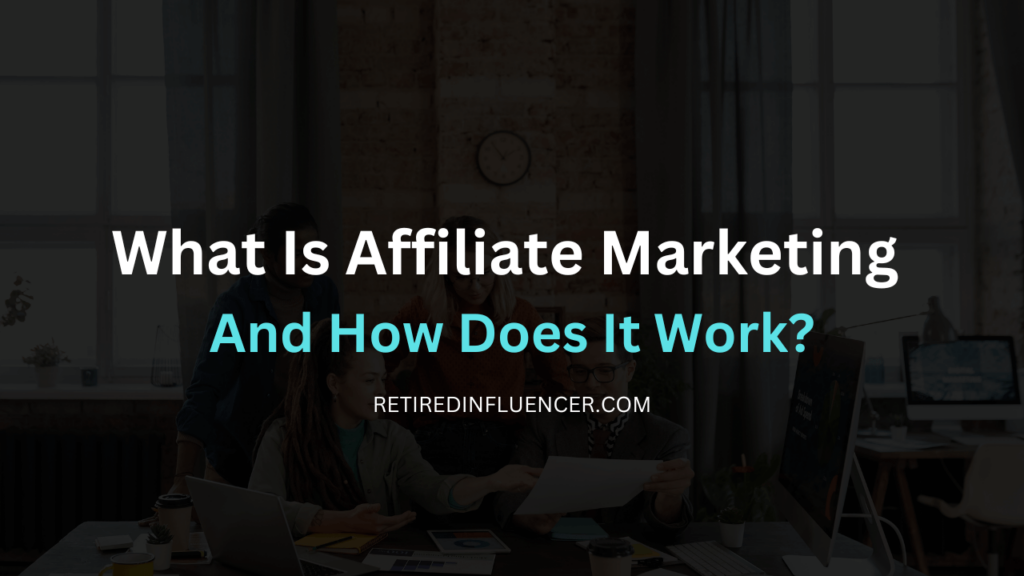 Is It Hard To Earn 6 Figures From Affiliate Marketing?
When you're just starting out in affiliate marketing, it would be incredibly difficult to build your affiliate marketing to 6 figures because it takes a lot of hard work. 
And it's very competitive these days, however, with proper training, planning, commitment, patience, and persistence is more achievable.
How Long Does It Take To Earn 6 Figures From Affiliate Marketing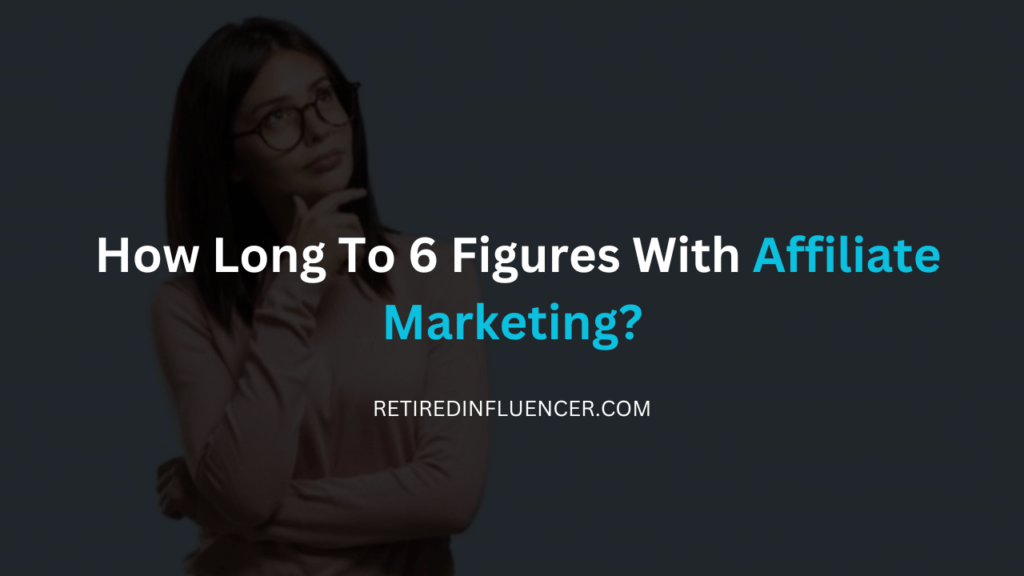 The amount of time it takes to start earning a 6-figure income through affiliate marketing can vary significantly depending on several factors such as your experience, target audience, niche, marketing strategies, effort, the commission rate of the product you promote, and the quality of your traffic.
Experience (6 to 12 months): Initially, it takes time to master the ins and outs of affiliate marketing. During this phase, you'll focus on laying the groundwork for your future success and you may not see significant success.
Audience Building (6-12 months): Building raving fans or a loyal audience takes a very long time and effort, however, the timeline for building an audience can vary, and this phase can take months or years to establish a substantial audience or following.
Niche (3-6): In certain niches, you won't see immediate results, it'll take a few months before you'll start getting momentum. While some niches, you may start seeing some initial earnings. 
Marketing strategies: In certain marketing strategies, such as blogging and YouTube, it typically takes time to build traction and drive targeted traffic to your affiliate offer which will convert to sales.
Your Effort: The more time and effort you put into building your affiliate business or promoting your product, the higher the chances of you earning more money through the program.
Commission Rate Offered: If the product you promote offers a higher commission rate, then you can potentially earn more and faster.
Traffic Quality: The effectiveness of the traffic you're driving to your product sales page plays a significant role in the success of your affiliate marketing effort.
However, in most cases, it takes several years of hard work to reach 6-figures in affiliate marketing, ultimately it can take you 3-5 years depending on the effectiveness of your marketing strategy, effort, and commitment.
PS. I wrote another where I go more in-depth on how long it takes to make money in affiliate marketing.
How To Scale Affiliate Marketing To 6-Figures Per Month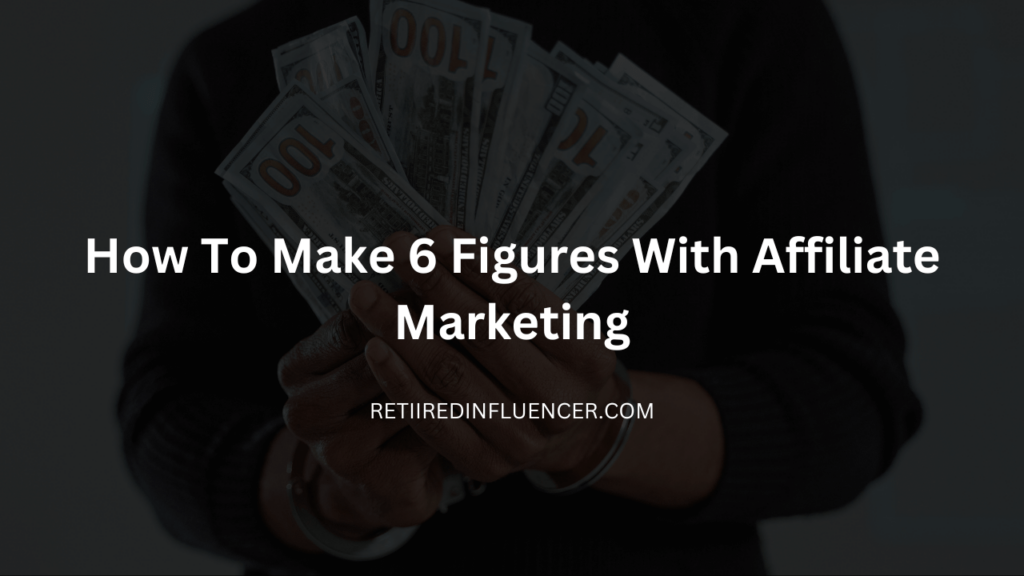 To make 6 or 7-figures in affiliate marketing, you'll need to focus on several key strategies and tactics.
The first step to earning 6 figures per month from affiliate marketing is to pick an evergreen niche that falls into either Health, Wealth, or Relationship. These evergreen niches will be around no matter what.
As you've decided on your niche, take time to research and sign up for a high-quality affiliate program that offers products or services that align with your audience's interest and offer a high commission rate. Preferably $500 to $1,000 and more.
Once you've signed up for the program, you want to take time to learn everything you can about the program and how to promote it.
Choose your marketing strategy for your effort. Pick one traffic source that you're good at and then put in the hard work to make it happen.
Absolute focus on creating real value (quality content) that helps solve people's problems, pains, or challenges they're facing.
Start building an email list of visitors and a strong online presence through social media. This will help you reach a wider audience and build trust with ideal customers, which you can market your products to.
Continuously test and optimize your campaigns. This involves experimenting with different affiliate offers, landing pages, promotional strategies, etc, to improve your conversion rates and earnings. 
Finally, keep in mind that achieving 6-figures in affiliate marketing requires a combination of hard work and it'll likely take some time, so you want to be patient and persistent.
Recommended Reading: How To Make Money With Affiliate Marketing Complete Guide.
That's It Folks!
As affiliate marketing is a proven business model – success is not guaranteed, it can be a complete bust. 
However, if you're willing to put in the necessary work, time, and patience required to make six figures in this industry, it definitely possible.
I know a good number of people who are making multiple 6, 7, and 8 figures per month with affiliate marketing.
There's no specific amount of money designed to be made in affiliate marketing – the potential is limitless.
NB: I'm not saying it's easy because its not, it's very hard to reach that level – it takes a lot of hard work and sacrifice to reach that level.
RELATED: