What affiliate marketers do and don'ts: Successful affiliate marketing requires ethical practice. Produce quality content that helps solve your ideal customer's problem, be transparent in your recommendations, don't engage in aggressive promotions, and don't violate the terms and conditions of affiliate programs you join.
What Affiliate Marketers Do And Don'ts?
Affiliate marketers can do a lot of things in different ways.
Blogging
YouTube marketing
Organic social media
Paid Advertisement
Direct Outreach (FB Messenger, etc)
Each of the above-mentioned is going to have its own effective method of promotion.
However, anything can potentially work for affiliate marketers, but in my opinion and experience has been that as a beginner you should:
Learn fundamentals of sales. It's a skill that'll serve you forever in your affiliate marketing journey.
Begin with organic social media & direct outreach both are free and minimize the risk of blowing a lot of cash before knowing how to sell properly.
Sell a high-ticket affiliate product or service. By promoting high-ticket affiliate offers, your margin/profit will be much higher and make your time spent more worthwhile. Counterintuitively, it requires as much effort to sell something expensive as something cheap.
Who Are Actually Affiliate Marketers?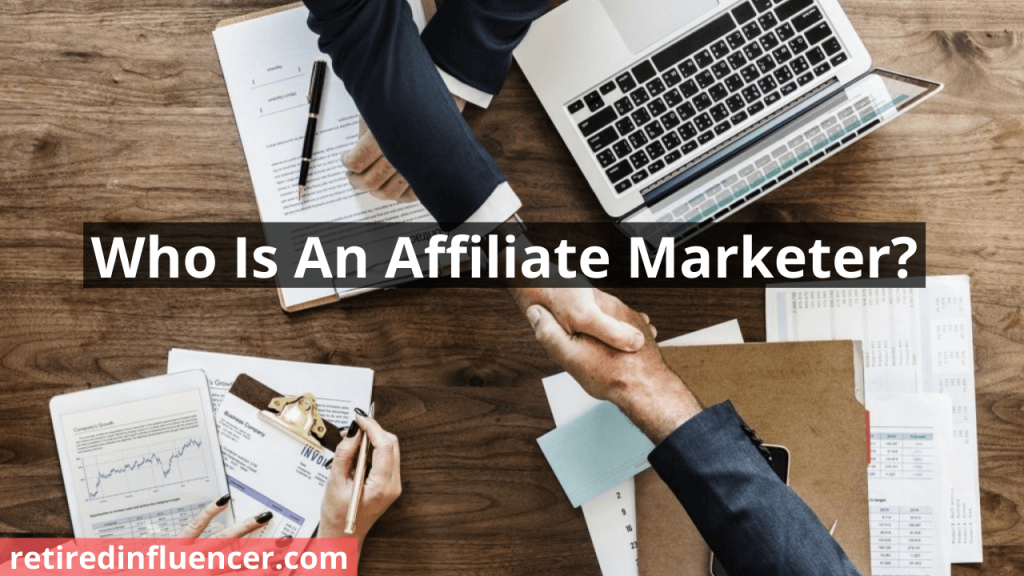 Affiliate marketers are people or companies who promote or market products or services created by another individual or company for a commission.
The Affiliate marketer typically paid a percentage for every sale they generated for the merchant or vendor.
That said…
Being an affiliate marketer is a great way to make money online, but do remember: 
It's not an easy get-rich-quick kind of thing, it takes time, commitment, and a lot of effort to build a successful affiliate marketing business.
Especially if you're just starting out.
But if you're willing to put in the necessary work, affiliate marketing can make you a significant income over time.
With that being said, let's take a look at some of the dos and don'ts of affiliate marketers.
dOS fOR Affiliate Marketers
They pick a niche they're interested in and have good knowledge about. Most successful affiliate marketers pick a niche they're interested in and have good knowledge about. This helps many of them to stick to their niche even when they're faced with challenges and also be able to create better content around their niche that others will see as valuable.
Choose a reputable or quality affiliate program. There are tons of affiliate programs in the marketplace. However, not all of them are of good quality or legitimate. Most successful affiliate marketers research and find programs that have a good track record of success and offer quality products and support.
They Under The Basics Of Affiliate Marketing. Affiliate marketing is a broad topic, it's important you take the time to understand the concept behind this business model before you get yourself into it.
They get involved in relevant online forums, social media groups, and communities where other affiliate marketers share their knowledge, and information and offer support to each other. By getting into these platforms, they're able to learn from experienced and successful marketers and stay up-to-date in the current industry news.
They build a website/blog for their business. Irrespective of the platform you're using to promote your offer. You still need to have a personal website, because having your own website or blog, you own it and you can do anything with it without any restrictions. Having a website helps you build an online presence, it positions you as an authority in your industry.
Affiliate marketers create quality, relevant, and valuable new content on a consistent basis and also focus on marketing their content to reach a mass audience.
They focus more on quality traffic. Affiliate traffic is very vital for your success. Whether you're selling physical or digital products, you need traffic to be able to sell that product successfully. All the other points are useless if you're not getting your offer in front of a targeted audience.
Affiliate marketers build an email list of targeted audiences. The most common thing that most affiliate marketers have is a list of email subscribers. As an affiliate marketer building an email list is a must if you want to be a successful affiliate marketer. You don't want to skip building an email list.
They use tracking tools to measure their results and tweak them when necessary. You can't control what you don't measure. It's important you keep track of all your work to know what's working and what isn't working so you can make immediate changes when necessary.
They're always on the lookout for learning new strategies and techniques, which they implement to attract the audience to their website and offers.
They have a good social media presence on almost every social media platform. This helps them to reach and attract mass audiences from every platform.
Most affiliate marketers are consistent in their work. They take massive action toward their business which is very crucial for any business success.
They focus on one thing until success. It's easy to get distracted and move from one thing to another. Pick one thing or area at a time and focus on it until success before moving to something different. If you keep focus and work on one thing you'll get much more done than if you jump from one thing to another without a plan.
Patience. Patient, is very important, especially when you're trying to make money off affiliate marketing. Making money online is a long-term pursuit, not an overnight success. You need patience when things don't work as you expected.
Recommended Reading:
6 Actionable Steps To Affiliate Marketing Success
Don'ts For Affiliate Marketers
To get consistent sales or increase your affiliate income or business, there are tons of things you have to do as an affiliate marketer.
And in like manner, there are also a few things you should avoid or you should not do if you want to achieve success in this field. 
Here Are A Few Things You Should Not Do When Starting Affiliate Marketing:
Affiliate Marketing Don'ts #1: Sending Traffic To Direct Affiliate Links
One of the biggest mistakes you can make in affiliate marketing IS direct linking. I mean sending traffic to direct affiliate links.
Of course, with this marketing strategy, you might make a few sales but it won't drive consistent sales into your business.
That said…
In order to bring consistent sales into your business, you don't want to be directly linking to your affiliate offers.
Most of the successful affiliates who make 6 to 7-figure online with affiliate marketing don't directly link to their affiliate product.
But instead, they send their visitors to a landing page first where they generate leads before sending them to the affiliate product sales page.
And then follow up with the customer through email marketing.
By capturing the email addresses of the customer, they're able to remarket that same product to the customer… 
If the customer doesn't buy it at their first exposure.
That said…
If you're selling high-ticket affiliate offers or recurring commission affiliate products or services.
Email marketing is the best way to make your affiliate marketing worthwhile.
To get started with your email marketing, I use GetResponse to build my email list. GetResponse is an amazing email marketing tool.
It has all the features you need to run a successful email marketing campaign.
You can read my review of GetResponse here.
Affiliate marketing don'ts #1: Don't Produce Spammy Content
If you want to get consistent traffic to your affiliate website, you want to avoid creating or posting crappy content.
What do I mean by that?
Well, I mean, creating content that's irrelevant to your audience's needs, or content that adds no value to your audience's lives.
That said…
If you want to win in affiliate marketing, you want to create content your audiences are in need of and will help add value to their lives.
Affiliate marketing don'ts #1: Don't Be Too Salesy
Online, people hate to be sold to. Nobody wants to visit any site and immediately they're prompted to buy something.
People often bounce back or don't visit sites like that, that constantly try to sell them a product.
That said…
One of the best ways that most top affiliates promote products or services is either on your blog or website.
Without coming across as salesy or spammy is that…
They first focus on helping the user or the reader by producing helpful, educational content.
And offer the affiliate product as the secondary thing, not the primary thing.
By taking this approach, they're more likely to get sales than simply saying buy now! Buy now!
So, in affiliate marketing, you want to take a content-first approach, the affiliate link is later.
(READ ALSO):
FAQS!
What Should You Avoid In Affiliate Marketing?
Neglecting the quality of your content. In affiliate marketing content is one of the key components that most affiliate marketers use to market their products and also what they use to build trust and relevancy. Neglecting such and focusing on selling alone is the downside of many affiliate business owners.
What Are The Do's And Don't Of Startup Affiliate Marketers:
1). Don't pick a niche simply because you see other marketers making a ton of money from it. Pick a niche you're interested in and have good knowledge about.
2). Don't promote too many affiliate products or services, focus on one until success.
3). Don't think only of making commission or profit, instead focus on helping your audience first. Make sure you are providing high-quality and relevant content.
4). Don't promote any product or service you haven't used or tested before or don't have good knowledge about. Always know about the product before promoting it to people.
5). Don't rely on social media alone. Build a personal website for your affiliate business. 
6). Don't ignore search engine optimization (SEO).
7). Pay attention to your site speed, it is very important.
CONCLUSION!
There you have it folks on "what affiliate marketers do and don'ts" Like any business out there there are dos and don'ts in order to run the business successfully.
Affiliate marketing also comes with dos and don'ts. 
If you're just starting out, my advice is to find someone who's already successful with affiliate marketing…
Someone who resonates with and has a proven method and learns from them as much as you can.
Don't focus on too many things all at once (shiny object syndrome), focus on one thing long enough until you start having enough success with it before moving to something different.
Don't create content just to sell affiliate products, instead, create content to help your readers first.
The more you help people with your content, the more money you're likely to make.
There you have it folks on what top affiliate marketers do and what other affiliates don't. Hope you enjoy it.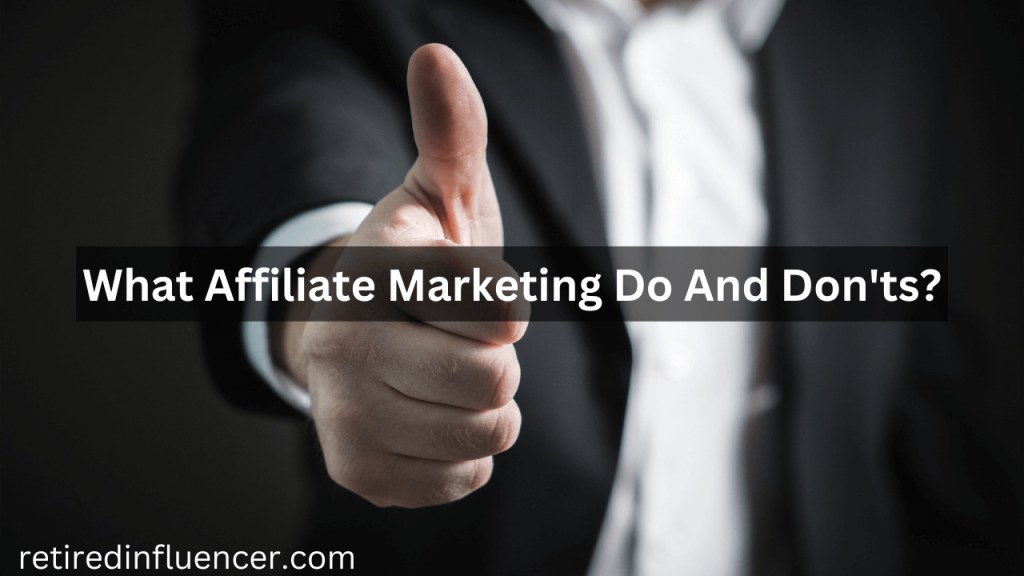 Recommended Reading: