Are you wondering "What is an affiliate marketing website"? And how to create an affiliate site that earns consistent money?
As an affiliate marketer, having your own affiliate website is a great way to build trust with your audience and make a very good income from your business.
Building an affiliate website isn't that hard nowadays and the reward can be very profitable if you're willing to put in the work.
So, what Is An Affiliate marketing Website?
To put it simply – "An affiliate marketing website is a place or platform where you promote affiliate products or services related to your niche. It is a platform that allows you to produce content to educate your audience, review a particular product or service and increase your brand awareness". 
This is the best place for you as an affiliate marketer where you tell people or your audience why they should buy your product or services.
In order words!
An affiliate marketing website is a platform that is basically used by businesses or an individual to market or sell products or services online.
How Does An Affiliate Marketing Website Work?
Well, how an affiliate marketing website work is simple.
An affiliate website creates relevant, helpful, and high-quality content for its readers or audience and tries to answer their questions through written content or text.
And time, as the website starts to generate traffic.
The site owner places affiliate links within the content for relevant topics.
Which he thinks may further help, solve or answer his readers' or audience's problem or question.
And when the readers click on that affiliate link and purchase the product he or she gets compensated by the product owner.
Let Me Break It Down For You How An Affiliate Marketing Website Works:
You set up a website or blog based on a specific topic or subject.
Then, you research and figure out what phrases or terms people are searching for online that are related to your niche.
You then create useful and unique content around those phrases
You start getting traffic or view on the content
You place affiliate links within the content
When your blog reader clicks on your affiliate link and purchases the product
You get paid a commission
NB: The goal of using an affiliate marketing website is to promote affiliate products and increase sales.
RELATED ARTICLES:
What Is The Need For An Affiliate Marketing Website?
Wondering what is the importance of building an affiliate website?
As an affiliate marketer, it will be nice to have your own personal website than relying on other people's platforms which you don't have absolute control over.
That said…
There are many benefits you can get from having your own website for promoting your affiliate product or services.
Below Are A Few Benefits Of Starting An Affiliate Website:
Having your own website makes it easier for you to send traffic to your affiliate product and generally makes things straightforward.
It helps you create content and grow as a brand and make 100% passive income
You can monetize your affiliate website with both Google ads and affiliate offers and increase your income.
A website is extremely important because it helps you build trust, expertise, and credibility in the eye of your audience.
It helps you build an online presence and reach a large number of audiences
It offers a flexible approach where you can promote your own product and generate new sales.
Having your own affiliate website helps lower the amount of money you'll waste on advertisements and end up not actually getting the return on your investment.
What Make A Good Affiliate Marketing Website?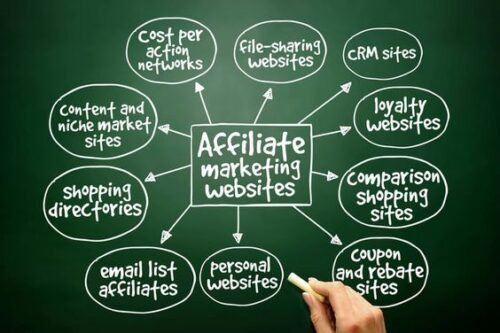 In affiliate marketing having a website is very important. While, you don't need to invest millions of dollars into building a website, but, it should at least look clean, professional, easy to navigate, and contain relevant and helpful content.
A Good Affiliate Website Should Have The Following Qualities:
It should have an engaging sales letter to attract or persuade visitors or readers to buy products or services 
A good product or service to promote
Professional, good-looking, and attractive website design
Good tracking system
Good affiliate marketing strategies
The website should load faster for visitors
Have good, unique, informative, and buyer-intent articles
It should tell readers why they need the product presented on the website (highlight the benefits of the product and help your visitors to make buying decisions)
Show testimonials from your previous customers
Tell visitors what the website is about at first (headlines)
Have a unique and engaging 'about me page'
How Is An Affiliate Marketing Website Different From A Normal Website?
An affiliate marketing website and a normal website might look similar but there are vast differences between them.
Affiliate Marketing Website:
An affiliate website is created purposely for promoting several different affiliate offers created by another individual.
With an affiliate website, visitors don't have to go through a shopping cart when they want to purchase a product.
The visitor is directly sent to the product or brand's website.
And in return, the website owner earns a commission for every purchase that the visitor makes.
Also, Affiliate websites are often updated with new content on a regular basis.
Normal Website:
With a normal website, you set up a business to sell your own product or services to customers using an online shop.
Normal websites are not often updated with new information.
NB: Though both affiliate sites and eCommerce sites look very similar to the eye,  they're very different.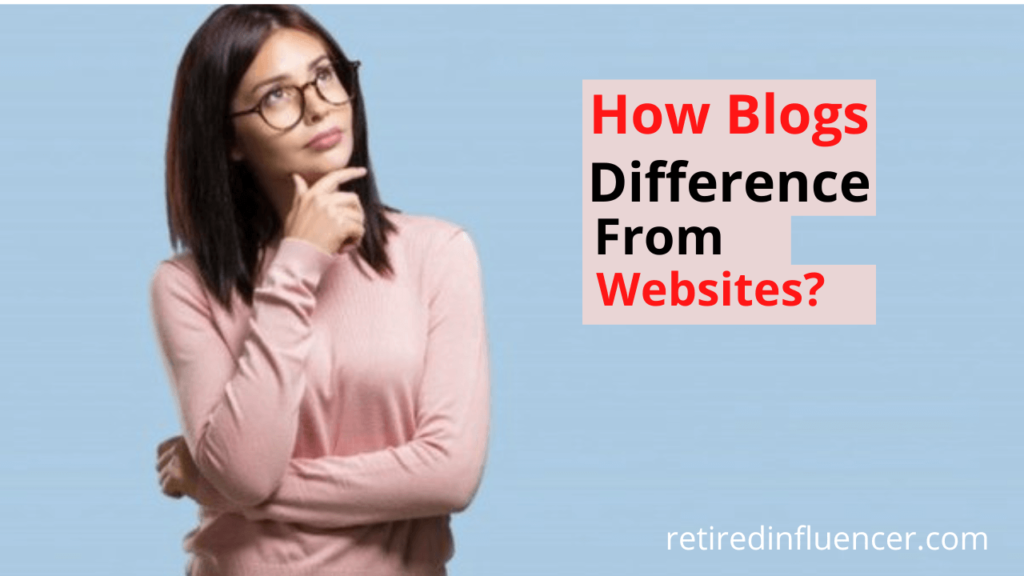 Can You Make Good Money With An Affiliate Site?
Of course, you can!
Affiliate marketing is a very broad industry and is more rapidly growing than any industry, you can definitely make a significant income promoting affiliate products or services.
But to make the most money from your affiliate website. 
You need to make sure you're promoting products or services that are in high demand.
And are of high–quality and relevant to your website niche.
That said…
The niche you go after and your traffic source and how you convert traffic play a big role in whether you'll make GOOD MONEY from your affiliate site.
So, choose your niche wisely, don't go after a niche just for the purpose of making money. 
Pick something you're interested in or are passionate about.
Here Are Some Quick Tips To Make A Good Income From Your Affiliate Website: 
Target long-tail keywords and drive traffic to your site through search engine optimization SEO.
Focus on delivering value to your readers or visitors first. Don't try to sell to them.
Build an email list of visitors to your site.
Build trust and relationships with your list by adding additional value to their lives.
Guide your list to the decision that best suits their needs.
Recommend your affiliate offers to them.
NB: If you focus on helping your audience first by delivering useful content and you have a good marketing strategy, you'll make good money from your website.
How Much Money Can You Actually Earn From An Affiliate Website?
When it comes to making money with an affiliate website, the amount of money you can make solely depends on various factors such as:
The amount of targeted traffic you're getting on your affiliate website, your marketing strategy.
And the kind of product you're promoting and much time you're willing to put into it.
That said…
If you want a general figure on how much you can actually make from your affiliate website.
Well, if your affiliate site gets anywhere from 5,000 to 10,000 monthly visitors.
And you're in profitable affiliate marketing niches (such as health, make money online, and relationship niches) and you promote a high in demand product. 
And most of your audiences are from high buyer intent searches such as Google.
And more important if those audiences are from some of the reputable countries like the USA, Canada, Australia, and the UK.
Well, you can be earning anywhere from $1,000 USD to $5,000 USD per month.
And if your website gets 100,000 monthly visitors and above, you can make anywhere from $10,000 USD and more.
Generally, your earning potential is endless.
What Is The Best Way To Make Money With An Affiliate Website?
Building a website in a specific niche can be a lucrative way to make a decent income by providing useful content to a targeted audience and monetizing that content in several ways.
Here are a few yous you can make money with your affiliate site:
Affiliate marketing: Affiliate marketing is one of the best and primary ways that most website owners earn money from their sites. The process is simple, they recommend affiliate offers on their site and whenever their readers purchase the product, they earn a commission.
Advertising: Ads are an amazing way to earn money online if your site attracts a huge amount of traffic.
Info Product: You can create your own product or service (courses, ebooks) and sell it through your website.
Sponsored Post: You can earn money by creating sponsored content for brands. It involves writing reviews and recommending brands and getting paid for featuring them on your site.
P.S. I wrote another post where I share with you different ways you can make money with your affiliate blog or website. Check it out!
How Much Does It Cost To Start An Affiliate Marketing Website?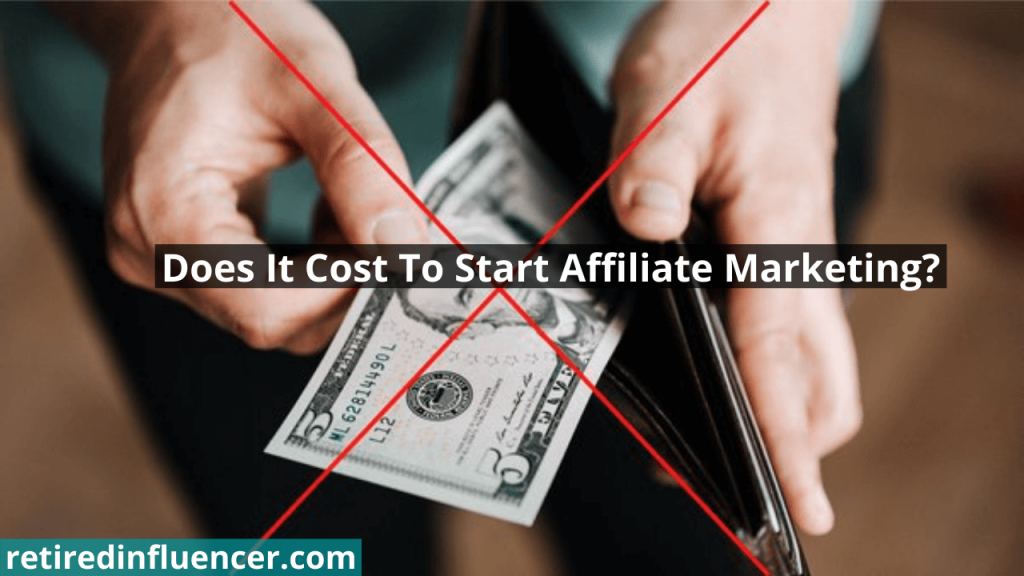 Well, starting your own affiliate website does cost a little bit of money but it's not going to break your bank account. 
That said…
To build an affiliate site, there are two major things you need: A domain name and a web host.
A domain name is simply the name of your affiliate site. A domain name can cost you anywhere from $1 to $15 per month depending on your domain registrar.
Now…
 As your domain name is ready, you need to buy a web host on which you're going to set up your site.
A web host is simply a server that hosts your site across the internet and makes it visible when people search for it online.
All your content and pictures and videos are stored on your host.
A good web host can cost anywhere from $4.95 to $50 or more.
How To Create, Build Or Set Up An Affiliate Website?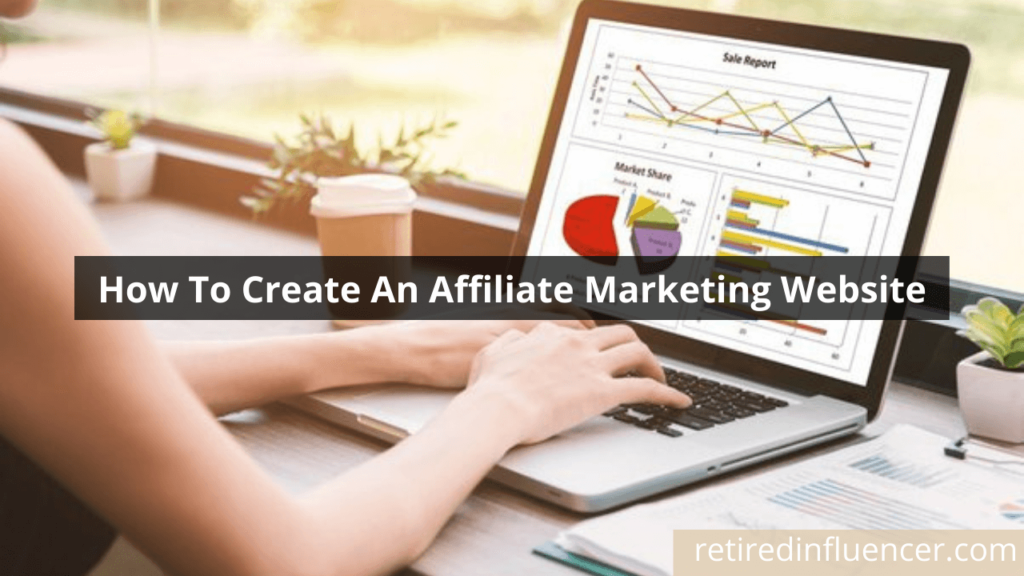 In this section, I'm going to walk you through the steps that are required to create an affiliate website that generates sales.
Step #1: Decide On A Niche. The first step is to select a niche, a niche is simply a topic your website is going to be about. This step has nothing to do with a domain name or web hosting. Make sure the niche you decide to go after is something you're interested in or are passionate about. Very important for your success.
Step #2: Pick A Domain Name. As you have decided on your niche, it's time to also decide on a name that your website will be called. A domain is a way that people are going to find you on the web, eg, it's just like a house address which people will use to find your location.
Step #3: Purchase A Web Host. A web host is a server that makes your site active and lives on the internet and stores all your data.
Step #4: Pick A Website Page Builder: The best and most popular site page builder is WordPress. Almost every big brand you can think of around the world all have their sites built on a website. More than 50% of websites in the entire internet world are run on WordPress.
Step #5: Pick A Theme: A theme is simply the design of your website.
Step #6: Come Up With A Content Strategy That Will Deliver Affiliate Sales: Now, as your site is up and running, you need to fill the site with valuable content that will attract visitors to your website and eventually turn them into customers and sales. Figure out what people are searching for online and provide a solution to that.
What are the best domain and web host providers? Well, there is a handful of them out there. My recommendation is Bluehost.
Why Bluehost?
Well, In the web host industry Bluehost is recognized as one of the best, Bluehost has been in business for more than 20 years.
Most of the big sites out there are hosted on Bluehost. It hosts millions of websites.
Its price is very cheap and affordable.
With just a click of a button, you can get your site up and running.
Here's the link to Bluehost.
(I'm an affiliate of Bluehost, meaning if you go through my link I'll receive a small commission which is no additional cost to you) Thanks for support!
NB: I highly recommend you do your research anyway.
How To Create Content For An Affiliate Website?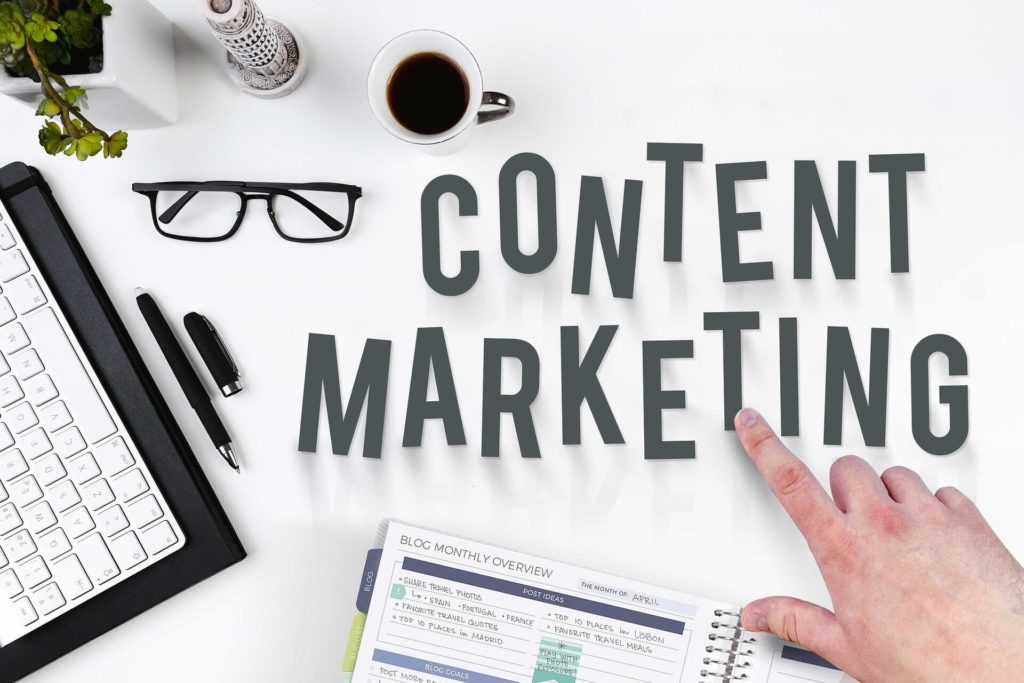 Well, first and foremost, I think the best way to create content for your affiliate website is to be in a niche that you're interested in, passionate about, and at least have a good of knowledge about.
This way, it'll make it easy for you to generate content for your site without any hassle or feeling it's a punishment.
That said… 
You shouldn't create any kind of content just for the sake of creating content. 
Create content for the purpose of solving a specific problem that the marketplace or your readers are facing or are having challenges with.
How To Get Traffic To Your Affiliate Site?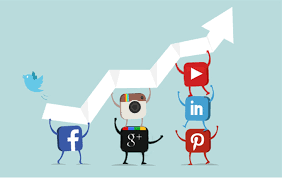 To drive quality and relevant traffic to your affiliate website or blog, you need to focus on creating quality content that people are searching to consume. Content that'll help solve your audience's problem.
If you can fill your site with quality content, over time you'll start to get traffic to your website.
The thing is…
You can have one of the nicest and most professional websites on the internet. 
However, without quality content, that site is useless.
Online content is kind and it's more important than having an eye-catching website.
So… I highly recommend you focus on content first.
That said…
There are two options to get traffic to your affiliate website: Free traffic and paid traffic.
If your website SEO is okay then it will rank organically (that means free traffic). 
You can also use social media platforms to drive traffic to your blog posts. For beginners, Pinterest and YouTube should be enough.
What Actually Is Affiliate Marketing?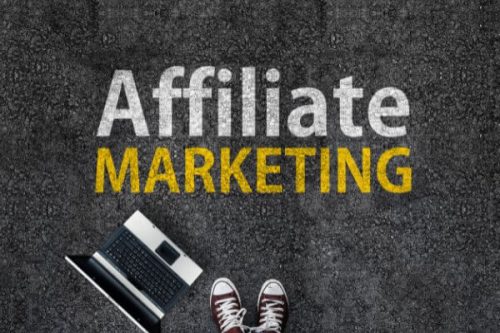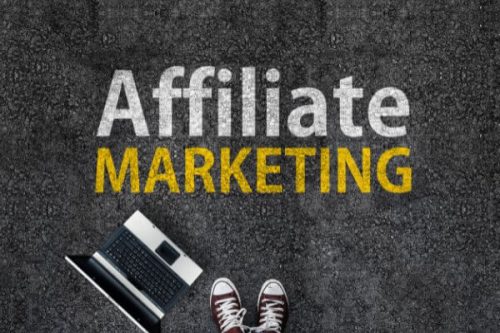 Affiliate marketing is a process of promoting other people's or companies' products or services in exchange for a commission.
The main goal of affiliate marketing is to generate a sale. 
Affiliates (you) find a product they like or have used before,  they promote it to their audience, and if the audience clicks and buys the product through them.
They earn a piece of commission for each sale that they generate for the merchant.
This is a win-win situation!
How Do I Do Affiliate Marketing Through A Website?
Well, there are many ways you can go about that, I think one of the best ways is to take a content approach. Try offering your visitors helpful content and within the content, you can place your affiliate link in it, it works best that way.
That said…
Before you start selling or marketing your affiliate product through a website, you must first decide on a niche.
Now…
As your niche is ready, you'll need to pick an affiliate product that is high in demand (has a powerful pain point).
And now, as your affiliate offer is ready.
Like I said… You need to start producing helpful articles on your site which are related to your niche and your affiliate product.
And within the article, you can place your affiliate in the part of the article that makes sense.
NB: Don't spam your visitors with your affiliate links, make it natural.
By the way, why helpful articles?
Well, offering helpful information on your website is a great way to attract more visitors and potential customers or buyers to your website.
Your visitors are more likely to trust you and will be willing to support you if you're just trying to help them.
Don't try to make money from them all the time, focus on helping them first. The more you help them with their problem – the more money you're likely to make.
Can I Do Affiliate Marketing On A Newly Make Website?
Yes, you can, but the only thing is that with a new website, it's going to take a good number of months or even years before you'll start getting traffic and sales.
Traffic in affiliate marketing is very essential, without it you won't make any sales.
And it takes a very long time for Google to start sending that traffic to your site.
Why?
Well, the thing is, Google would first have to trust your site before sending any initial traffic to it.
And that can take about 6 to 12 months or even more depending on the niche you're in.
But if you have done a good job with SEO then that period can be a little bit shorter.
But generally, it takes time.
That said…
I would recommend you try focusing on other traffic sources like social media marketing.
Create a social media account for your affiliate website and share your blog posts there.
Taking this approach, you'll begin to get some earlier traffic flowing into your website.
That way, you can start monetizing those traffic with your affiliate links.
Can One Website Be Used For Different Affiliate Marketing?
Well, in my opinion, I think it kinda depends on what you want. If the product is relevant to your niche and will help solve your readers' problems or pain, then it is absolutely normal.
Can I Do Affiliate Marketing Without A Website Or Blog?
Yes, definitely!
You don't always need a website or blog to promote affiliate products or services.
If you're just starting out in affiliate marketing and have no website or blog you can use social media handles to market or promote your affiliate offers.
And…
If you have the fund, you can use paid marketing options like:
Facebook Ads
YouTube Ads
Google Ads
Instagram
Pinterest Ads, etc
To promote your affiliate opportunities.
But I don't recommend paid ads if you're just starting out unless you have very good knowledge about it.
IMPORTANT: As a beginning affiliate, it's perfectly okay and normal to do affiliate marketing without a website or a blog but if you want to take things seriously then I'll highly recommend you have a website.
By the way…
What Are The Disadvantages Of Doing Affiliate Marketing Without A Website?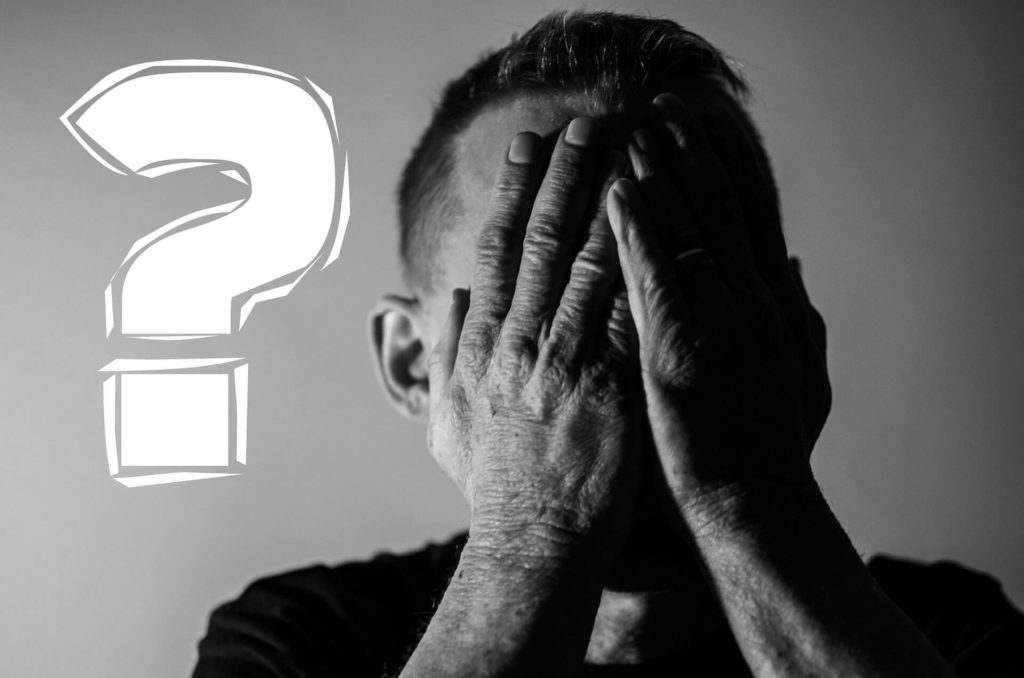 There are a few downsides to promoting an affiliate marketing product without a website. One of these is that:
The first one is that you won't be able to build an online presence and you'll have less credibility in the eye of your audience
You don't have 'HUB' to promote your product or services
You won't miss out on potential traffic from people who are searching the web for content or product related to your niche
You can easily be banned from online communities
It will be hard to build trust and relationships with your audience. Online no trust – no money
It will be hard to build your personal brand and increase awareness
You don't own your audience and you can lose them anytime
NB: You can do affiliate marketing without a website, but when you put all your focus and effort into social media platforms and ignore your website or blog, you're losing out on traffic which can allow you to build more followers and attract more potential customers to your affiliate offer.
That's It, Folks!
An affiliate marketing website or blog is simply where you market or promote products or services created by another individual or (company).
And you add links to those products or services within the content.
And when your readers or visitors click on those links and purchase the product or services in your content, you get paid money which is termed as commission.
ALSO READ!