Wondering, what is a recurring affiliate program? and what are some of the best recurring commission programs? Well, I got you covered!
Almost all top affiliate marketers in the world I know about all have at least one or two affiliate offers that pay them a recurring commission. Promoting this type of offer is how many of them turn affiliate marketing into a passive income business.
"Recurring affiliate programs are programs that offer or pay you a commission, not just on an initial sale of a product or service, but continue to pay you months after months as long as the customer you refer keeps subscribing to the service or pays monthly".
Read on, to better understand your question. Plus, I'll also share with you some of the best recurring affiliate programs to join and how to promote them.
With that being said, let's dive in!
What Is A Recurring Affiliate Program
To put it simply – recurring commission affiliate programs are programs or services that pay you commission for as long as your referral stays as a valid or paid member or customer in their systems.
Nowadays, there are so many programs out there that pay a monthly recurring commission, however, most of the time these programs are often:  
Membership program or site
Email services providers
Hosting companies
Software, etc. 
By promoting these types of programs, you earn money every single month (residual income) for every customer you refer. 
How Recurring Commission Affiliate Programs Work
Here is how the whole concept works – first…
For any customer you refer into the system, you'll first earn a one-time commission and then an excellent recurring commission as long as the person remains a paid member or keeps using the service.
Don't FORGET: Your recurring payout will last for as long as the user or the customer remains a paying member of the system.
Also, if the user upgrades to a higher plan or purchases a high-priced product, your commission will as well increase.
So, it's a win for you as an affiliate because you get to make more money in your business as you refer more people into the system and they upgrade their plan.
Compared to "one-time commission", you need to keep referring and keep the sales coming in, in order to make a commission and after that, the product owner enjoys the most part.
So, for you as an affiliate, it's a good idea to promote recurring commission programs if you want to build massive financial stability in your affiliate marketing business quickly.
All those affiliate marketers who said they are making passive income with affiliate marketing, it's true, because most of them promote recurring commission programs.
However, if you're starting out, your income is going to be a little bit low but over time as you start to bring in more and more customers, you'll start to make a lot from there.
Related Posts:
What Is A Good Rate For Recurring Affiliate Programs Pay
Most recurring revenue programs offer commission rates between 20%, 30%, and 40% depending on the price of the product.
Let's take it for instance if you refer a customer to an email autoresponder service that costs $50 and they offer a 20% commission rate.
That means you'll be earning $20 per month but let's say in your first month, you refer 10 people into the system. That earns you $200 per month.
And the more people you bring into the system, the more your income grows each month as long as the customer keeps paying for the service every month.
WAIT! before we go any further, I would like to share with you what actually is affiliate marketing…
So…
Affiliate Marketing: What Is It Then?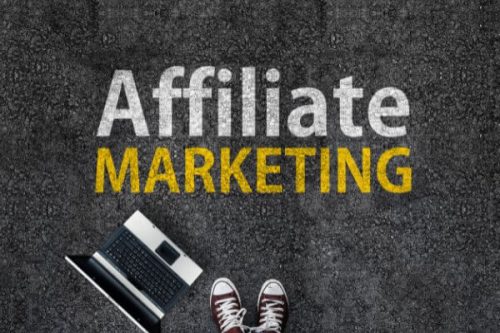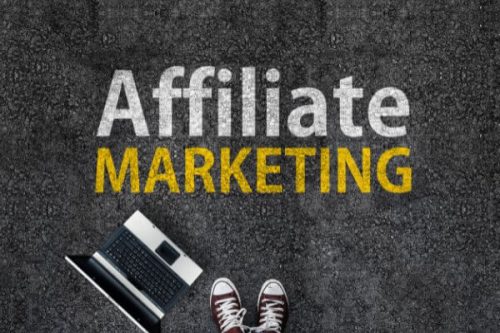 Well, affiliate marketing is a process, practice, or tactic whereby you promote a product or service created by another individual or a company either on your blog, YouTube channel, or social media for commission.
Now, to do affiliate marketing there are a few steps you need to follow:
Pick a niche you're interested in or passionate about.
Select an affiliate product of your choice or interest.
Grab the affiliate link of that product.
Choose a promotion platform.
Start producing helpful and high-quality content on that platform.
Promote your affiliate link within your content.
Get a commission on each sale of the product.
However, before you start your affiliate marketing journey, I would highly recommend you take the time to learn about affiliate marketing.
In my opinion, I believe the best way to learn affiliate marketing is to invest in a course on affiliate marketing or find someone who is already successful with affiliate marketing and learn exactly from them.
Also!
Okay, now let's continue…
What Is The Benefit Of Promoting Recurring Affiliate Programs
As it already sounds, recurring income is the main benefit of promoting a product that pays a recurring commission.
It's easy to increase your income if the same customer can purchase from you every month and that's the dream for most internet marketers.
Another benefit of promoting a recurring income program is that you only do the work once and get paid over and over again. 
Though it takes a fair amount of work to succeed with affiliate marketing, all the massive work you put into promoting the product and building trust with customers…
All will soon start to pay off over time.
You'll start to generate commission on autopilot, meaning you'll get a commission every month as long as the customer continues to use or pay for the software.
Even if the commission is small, it's still worth it in the end.
For instance, If you have 20 people sign up, that means, you have 20 streams of income every month and over time it all adds up.
Here Are Quick Reasons Why Recurring Commission Is So Important:
Recurring Commission = Freedom.
You'll Still Make Money From Your Long-Term Previous Work.
It's The Secrets Formula For Escaping Your 9 to 5 Job.
It's East To Sell Because Most Of The Time, You Can Give A Free Trail To Customers To Try It Out. And If They Start Getting Results, They'll Definitely Stay With The Program Or Service.
You Can Stop Selling At A Particular Time Because It's A Recurring. A Long-Time Previous Customer Will Be Enough To Make You A Good Money.
Is It Free To Join A Recurring Affiliate Program?
"Well, generally, many affiliate programs are free to join, so yes, it's absolutely free to join any recurring affiliate program so far as it's congruent with the niche you're in". 
However, all affiliate programs have rules and regulations they operate with.
So…
If you sign up for an affiliate program and you don't follow its rules, it's possible that you could be banned or dropped from the program.
But here is the thing – whenever you're about to join any program, don't just sign up without first taking the time to read their rules and regulations.
How To Find Recurring Affiliate Programs To Participate In
There are several ways to find a recurring commission program to join, however, the best way is to run a Google search. You can hover over Google and type (Your niche + recurring affiliate programs) and you'll discover some really great ones.
Another way is to visit a popular affiliate network site and then look for the best monthly recurring commission in (your niche).
And you'll find some.
You can also try this method:
Visit the website of the company that owns the affiliate program and just ask the support team if they offer a recurring commission program.
And if they do, you're off to go.
IMPORTANT: In my opinion, I'll recommend you promote a program that has a high-quality offer and a good, active support team. So, below I'll give you some of the best you can join today.
Here Are My 7 Best Recurring Commission Affiliate Programs To Join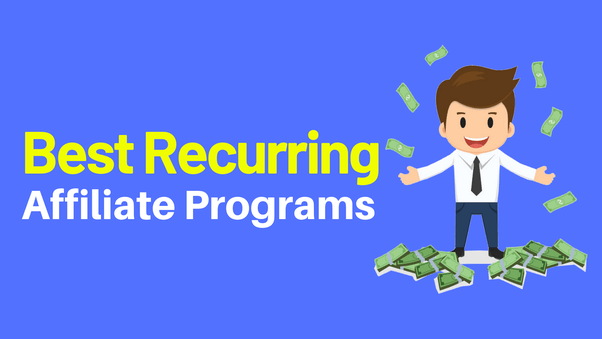 No matter what niche or product you're promoting, at some point in time, you need to have a program that provides you with a recurring monthly income.
However, you shouldn't jump into things without first doing thorough research.
Here are some areas to consider when choosing recurring affiliate programs to promote to your audience:
Has the product worked for you – There are fake and legit products out there online, you should first test out the product to see if it works to your expectation before promoting it to your audience.
If it doesn't meet your criteria, then your customers are not going to like it either.
Promote products you have used yourself – It's very important you promote things you yourself have used before and it has benefited you.
By promoting products you have used yourself, you'll get to learn more about the product and be able to answer any questions your customers might have asked you concerning the product.
You'll also be able to learn the pros and cons of the product, which will give you more confidence when promoting it.
Work With Trusted Brands – As I said early on, not all products out there are legit, however, there are good ones as well. That's why you should only work with brands that are well-known and trusted by people.
Working with trusted brands means people are more likely to buy from you which will give you a little bit upper hand to increase your sales and income.
Promote Evergreen Products – Evergreen products simply mean products that are in high demand in a marketplace and will be around for years to come.
So, below are some of the top recurring programs you can join and start making constant income as long as your referral keeps using the product or services.
1. Clickfunnel Affiliate Program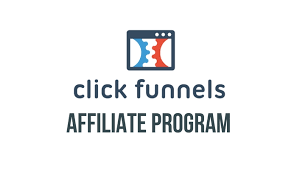 Clickfunnels is the world-leading funnel building company in the sales funnel space that helps business owner grow their business by providing them with all the necessary marketing tools such as:
Sales funnels
Membership funnels
Email integration
Custom domain
Webinar funnel
Funnel script, etc
When it comes to sales funnel, Clickfunnels is considered to be the best in the industry. 
Clickfunnels has three plans: Standard which cost $97/mo,  Platinum which cost $297/mo, and two comma club which costs $2,497/mo.
Clickfunnels has one of the best affiliate programs and as an affiliate of this program.
You'll earn a 40% commission for any successful sale that you refer into their system and also monthly recurring income as long as your referral remains with them.
Another thing that makes Clickfunnel one of the best recurring programs in the internet marketing world is their dream car.
They run a contest called the dream car challenge where they reward affiliates that have the highest referral.

In order to be the prize winner of this dream car, you simply need to refer 100 active users.
And as you reach 100 active members in Clickfunnels, you automatically qualify for the dream car contest.
And every month they will send you $500 towards your lease payment for the dream car. And when you hit 200 active members, they'll increase your payment to $1,000/mo.
Also, you'll have access to a free book called, expert secret book, this book is written by Russell Brunson the CEO of Clickfunnels.
Inside this book, Russell lays down all the internet marketing strategies and secrets you need in order to make your first commission online.
2. Getresponse Affiliate Program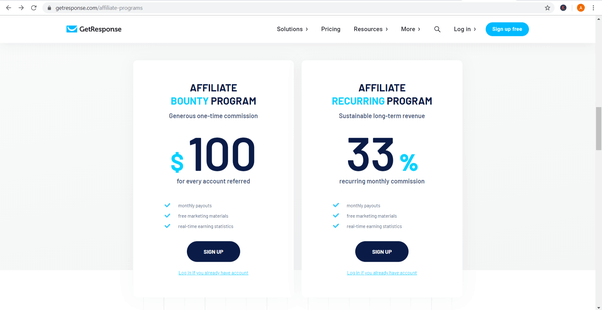 GetResponse is the world's greatest email service provider, it has both landing pages and an effective autoresponder all built-in, in one place.
GetResponse offers amazing features such as:
Email marketing.
Landing pages.
Marketing automation.
Webinars.
Integrations, etc.
Email marketing is by far one of the best ways in which many affiliate marketers are making money online from their affiliate business.
GetResponse allows you to capture your visitor's email addresses and do repeat marketing with them through email marketing.
That said…
You can join GetResponse as an affiliate and promote it to your audience, online marketers, or business owners and if they sign up using your affiliate link, you'll earn a 33% recurring commission.
Getresponse starter-up plans cost $15 which means you'll earn 4.95 every month. However, they also offer a one-time commission where you earn $100 one-time on your referral.
So, you choose which plan to promote.
3. Bluehost Affiliate Program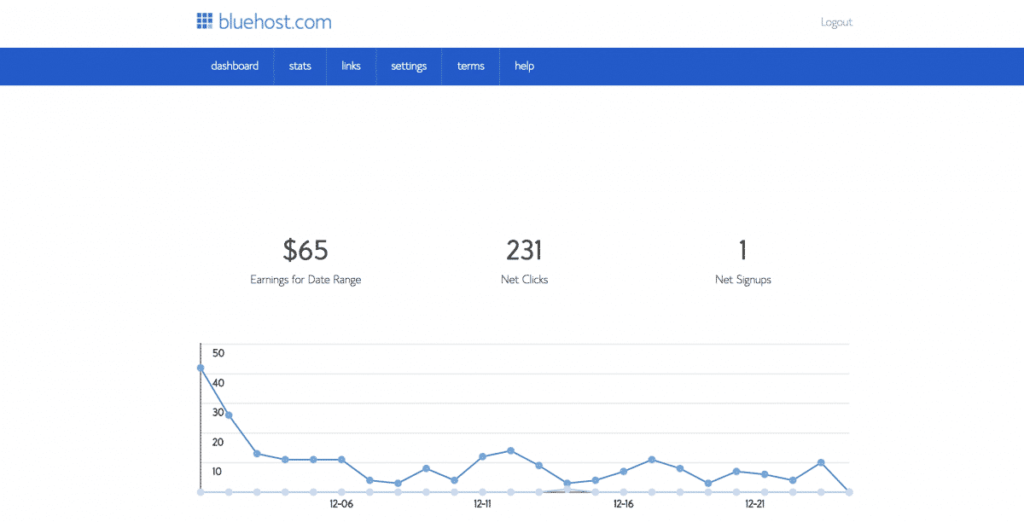 Blogging is one of the best ways to make your voice heard. When it comes to website hosting. Bluehost is one of the best hosting companies in the hosting industry.
Another thing that makes Bluehost stands out among all other hosting platform is that:
It's affordable.
It offers a free SSL certificate.
It offers a free domain for the first year.
It's user-friendly.
It secures and makes your site load fast, etc.
NB: Bluehost doesn't offer recurring income commission but it does pay a very good commission, which can allow you to increase your income way faster that's why I include it.
Now, when you promote Bluehost as an affiliate and someone purchases a hosting package through your link, you will earn a $65  commission.
Become A Bluehost Affiliate Today
4. Thrive Theme Affiliate Program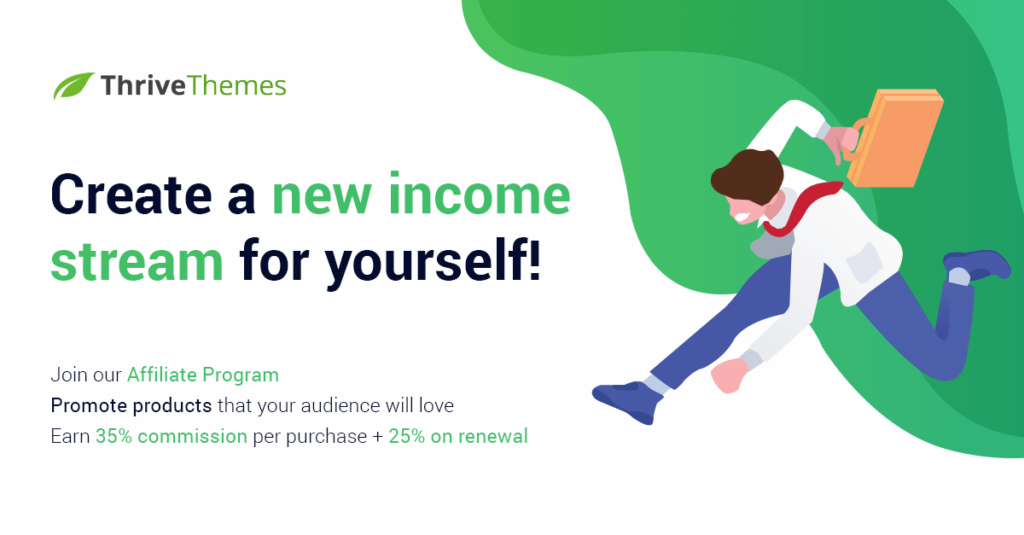 WordPress is a free website page builder platform and has tons of free themes and plugins. However,  those free themes lack a little bit of functionality and most of them are not customizable.
There are companies that offer a premium theme. Premium themes are very customizable and make your site look professional and beautiful.
The Thrive theme is one of the best for that. It has some very good features such as:
Drag & drop page builder.
Landing page.
Site upload element.
Website demo content.
Plugin to convert your visitors into subscribers, etc
Now, as an affiliate of this program, you'll earn a healthy income by recommending the Thrive theme to others.
When someone purchases Thrive theme products through your link.
You'll earn a 35% commission for every customer you refer and a 25% monthly income when your referral renews their subscription. Their cookie duration lasts for 2 years.
Become Thrive Theme Affiliate Today
5. LongtailPro Affiliate Program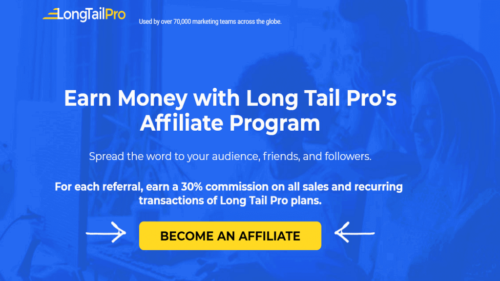 Longtail Pro is considered to be one of the most trusted keyword research tools out there for online business owners (bloggers).
You can increase your search traffic by using Longtail Pro. 
Longtail Pro comes with amazing features such as:
It helps you determine profitable keywords with rank value.
It gives you hundreds of keyword suggestions that you can create content around.
It helps analyze keyword difficulties & your competitors, etc.
Longtail Pros costs $47 per month but it also has a 10-day free trial which costs only $1.
As an affiliate of this service, you will earn a 30% recurring payment for every person that signs up through your link.
6. SemRush Affiliate Program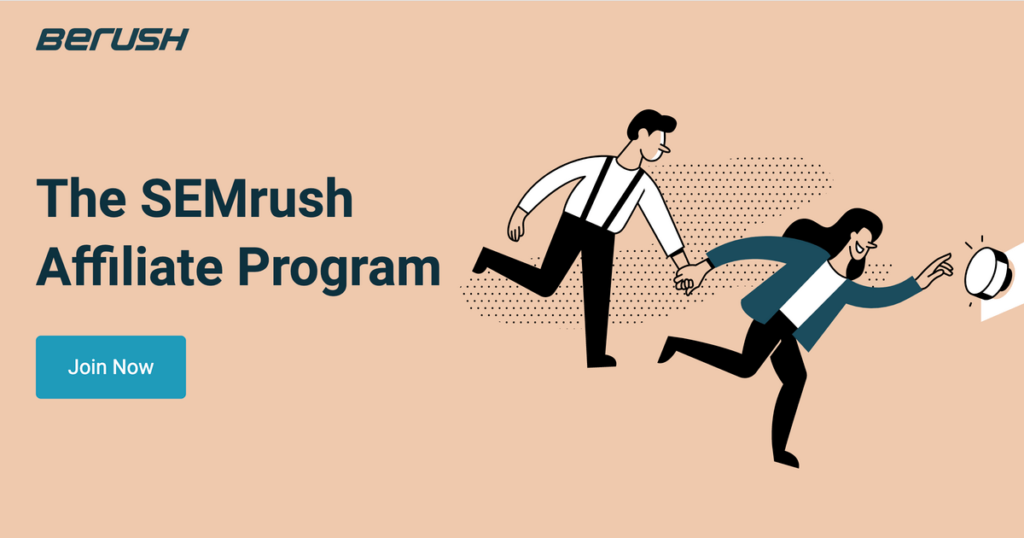 SemRush is an online tool that's used by many online business owners to improve some aspects of their business when it comes to SEO, keyword analysis, link building, and checking on their competitors.
SemRush also offers amazing features such as:
Position tracking tool.
Keyword analyzer tool.
Rank tracking.
On-page SEO.
An organic research tool, etc.
How much does SemRush cost? SemRush comes with three plans, a pros plan which costs $119.95/mo, and guru plan which costs $229.95/mo, and a business plan which also costs $499.95/mo.
However, under the pros and guru plan, they offer a 7-day free trial.
As an affiliate of this program, you'll earn $200 for every sale you generate. For every free trial activation, you'll earn $10 and $0.01 for every new referral and 40% monthly income. They have a 90-day lifetime cookie.
7. LeadPage Affiliate Program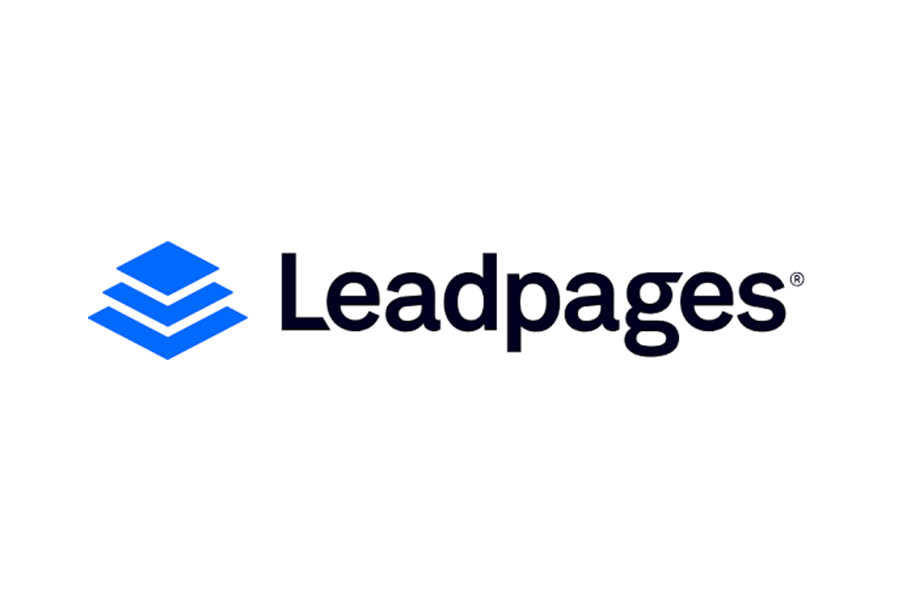 LeadPage is considered to be one of the giants, leading, and well-known companies in the landing page space.
LeadPage is mostly used by bloggers and affiliate marketers.
LeadPage offer features such as:
Site builder.
Beautiful landing pages.
Integration.
Design & template.
Conversion tools, etc.
LeadPage pays a 50% monthly recurring commission to its affiliates on every sale they generate, as long as the referral remains a customer.
One amazing thing about LeadPage affiliate programs is that they follow up with your referral with marketing tips and technical support.
So…
You don't have to really worry about marketing their product too much.
Become LeadPage Affiliate Today
Here Are Some Best Way To Promote Your Recurring Affiliate Programs
There are several ways you can promote a recurring affiliate program just like any product out there. However, if you want things to fall on the ground quickly, I recommend the following:
Promote through YouTube Video
Start a blog
Pinterest marketing
Facebook marketing
Forums marketing
Instagram
Let me break it down for you.
1. Start A YouTube Channel And A Blog 
Getting quality eyeballs (traffic) on your affiliate link is the key to succeeding with affiliate marketing and these two platforms have the potential of driving quality target traffic to your affiliate link.
For example, if you're in the "weight loss" space, you can create content in the form of a video or blog post showing people how to lose this amount of weight in 30 days.
You can also make a list of things they can do each day in order to lose weight. And then you can recommend a product you're an affiliate for that will further help them lose weight.
If you're using a video, you can leave your affiliate link in the description box down below the video.
Here is a perfect example of how affiliate marketing is done on YouTube: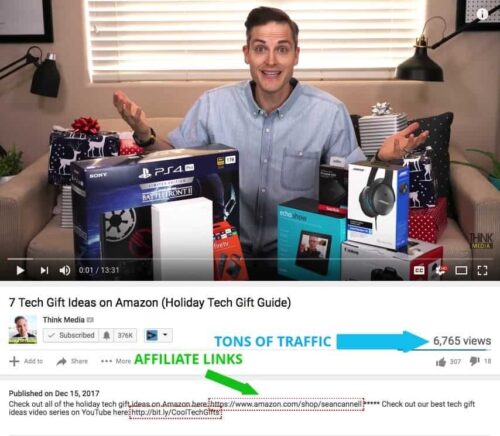 If you're going to take the path of blogging… There are two ways you can go about this.
You can write a review about the product you're an affiliate for or you can write content that's relevant to a problem that your product can solve.
And within your review or content, you can place your affiliate link in the part of the article that makes sense ( it has to come naturally, not in a spamming way).
2. Pinterest
Pinterest is a visual search engine. You can create beautiful, eye-catching Pin images using a tool called canva.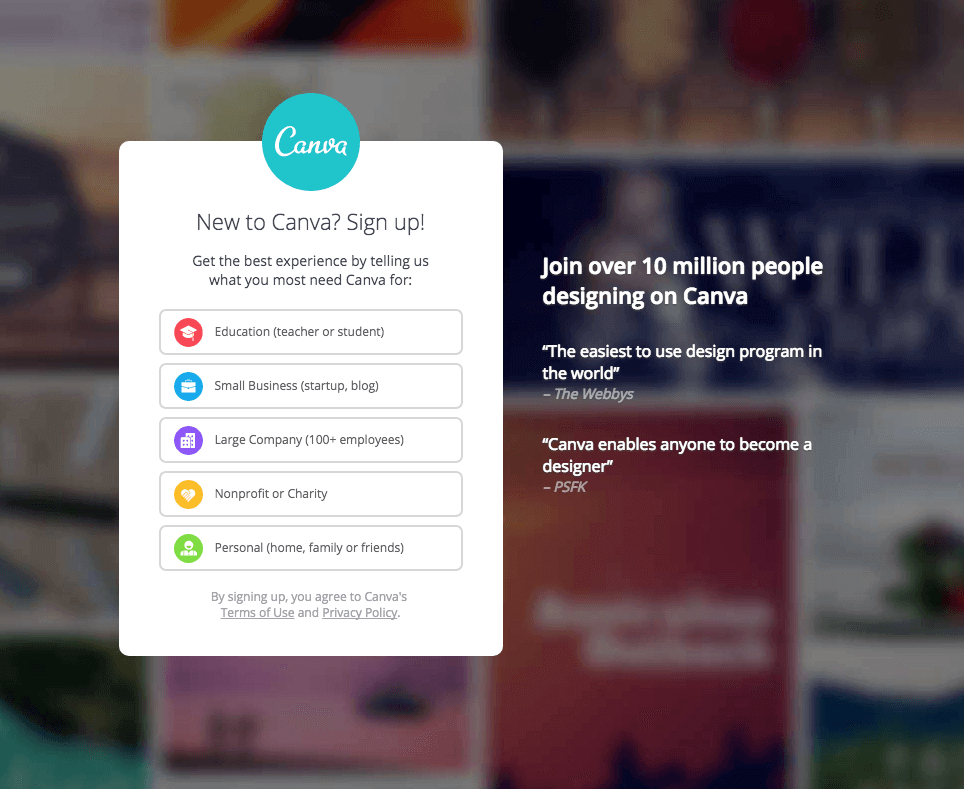 And then upload the Pin to your Pinterest account. And after that, you need to optimize the pin by writing a description relevant to your affiliate program or your content.
And then link the Pin directing to your affiliate link or content and finally upload it to your Pinterest board.
3. FaceBook
In my opinion, FaceBook is not profitable for promoting affiliate programs, you might get your account flagged when you don't do it the right way or correctly.
However, if you still want to take this path…
Here is what you should do:
Create a FaceBook group or business page and invite people to join your group or like your page.
And, as you get people in your group, you can start to post valuable content that educates, teaches, and helps them in one way or the other on a daily basis in order to build TRUST with them.
And, as they begin to Know, Like, and Trust you, then you can start to promote your offer to them.
You should use Bit.ly.com or any link shortener tool to shorten your affiliate link before promoting it on Facebook.
4. Forums
You can find a forum related to your niche and participate in it by asking and answering people's questions and in the long run, they'll begin to Know, Like, and Trust you.
And most of them would want to know more about you and what you do and you can take it from there by recommending your product to them.
NOTE: Not all Forums allow affiliate links on their platform but some do allow you to only place your affiliate link in your Bio.
Here is my top best forum you can try out:
5. Instagram
Instagram is also another way you can promote your affiliate product. You can use  Instagram stories to show a picture of your product with a call-to-action (CTA).
Don't forget to place your affiliate link in your Bio for people following you to see. Also, make sure you don't place that long affiliate URL in your Bio, shorten the link by using tools like Bit.ly.com.
Above are some of the ways you can promote your affiliate offer.
REMEMBER: The name of the game is to first help your audience, before pointing them to your recommended program.
What Are Some Problems With Recurring Commission Affiliate Programs?
"There's nothing wrong with promoting recurring revenue programs, however, the only thing is that most people don't stay long enough with subscription base-product".
For some, they only stay with the program for 3-6 months, others for 8-12 months, and after that, they cancel their subscription.
So, in my opinion, if you solemnly rely on a recurring income program, you're leaving huge money on the table, and at some point, it might be a big blow to you.
That said…
If you want my advice, I will recommend you balance it and thus, you should also focus on promoting a one-time commission program that's a high-ticket program.
So, instead of you relying on $15 or even $50 per month you can promote a high-ticket product that pays you $500 to $1,000 flat per sign-up.
So, in this case, you can be better off if your customers cancel their subscription to the recurring income program.
If you want my #1 recommended high-ticket program check out my Resource Page.
This program has a team that does all the selling for you, they also offer one-on-one coaches that work directly with you.
By the way, I want to also share with you some high-ticket recurring programs.
Here Are Some Of My High Paying Recurring Affiliate Programs
"High ticket recurring commission programs are the ones that pay affiliates a high recurring income and offer subscription base-product, offer up-sales to existing customers, offer multi-tier sales, and have a high ticket digital product".
Most affiliates believe that some of the high-ticket programs are not legit, but there are quite a few high-paying programs that payout commissions to their affiliate, and below I give you some of them. 
Shopify Affiliate Program
Shopify is the world's leading eCommerce platform that allows any individual to create an online store and sell their product online.
Shopify is a done-for-you system and with just a click of a button, you can get your store up and running.
You can set up a store with Shopify no matter where you are in the world.
Shopify affiliate program offers a $58 commission for any successful signup you refer to into their system.
As a Shopify Affiliate, you don't have to worry about content creation.
They already provide you with content that you can link your audience to such as:
Blog post.
Video tutorials.
Webinars.
Tools.
Automated funnels, etc.
Siteground Affiliate Program
Siteground is one of the top hosting companies out there. Their hosting service is built with ultimate speed, a secure, and an amazing support team.
If you want to refer a host to your audience so that they will thank you later, site ground is your best bet.
As a site ground affiliate, you'll earn a high commission by promoting site ground to your audience.
How much can you earn with site ground as an affiliate? Well, the thing is there's no limit to how much you'll earn with site ground as an affiliate. The more customers you refer, the higher your commission. Their lifetime cookie lasts for 30 days.
Below is the table showing how much you can earn with Siteground as an affiliate:
| | |
| --- | --- |
| NUMBER OF SALES | COMMISSION TO EARN |
| 1-5 sales/mo | $50 |
| 6-10 sales/mo | 70 |
| 11-20 sales/mo | $100 |
| 21+ sales/mo | Custom commission |
How much site ground affiliate program pay to affiliates
LiveChat Affiliate Program
LiveChat is an online customer service software that communicates with your visitors or customers in real-time without you chatting or speaking with them directly on phone.
This software is mostly used by social media influencers, bloggers, content writers, etc.
LiveChat is a subscription base-product and by promoting LifeChat as an affiliate.
You'll earn 20% which is a $50 recurring commission anytime your referral renewed their subscription. They have a 120-day lifetime cookie.
LiveChat provides all the necessary marketing tools to their affiliate so they can succeed fast.
WP Engine Affiliate Program
WP Engine is another great managed WordPress hosting company. They have over 1.2m websites hosted on their platform across the globe. 
They have a very supportive customer team that's always there to help you 24 hours 7-days a week.
The WP Engine affiliate program pays a decent commission for promoting their service. They pay a standard commission from $200 to $249 for a single sale.
You can also promote StudioPress premium themes through the WP Engine affiliate program which will eventually boost your income. 
They also provide you with tools to help you earn your first commission.
Liquid Web Affiliate Program
Liquid Web claims to be one of the best leaders in the managed hosting industry and helps sites and apps that are in a critical mode like downtime.
Liquid web is good in terms of site and host migration, they work with big brands in the industry.
The liquid web has an amazing affiliate program that gives access to a library of banner ads and links to affiliates. However, they don't pay a recurring commission for promoting their service but they do pay 100% for the initial sale of a product.
Liquide web is a high-ticket program and there's a high possibility that you'll earn a very good income just by promoting their service.
How much does Liquid Web cost? The liquid web costs $150 and you being an affiliate of this service, you'll receive $150 for any new customer you refer to Liquid web. And the more customers you refer, the more money you'll make. 
28 Ultimate Recurring Affiliate List
As I said earlier, the recurring commission program allows you to earn money for every purchase that your referral makes. So, you continue to make money month after month without having to do anything.
Below is a list of all the recurring affiliate programs I have found and their commission rate after running some research.
Remember, not all programs are equal, so before anything takes time and do your research. 
Some of the programs on this list, I've already mentioned them but I want to give them to you again.
Social Media Marketing Recurring Affiliate Programs
AgoraPulse Affiliate Program– 20%
ContentStudio Affiliate Program– 30%
Post Planner Affiliate Program– 30%
SocialPilot Affiliate Program– 30%
Tailwind Affiliate Program – 15%
SEO Tools Recurring Affiliate Programs:
Long Tail Pro Affiliate Program– 30
Serpstat Affiliate Program
SEMrush Affiliate Program– 40%
Affiliate Program Management Software
Post Affiliate Pro Affiliate Program– 20%
Tapfiliate Affiliate Program– 20%
WordPress(Theme, Plugin) Recurring Affiliate Programs:
Kinsta Affiliate Program– 10%
Elegant Themes Affiliate Program– 50%
MemberMouse Affiliate Program– 25%
MemberPress Affiliate Program– 25%
Thrive Themes Affiliate Program– 25%
Email Marketing Recurring Affiliate Programs:
ActiveCampaign Affiliate Programs– 30%
AWeber Affiliate Programs– 30%
Benchmark Affiliate Programs – 25%
GetResponse Affiliate Programs – 33%
MailerLite Affiliate Programs – 30%
Sendlane Affiliate Programs – 30%
Landing Page Builder Recurring Programs:
Instapage Affiliate Program– 30%
LandingCube Affiliate Program– 30%
Landingi Affiliate Program– 30%
Leadpages Affiliate Program– 30%
SaaS Recurring Affiliate Programs:
Pipedrive Affiliate Program– 33%
SalesHandy Affiliate Program– 20%
YouTube(tools for YouTubers) Recurring Affiliate Programs
TubeBuddy Affiliate Program– Up to 50%
vidIQ Affiliate Program– 20%
Other To Menton
PureVPN Affiliate Program – 35%
Buzzsprout Affiliate Program – 20%
Stencil Affiliate Program – 30%
(Appreciate I If You Pin This Into Your Pinterest Board)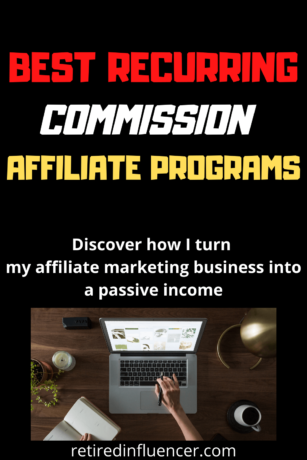 CONCLUSION!
Promoting recurring commission programs is one of the best ways to start making passive income online with affiliate marketing.
Most subscription-based products out there have recurring commission programs, find one that pays a commission rate between 30% to 50% and stick to it for the long haul.
It may take time but it's worth it.
There you have it folks on what is a recurring commission affiliate program. I hope you enjoy it.
ALSO READ!