Quick answer: Affiliate marketing and YouTube are both incredible and fantastic ways of making money online. But in terms of increasing your income, affiliate marketing is the best option, as you can make significant income in a shorter period of time than YouTube display Ads.
However, you can use YouTube to promote affiliate marketing products and also run Google Adsense on your channel at the same time, this means you can use both mediums to earn money.
Read on, the following article provides more details regarding affiliate marketing and YouTube, which is best for making money online and many more.
With that being said, let's dive in!
Affiliate Marketing Vs YouTube Earning: Which Is Best
Affiliate marketing and YouTube, both are lucrative ways of making money online but among the two, affiliate marketing is the best option as it pays a higher amount of money than YouTube. 
Because in the case of affiliate marketing, you can earn hundreds or thousands of money by selling one affiliate product to different customers.
Also, with affiliate marketing, you can earn a good income in a short time (especially if you're promoting high-ticket offers with paid ads).
Unlike YouTube, which takes years of hard work to generate a good income from your YouTube channel.
To make money on YouTube through ads, you're required to have 1,000 subscribers and 4,000 hours of watch time… 
And this might take you years to achieve.
And also you need tons of views on your videos to make a healthy income.
Whereas with affiliate marketing, you can use paid advertising campaigns to promote your affiliate links and generate instant commission.
That said…If you're looking to create passive income online, you should definitely start with affiliate marketing.
But if you want to take things to a different level you can create a YouTube channel as a way of exposing your brand to a new audience.
And then sending those audiences to your affiliate offers.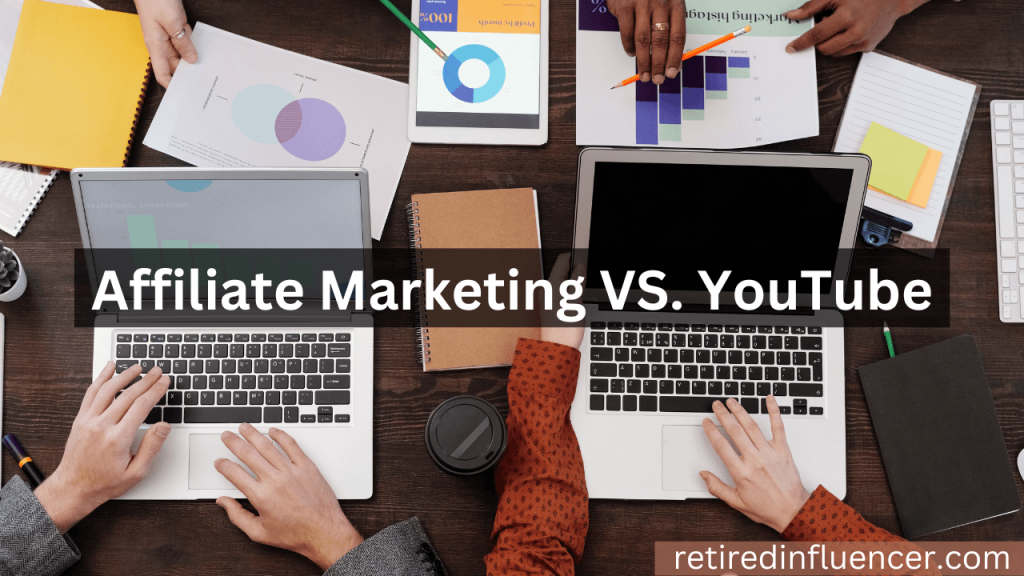 Can I Use YouTube To Promote Affiliate Marketing Products
Yes, definitely! If you're building a long-term business with organic traffic, having a YouTube channel can be a great way to go. 
YouTube is a great platform to get more relevant and targeted organic traffic to your affiliate offers if you're thinking long-term.
One thing about YouTube is that it's easier to rank videos contents than to rank blog posts on Google.
So, you want to use YouTube for sending traffic to your affiliate link and then converting those traffic to affiliate sales.
READ ALSO:
CONCLUSION!
There you have it folks on "affiliate marketing vs YouTube earning" which is good for earning money online.
YouTube pays a good amount of money but not as much as affiliate marketing, however, you can use both to earn money online.
But the truth is a lot of hard work, relevant knowledge, skills, and patience is needed irrespective of the medium you used
And also there is no quick way of earning money with any medium.
That said, in my opinion, I think a better way to make money online is through affiliate marketing but whichever route you take if you do it correctly and persistently, you'll succeed.
READ ALSO: