Wondering, is "Affiliate marketing Vs Dropshipping" the same? Which is best for earning money? and what are the pros and cons between them?
Affiliate marketing and drop shipping are not the same things, though both are methods of earning money and are run online, however, they are completely different from each other. 
Most people often confuse affiliate marketing with dropshipping simply because both are run completely online.
And work towards the same goal and that's to get sales. But they have their differences and operate differently.
Read on, the following article provides more info regarding the differences between affiliate marketing and dropshipping and many more.
With that being said, let's dive in!
Affiliate Marketing Vs Dropshipping – The Differences Between Them
Wondering, is affiliate marketing the same as dropshipping?
Plainly put – no, affiliate marketing and dropshipping are two different ways of making money online.
However, the only thing affiliate marketing and dropshipping have in common is that:
With both, you're responsible for the marketing of the product or service.
Both are completely low-risk business models.
You don't need a large capital to start affiliate marketing or dropshipping.
How much money you can earn from both business models is endless.
You're not responsible for handling or shipping the product to the customer.
Both require the same amount of work in order to be successful with them.
Both affiliate marketing and dropshipping are easy to start.
Both have the potential to earn you a good income when done right.
Both business models require similar skill sets such as the ability to drive targeted traffic to your offer, etc.
But apart from the above-mentioned, affiliate marketing and dropshipping are two different things – they're never the same.
Affiliate Marketing Business Model Explained
Affiliate marketing is when you work with a company (an affiliate program or network) to drive sales, traffic, leads, or customers to the company website, product, or services, and in return, they pay you a commission.
That said…
To succeed in affiliate marketing or before you can earn that commission – you're going to have to put in tons of work and determination.
But the good news is that if you're willing to put in the time, work, and effort.
Well, you're already on your way to success in your affiliate marketing journey.
The work you put into your affiliate marketing business is what will help you earn a commission.
With that being said, to start affiliate marketing, there are a few steps you need to take.
Here Are Quick Steps On How To Start an Affiliate Marketing Business:
Step #1. Pick a niche or topic you're interested in or are passionate about.
Step #2. As your niche is ready, you want to research and pick an affiliate program related to your niche.
Step #3. Build a website for your niche.
Step #4. Research to find what questions people are asking that are related to your niche and your affiliate program.
Step #5. As you've figured out what questions people are asking in your niche, it's time to create excellent content answering those questions.
Step #6. Capture the email addresses of visitors on your content and build an email list.
Step #7. Promote your affiliate offers to your list through email marketing.
Also…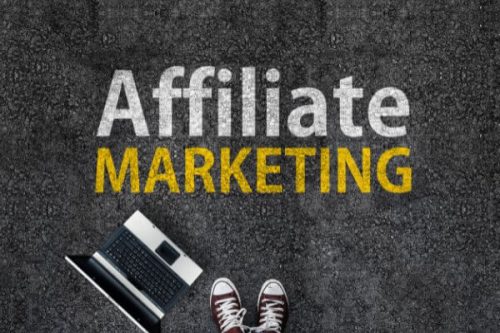 Dropshipping Business Model Explained
Dropshipping is when you buy and sell a product created by someone else on your own website without you having to hold any of the inventory yourself.
To break it down.
As a drop shipper, you're just an online keep proprietor who markets merchandise created by someone else.
And when a customer places an order, you then purchase it immediately from the wholesaler (the product creator) and have it shipped to the customer directly.
That said,
In dropshipping, you can influence the final cost and set your own prices on the product.
This means you determine how much commission you get for every purchase, that's the beauty of dropshipping.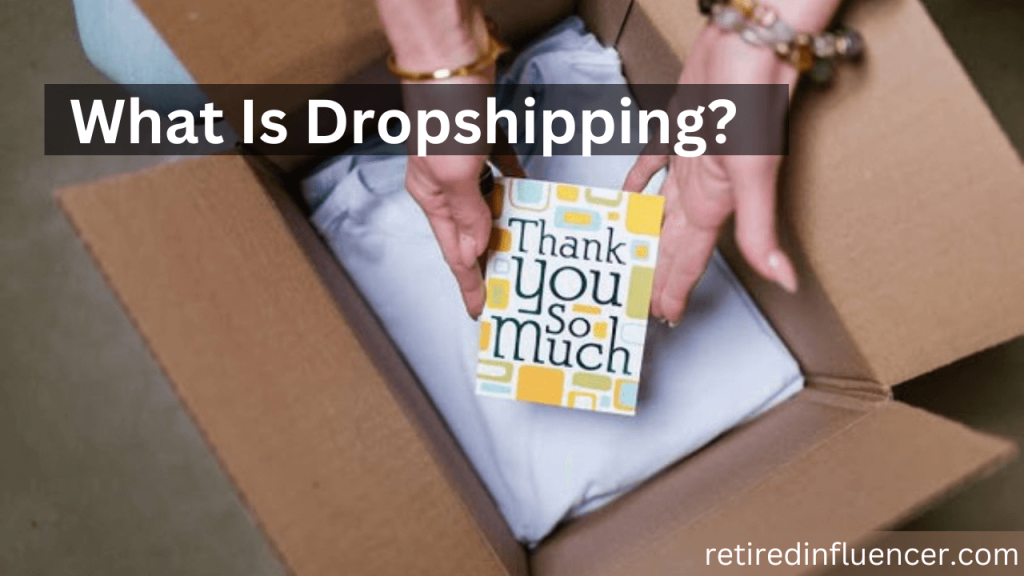 Pros And Cons Of Affiliate Marketing And Dropshipping
Let's take a look at some of the pros and cons of these two business models.
Let's start with affiliate marketing:
Affiliate Marketing Business Pros
It doesn't cost any money for you to become an affiliate. Starting affiliate marketing, there are no start-up fees – you don't have to pay a fee to join any affiliate program. However, you can pay to drive traffic to your affiliate links if you want to.
You don't have to worry about customer support. As an affiliate marketer, your only job is to send traffic or leads to the merchant. The merchant handles all the customer issues if they have a problem with the product after purchasing it through you.
Affiliate marketing can allow you to earn passive income. Affiliate marketing, when done well can be an excellent source of passive income. You can earn commission on auto-pilot while you're asleep or on vacation. But in the beginning, there's a ton of upfront work involved.
Cons Of Affiliate Marketing Business
The affiliate marketing industry is very saturated. Making money off affiliate marketing nowadays is not that easy as a lot of people are getting into this industry. Some of the well-known bands and websites out there are now using affiliate marketing as their primary source of income. Which makes it very difficult for most beginners to compete with them.
Pros Of Dropshipping Business
In dropshipping, there's low financial risk. When comparing affiliate marketing vs dropshipping both have low risk. But dropshipping tends to have lower risk than affiliate marketing. If the product you're selling doesn't get sold, you're not caught with it.
There's no minimum withdrawal. In dropshipping, every dollar you earn goes directly to you – you can easily withdraw any amount of money you earn. You don't have to reach any threshold to cash out your money. But with affiliate marketing, there is a threshold you need to reach before you can cash your money.
Dropshipping allows you to earn high profits. In dropshipping, you can buy a product that costs $1 and sell it for $20 – $30 or more. This allows you to keep a huge portion of the profit.
Cons Of Dropshipping Business
With drop shipping, you have to deal with customer service. One of the downsides of dropshipping is that as the store owner, you're responsible for customer support, not the product creator. You'll bear any issues or complaint the customer have after purchasing them from your store. However, the good news is that, if you have the fund you can hire someone on Fiverr who specialize in customer service.
Which One Is Best And Easier For A Beginner To Start 
Are you asking "Affiliate Marketing Or Dropshipping" which one should you start as a beginner?
Well, it depends – it's a matter of personal perspective here, however, in my opinion, I see affiliate marketing as the easiest way to get started as a beginner because in affiliate marketing it's easier to start and you can make money passively. 
Once you've built a website, create quality content on proper keywords related to your niche and affiliate program and work on your SEO.
All you have to do is to add affiliate links within your content and over time you'll start to earn a commission.
Also, you don't have to rely on paid ads to effectively market your affiliate offers.
You can use free traffic sources to market your affiliate link and still be successful.
But in dropshipping, you'll need to invest in marketing to succeed.
You'll need good quality products, sourcers, inventory, customer support, etc. 
Speaking of dropshipping, consider all that you must do to succeed.
But in affiliate marketing, you need only quality products – that's all, you're off to go.
So, if I'm just starting out, I'll definitely take the route of affiliate marketing.
But with affiliate marketing, you need to develop selling and marketing skills to succeed but it's learnable.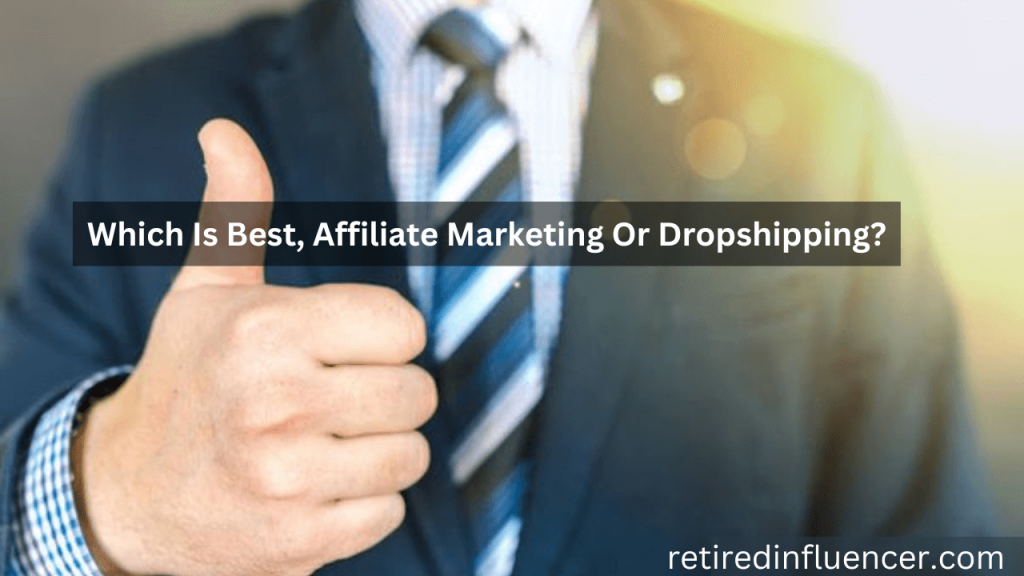 Affiliate Marketing Or Dropshipping Which Is More Profitable
Affiliate marketing is a very profitable and lucrative business model. 
There are a handful of people who have become rich doing affiliate marketing.
However… 
Between the two business models, drop shipping is typically a more profitable business model than affiliate marketing. 
Why? because in dropshipping, you can set up your own prices on the product or service you're promoting.
This means you decide how much money you earn for every purchase. 
Dropshipping income is much higher than the normal percentage you'd earn from promoting an affiliate marketing program.
In affiliate marketing, you're not responsible for how much commission you earn per every purchase.
The merchant decides how much to pay you for selling his or her product.
And also…
Most affiliate programs usually pay commission rates ranging between 5% to 45% and sometimes 75%. 
And if the product is a low ticket offer. Well, you're not going to earn a lot. 
But compare that to drop shipping where you can set up your prices.
However, if the affiliate program you're promoting is a high ticket offer, well, that way you'll benefit.
But all the same, I see dropshipping as more profitable than affiliate marketing in terms of profit margins.
Is Affiliate Marketing Cheaper Than Dropshipping
Plainly put – yes, affiliate marketing is cheaper than dropshipping and it's free too, there is no cost of joining any affiliate program and you don't have to create your own products or services to make money.
And there's no customer service, delivery and it's easy to maintain.
If you're a beginner looking to start an online business or venture… 
Affiliate marketing is definitely the most lucrative and less complicated business model to enter.
Can I Do Both Affiliate Marketing And Dropshipping At The Same Time
Are you wondering whether it's possible for you to do both affiliate marketing and dropshipping?
Well, to put it simply – yes, you can do both affiliate marketing and dropshipping at the same time. But you need to be careful and not when you're just starting out online. 
I'd recommend you start with one first then reinvest the profit you earn from the first one to start a second one.
It's only crazy internet marketers that think they can run two businesses at the same time when they don't have any experience in each of them.
Imagine trying to run two businesses at the same time when you're just starting out and don't have experience. 
You'll overwhelm yourself and end up not having any real success with any of them.
If you stuck with one business model, over time, you'd start to see better results than focusing on two.
That said…
There are tons of people who do both affiliate marketing and dropshipping together but not both at the same time.
That's It Folks!
"Affiliate marketing vs dropshipping" both are big industries and can earn you a lot of money. 
Both work towards the same goal and that's to get sales but they're not the same thing.
Affiliate marketing is when you sell someone else product on your website for a commission.
While drop shipping is when you buy a product in a bulk and sell it on your website.
In dropshipping, you depend a lot on products, shipping, and suppliers, while in affiliate marketing you solely depend on products or services (mainly, digital products). ads, organic traffic, and your own marketing skills.
Which one is best? Both of the two business models have their pros and cons, however, I'd pick affiliate marketing over dropshipping.
Affiliate marketing can lead to larger results if you build a personal brand in your niche.
READ ALSO: