Are you wondering "Affiliate marketing vs ECommerce business" which is best for earning money? And What are the differences between both?
Affiliate marketing and E-Commerce business are two different things altogether. However, both have the potential to generate good income when done right.
But to generate more money from each of them will depend upon your interest, work ethic, and knowledge.
That said, if you have an interest, and knowledge in affiliate marketing and you work hard, you'll earn significant money from it.
And if you have an interest, and knowledge in the e-commerce field and you work hard, you'll earn a decent income from it.
So, the key component here is, interest, knowledge, and hard work, and if you possess those three qualities…
There's nothing that can stop you from how much you can earn from your affiliate marketing or e-commerce business.
Keep reading, as I take you through the differences between affiliate marketing and e-commerce business and many more.
With that being said, let's dive in!
Is Affiliate Marketing E-Commerce Business?
To put it simply – No, affiliate marketing is not an e-commerce business, affiliate marketing is totally different from e-commerce. 
Affiliate marketing itself is a business model on its own and works on commission bases.
An e-commerce business is a platform where a retailer runs an online storefront to sell products (mainly physical products) over the internet.
Affiliate Marketing Vs ECommerce Business: The Difference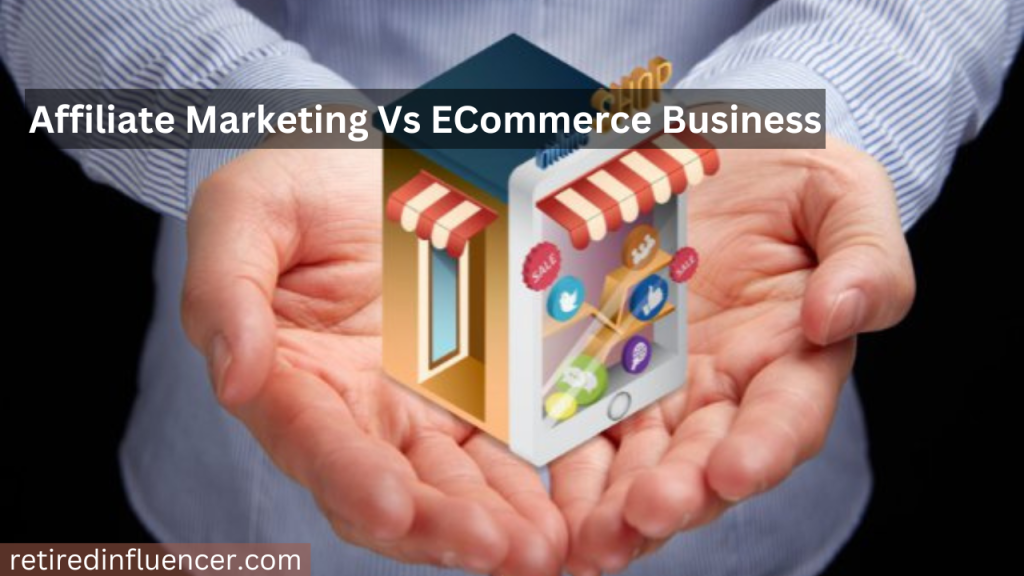 Let's look at the difference between these two business models:
Affiliate Marketing Explained:
The concept behind affiliate marketing is when you promote products or services created by another individual on your website or blog. 
And if a visitor or your readers purchase that product through your affiliate link, you get paid a commission on that sale.
There are three parts to affiliate marketing, the first one is:
Become an affiliate – Here you don't have to create your own product, all you'd need is to set up a personal website or blog, etc.
Then you just sign up for a product or service created by another individual as an affiliate marketer. 
And then you promote that product for a commission.
The second part is: 
Become a merchant – Here, you create your own product or service and let someone else sell your product or service for you and you pay them a commission on that sale.
The Third part is: 
You can set up an affiliate network and then let other affiliate programs host their program on your network.
And you charge them a percentage for each sale they generate through their product.
You can also get them to pay you on monthly basis for hosting their program on your platform.
Also
E-Commerce Explained:
An e-commerce business is when you create your own store online like Amazon.
Or when you set up an online store on other online marketplaces like Flipkart, eBay, Etsy, etc. 
And you buy a product (mainly physical products) created by someone else at a cheap price.
And then sell it at a higher price for a profit. You can even create your own product and sell it as well.
ECommerce kind of works like dropshipping but takes a different approach.
How Does The Whole Process OF E-Commerce Business Work?
You set up an online store.
Then, you want to partner with a manufacturer.
You then have to list those goods created by the manufacturer in your store.
Then, you want to set your own price for the goods.
Sell those goods in your store at a wholesale delivery.
And when a customer places an order, the goods will be shipped out to the customer.
An E-commerce business works like a brick-and-mortar business but here, everything is done online.
Here Are A Few Things You Need To Know Before Start An ECommerce Store Or Website:
Consider how you'd like your product to be displayed in your store.
Organize your product into similar groups.
Make sure your product name is relevant to your target market.
You want to hire an experienced web developer to build your eCommerce storefront for you so you can focus on the important things like (marketing and sales, etc).
IMPORTANT…
The e-commerce industry is a very huge and broad industry and you may want to educate yourself a lot on this industry before going into it.
Which Is Better, Affiliate Marketing Or E-Commerce
Well, as an affiliate marketer myself, I think affiliate marketing is a lot better than the e-commerce business model. 
Because with affiliate marketing, you don't have to create your own product or service or worry about customer service and shipment of the product.
That are all been taken care of for you by the product creator – your job is to simply sign up with the product, grab your affiliate links and start promoting it on your chosen platform.
Also…
It does not require you to create your own website- you can choose any platform of your choice to promote the product.
Affiliate marketing does not require a ton of money to start – you can start for free. Most of the affiliate programs are free to join.
It's a beginner-friendly and evergreen, business model. 
Affiliate marketing when done correctly can allow you to earn passive income online without having to do anything again.
NB: Though affiliate marketing is a great business model; however, it takes a lot more time, effort, and hard work to make a decent income from it. 
But still, it's better than an eCommerce business.
Which Is Less Expensive And Easier To Get Into
Are you asking, affiliate marketing or e-commerce which is easier and less expensive to start?
Well, definitely affiliate marketing. It's a cost-effective business model. It's free to join any affiliate program.
Less advertising cost – You don't have to pay to market your product. You can promote your affiliate offer on free advertising platforms such as social media, forums, YouTube, etc.
Do ECommerce Businesses Offer Affiliate Marketing 
Wondering if e-commerce stores or websites offer an affiliate program?
Yes, they do. Affiliate marketing is the key marketing channel for most e-commerce websites – there are tons of e-commerce websites that offer affiliate programs. 
Some of the largest names in the e-commerce space such as Amazon, eBay, etc have affiliate programs.
You can join these programs and promote their store or product and whenever someone buys their product or service, you earn a commission.
Can You Use Affiliate Marketing In ECommerce Busines?
Sure –  yes, you can use affiliate marketing in your e-commerce business.
Because of the high level of competition in the e-commerce space. Using affiliate marketing to promote your e-commerce website can be a great idea.
It's one of the best strategies that most people are utilizing nowadays to drive addiction sales into their businesses.
NB: But the product you're selling on your e-commerce site has to be the same product you promote as an affiliate.
That said, using affiliate marketing in combination with your e-commerce can help you increase traffic to your e-commerce store. 
And increase your e-commerce sales or generate more online revenue.
CONCLUSION!
There you have it folks, affiliate marketing and e-commerce, both have their difference, but has the power to make you good money if done correctly.
Affiliate marketing is simply selling products or services created by another individual for a commission.
In affiliate marketing, you work on commission.
While e-commerce is buying and selling any kind of physical product online store.
READ ALSO: