Wondering, who is an affiliate marketer? And how to become an affiliate marketer? Well, you're not alone, I got you covered.
An affiliate marketer is simply a person or someone who sells products or services created by another individual for a piece of a commission. Affiliate marketers work like a classic door-to-door salesman – but just that for them they sell online.  
Read on to better understand your question. Plus, how to become an affiliate marketer and how to make money as an affiliate marketer, etc.
With further ado, let's dive!
Here Is Who An Affiliate Marketer Actually Is
Affiliate marketers are sometimes considered as publishers, brands, or someone who in some way is connected to a person, organization, or company and endorses their product or services for a sum of money or a certain percentage that's recurring or one-time.
In order words.
An affiliate marketer can be an entire company who promotes a few products or services and tries to attract potential customers by providing relevant and helpful content to encourage the customers to try the product of promotion.
The affiliate then offers signup or referral links to the customer. 
This link allows the customer to click through the partner program.
Now…
If the customer successfully signs up, the affiliate earns a commission on the sale.
That said…
Most of the time the affiliate builds his own audience or followers (either an email list, YouTube subscriber base, etc) on a specific niche and interest.
And as a result of that…
It makes it so easy for the affiliate to have customers who will likely purchase his product or service over and over again.
That said.
One of the beauty parts is that the customer does not necessarily have to purchase the product before the affiliate can make money.
Depending on the partner program the affiliate can get compensated in many different ways.
Affiliate Payment Models
PPS (Pay-Per-Sale)
PPL (Pay-Per-Lead)
PPC (Pay-Per-Click)
PPI (Pay-Per-Impression)
We'll look at that more in detail in a minute.
Now…
Before we look at how you can become an affiliate marketer, let's first look at a few things.
RELATED POSTS:
What Other Things Do Affiliate Marketers Do Apart From Promoting Products
They only promote products and services.
The main job of an affiliate marketer is to refer customers to sellers' websites and earn a percentage for every successful purchase the customer makes.
The more customers you referred. 
The more money you're likely to earn – this all without having to create your own product.
No delivery or shipping of the product, refund & customer support, etc. 
Those are all done for you by the merchant (the product creator).
Really? Yes!
That's why you see so many people jumping into this industry.
And it can be incredibly profitable, lucrative, and rewarding when done right.
How Do Affiliate Marketers Get Paid For Promoting Other People's Products?
There are many different ways affiliate marketers can get paid depending on the partner program.
Such as:
Pay-Per-Sale: With this model, the affiliate marketer gets paid a percentage of the sales price for selling products.
Pay-Per-Lead: Here the affiliate gets paid whenever the customer visits the merchant website and submits their email address. Whether it is signing up for a newsletter or downloading a file or anything at such.
Per-Per-Click: With this,  the affiliate gets paid for redirecting customers from their platform to the merchant's website.
P.S I have another post where I go more into detail on how affiliate marketers actually get paid and who pays them.
Is It Worth It Becoming An Affiliate Marketer
By definition affiliate marketing is when you earn a commission for promoting or marketing other people's products.
So that means…
If you can successfully match the right product to the right audience and promote that product the right way (not trying to spam your audience) it can absolutely be worth it.
P.S: I have another post where I share with you more in detail on is being an affiliate worth it.
That said…
When starting out, I recommend you choose a niche that you're at least interested in, and passionate about.
And have a bit of knowledge about.
Also…
You want to pay attention to the demand for products in that niche.
If for instance, you pick a product that people are not interested in, well, your chances of getting sales from that product are slim.
By The Way, What Do We Mean By Affiliate Marketing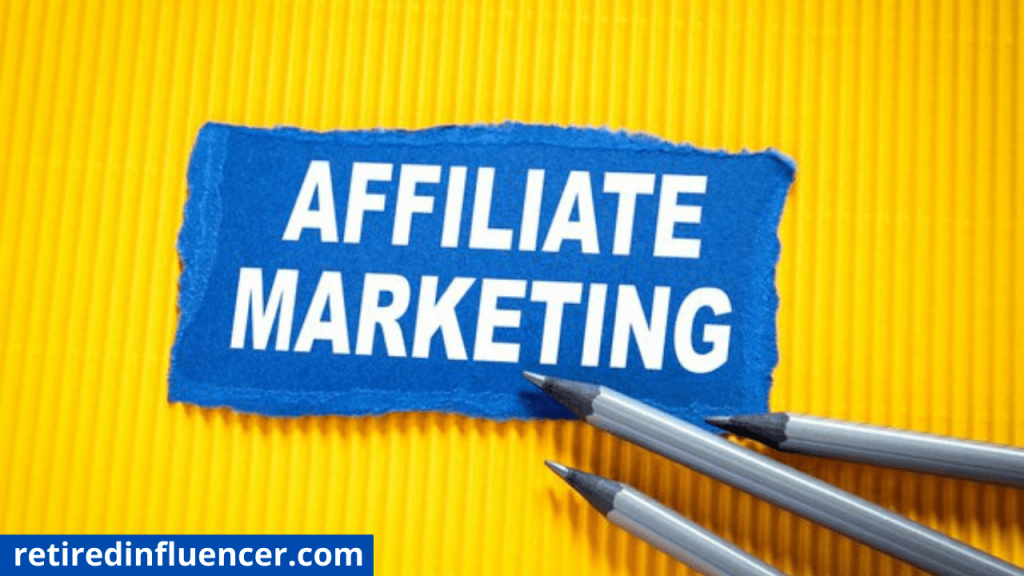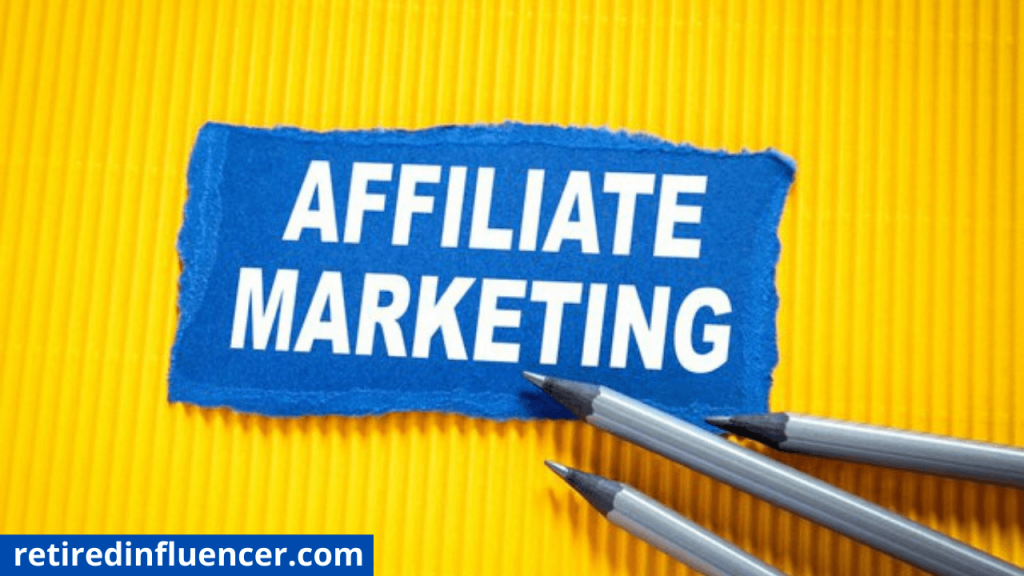 Upon running a little research, here is a great definition I found online on affiliate marketing.
Affiliate marketing is a type of performance-based marketing in which a business rewards one or more affiliates for each visitor or customer brought by the affiliate's own marketing efforts. source.
My definition:
Affiliate marketing is a process or marketing method by which you (the affiliate) earn a piece of commission for promoting, marketing, or recommending another individual product or service through a blog, YouTube channel, social media, etc.
The affiliate (you) simply searches for a product or service (you have used before or believe in).
Then, sign up for the product as an affiliate.
And then promotes that product to your audience, and earn a piece of profit from each sale you make.
That said…
Earning through affiliate marketing is a win-win situation. 
Why?
Because you're helping people with their problems by recommending products that will help them solve their problems.
And you earn money in return.
Why Is Affiliate Marketing Consider By Many Affiliate Marketers (The benefits)
One of the main reasons why most online marketers focus primarily on affiliate marketing is simply because you can make a decent income by promoting other people's products and services and you don't actually have to invent the product yourself.
In other words…
Affiliate marketing is considered by many affiliate marketers because it gives them the ability to connect, and build trust and relationships with people across the globe.
And they get paid money (commission) for promoting an offer to those audiences.
And this allows them to generate a steady income. 
And most importantly you don't need to be an expert marketer in order to do affiliate marketing.
Here Are Some Reasons To Become An Affiliate Marketer:
Passive Income: When you put in the time and the work and set up things properly, over time, affiliate marketing can allow you to make passive income online.
You Are Your Own Boss: Affiliate marketing can give you the freedom to be your own boss, you can work on your business anytime anywhere without anybody yelling at your shoulder.
No Real Start-Up Cost: The cost of starting affiliate marketing is absolutely free, and also, you don't have to invest money into creating your own product, you can find someone else's product or services and promote it as your own and still make a handsome income.
No Customer Support: As an affiliate marketer of a certain program or company, your job is to just market the product for a commission. You don't have to worry about any customer queries.
No Delivery Of Product. You're not responsible for delivering the product to the customer after they bought the product through you, that is taken care of by the product creator.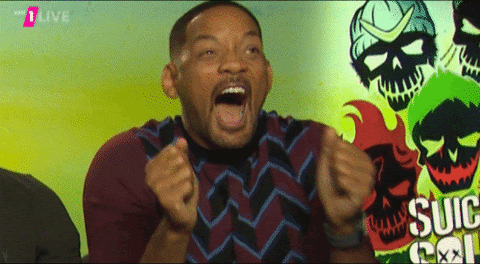 How Much Does It Cost To Become An Affiliate Marketer
Well, there is no initial cost of becoming an affiliate marketer, since the vast majority of the affiliate programs out there are free to join. 
They don't require you to pay a fee before you join their affiliate program and it is completely free to sign up and start promoting their product to your audience.
You can research and choose products from sites such as ClickBank and ShareASale, etc. 
And you can use free marketing methods such as YouTube or Social media.
Honesty, you can absolutely start affiliate marketing without investing a dime.
But the only thing is that…
If you really want to turn this into a real business that'll earn you decent income for years to come.
Then, you need to at least invest a little bit of money.
You need your own personal website and email autoresponder to run this successfully as a real business.
And this can cost you anything around $100 or more depending.
Other expenses to include are training courses: 
In order to become successful with affiliate marketing requires GOOD knowledge.
So… I'd recommend you at least invest in a good training course, to learn the necessary skills needed to run a successful affiliate business. 
That said…
Taking this approach, you can accelerate your success way faster.
By the way:
What Are The Requirement Of Becoming An Affiliate Marketer
If you have the right mindset, an internet connection, and a laptop, you're off to go.
If you have a laptop that is connected to a stable internet connection, you can start working as an affiliate marketer.
You can research and sign up for affiliate products.
And then start creating and uploading useful content related to your affiliate product on free platforms such as YouTube.
And in the description box below the video, you can place your affiliate link there. 
(With YouTube, some recording devices are going to be needed, such as a camera or smartphone, light, and microphone.).
You can also create a blog and publish free articles for people to consume.
Then… 
You want to get an email autoresponder software to collect the email addresses of visitors to your content.
So you can promote your product to them through email marketing.
Also… You need to learn marketing (very important). 
You want to learn how to properly market any product to an audience. 
And how to get them to buy the product with their hard-earned money.
That said…
If you're marketing to people who are not interested in what you offer, it's very less chance for them to buy that product.
So… Try learning about who your ideal customers are and market to them only.
5 Things To Know Before Becoming An Affiliate Marketer
In this section, I will share with you some key points and tips to know before starting affiliate marketing.
When we talk of affiliate marketing the process is simple but in reality, to make a real income from it such as financial freedom will be a bit difficult.
Here Are Some Few Points Before You Actually Dive Into This Business Model:
1. Nothing is as easy as it seems
I know you might probably see 5,6,7 or even 8-figure earners in the affiliate marketing space and you may think it's easy.
No, nothing is easy, especially when it comes to making money online with affiliate marketing.
Real quick, I'm not saying the process of making money with affiliate marketing is not easy, the process is easy.
But making real income which will put you in a position of financial freedom, is going to be difficult and you need to be willing to put in massive action other than that you won't see any progress.
2. Embrace delayed gratification
A lot of people when starting affiliate marketing have false expectations. They think if they share their affiliate links across so many social media platforms, the next day they'll start to make a huge amount of money.
No, it doesn't work like that. Making money with affiliate marketing takes a lot of time. You're not going to get instant results for months or even years.
And this is the reason why a lot of people quit. So, be patient and put in the work.
3. Don't pay for ads until you know how to run them  
If you don't have very good knowledge about paid marketing, please don't try it. paid ads can literally help you scale your business way faster.
It can also cost you tons and tons of money without getting a return on your investment.
That said, my advice to you is to wait until you have good knowledge about it and also you have the budget to invest in it.
Also, you want to enroll in a course that teaches you about paid ads and how to run it successfully.
4. Double the effort on your business
One of the best ways to skyrocket your affiliate business is to take massive action. For example, if you're growing your business on YouTube and every week you post two videos, you want to scale up that and post 4 videos a week. That's how you grow fast.
5. Not focusing on one marketing strategy
In my opinion, I think not focusing on one thing is what delays a lot of people's success. Find the area you're good at and focus on it until success.
If you're good at video, then you want to focus on publishing YouTube videos, don't do a little bit of Youtube video and a little bit of blogging.
You'll overwhelm yourself and end up not actually getting any results with none.
This is so important especially if you're just starting out. Wait until you're successful with one particular method before moving to another.
How Much Can You Actually Make As An Affiliate Marketer
Affiliate marketing is rapidly growing, there are tons and tons of people who are making thousands of dollars from affiliate marketing in a single day. 
There are even some people who are making millions of dollars from this business model.
That said… 
How much you can earn doing affiliate marketing is endless. You can earn little to no money or a lot of money.
Depending on a few factors such as:
Your marketing effort
Your knowledge of your niche
And how much traffic you're getting on your affiliate link
That said…
When starting out, I'd advise you to take the time to learn about the concept of affiliate marketing.
If you know what you're doing and you do it right, you can definitely make a lot of money from affiliate marketing.
By the way…
You can start with free sources on YouTube and learn the basics and still make it happen.
But if you have the funds then I'd highly recommend you enroll in a premium course.
Only if it's a good course (I recommend legendary Marketer by David Sharpe).
What Make A Good Affiliate Marketer
There are so many things that make a good affiliate. 
A good affiliate marketer has some sort of knowledge about their niche and about the product or service they're promoting. 
A good affiliate used or tests the product they're recommending to see if it's going to help meet the needs of the customer or not before promoting it to them.
They don't just promote any kind of product just for the sake of making money. 
They focus on helping their customers rather than just trying to sell to them all the time. 
They know and understand that money only comes from helping enough people.
Can Anyone Become An Affiliate Marketer
Yes definitely!
Anyone can become an affiliate marketer. 
You don't need to have any technical knowledge or qualification to become an affiliate marketer. 
However… To become a successful affiliate marketer and actually earning money online takes time, effort, commitment, and above all skills.
And also… 
It's important you take the time to educate yourself about the topic you're in, other than that you're going to struggle to stand out.
Find other successful people in your niche and learn from them.
There are a number of successful affiliate marketers out there who are willing to share their knowledge with you.
They don't hide anything from you.
They're willing to share with you the secret that actually led them to success, so you can also stand out and win.
These are the real geniuses and contributors to your financial health and wealth.
Find such people and learn as much as you can from them. 
Here is some of my best name in the affiliate marketing industry that you can follow & learn from:
Is It Hard To Become An Affiliate Marketer
No, it is not harder to get into the industry today as many affiliate programs are free to join, you don't need any qualification or special requirement to join. 
Many affiliate programs will auto-approve you as an affiliate for them.
But the only problem is that. 
In order to become a successful affiliate marketer takes a lot of hard, learning, adjusting to the industry, and a fair amount of time.
If you don't invest time and effort into building your affiliate business ( I mean if you don't' invest years in building your site with quality and relevant content).
And aren't willing to learn the right way to go about things (and you're looking for shortcuts).
Well, I'm sorry, you're going to find it difficult to rise to the top as an affiliate.
How To Becoming An Affiliate Marketer (9 simple steps)
Becoming an affiliate marketer can allow you to earn a steady stream of income. 
You simply find and join products you enjoy and place their product link on your website and get paid for every purchase.
However…
To become a super affiliate and actually make affiliate marketing your full-time business, there are certain steps you need to take.
Step #1: Have The Right Mindset
Literally, mindset is everything. 
Your mindset can make you succeed and it can also hold you back from success.
If you're going to be earning money online, especially with affiliate marketing, you need to have the right optimistic-oriented mindset.
Many online business entrepreneurs fail as a result of their mindset. 
A negative mindset will have a negative impact on your business.
So, try working on your mindset.
Your mind is very powerful.
Step #2: Knowledge and Tools
Knowledge. Knowing how to market the right way to the right customers is very important. 
The effect of this is that it helps you stand as an authority figure in your space and producing money will become easier for you as a consequence.
So, you want to invest in knowledge.
Tools. Tools are what you're going to use to find the market with people and sell your offer to them.
Step #3: Decide On A Niche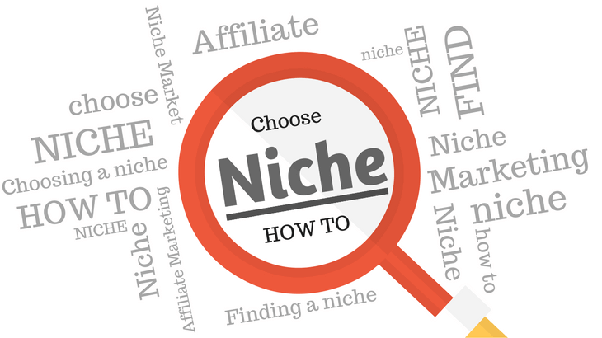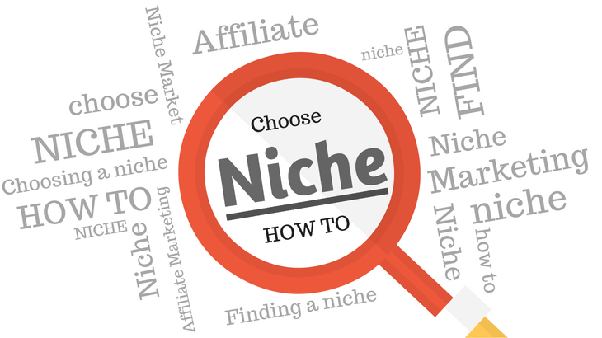 Your chances of succeeding as an affiliate marketer depend on the niche you go after.
If you go after a niche just for the purpose of making big money, but you don't actually know anything about that niche. 
Guess what? you'll surely fail.
That said…
You must first identify your areas of interest and focus all your effort there. 
When it comes to something specifically.
What do you know the most about?
What interests you?
What are you passionate about?
Which area can you sell best? etc
To make your affiliate business successful, you must possess the following qualities. 
Also… You need discipline, dedication, and effort to be successful in your niche.
By the way…
Step #4: Sign With Affiliate Products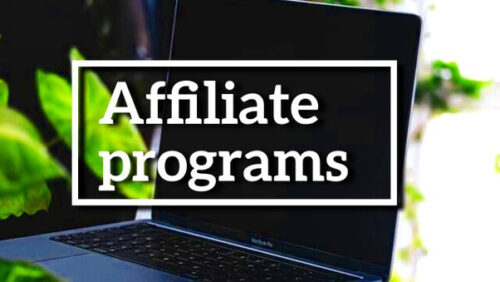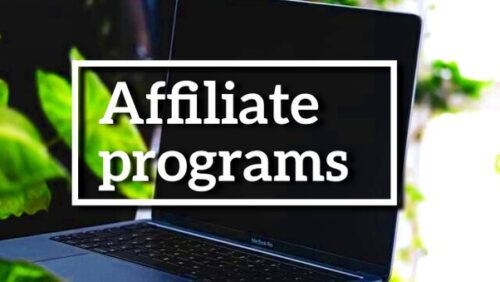 Here, you want to find affiliate programs that are relevant to your niche and are of good quality.
How do I find And Sign Up For affiliate programs?
To find affiliate programs just Google (your niche + affiliate program)
Then click and visit the website of the affiliate program
Then click on the button that reads "Become an associate or  affiliate, affiliate promote our program, refer or earn
Then fill out your information and click on submit
And as you're approved
Log in to your affiliate panel or dashboard and grab your affiliate link
Then start promoting your affiliate link to your audience
NB: Most of the time you'll find where you can be an affiliate of the program in the footer section of the website on the bottom side.
Here is an example: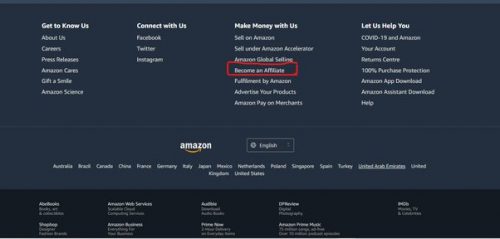 That said…
The goal is to find a program that'll help add value to your audience's lives, not the one that'll earn you the most money. 
That said…
There are a handful of affiliate programs out there that you can partner with.
But among them not all of them are legitimate. 
So… Before you sign up with any of them and start pushing it to your audience. 
You want to take time and do thorough research about them. 
Why? Well, so that you don't lose your promotion dollars. 
The thing is… Not all affiliate programs out there are legit and will pay out your commission when you make a sale for them.
So… You want to take time and do your research before joining any ofthem.
By the way… 
You can check out my Resource Page for my #1 recommended program.
This program offers a high ticket product meaning no more small commission. They have a team that does the high-ticket selling for you.
They also offer one-on-one coaches that work directly with you.
Step #5: Create A Website
Create a website for your business. 
Don't make the mistake a lot of affiliates make using third-party platforms to promote their business.
Though there's absolutely nothing wrong with those platforms. 
But if you're going to run a long-term business that'll actually generate you money on a consistent basis.
Then you want to create a website.
Creating a website for your affiliate business can attract thousands and even millions of visitors to your business per month when done correctly. 
Which over time will result in more sales and revenue.
That said…
Creating websites these days is relatively easy even if you've never built a site before.
By the way… I know some of you might be saying, why not use YouTube. Yes, that's absolutely cool.
But… You still need to have your own personal website. 
Remember you don't own those platforms and you can easily be removed at any time.
But… Having a website, you own it and you can do anything with it without any restriction.
Furthermore…
Having a website helps you build an online presence and some sort of credibility in the eye of your targeted audience.
Step #6: Start Publishing Quality Content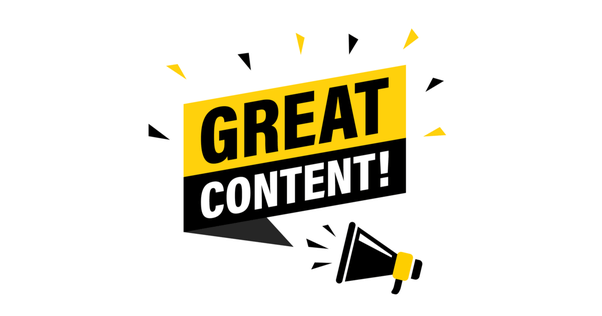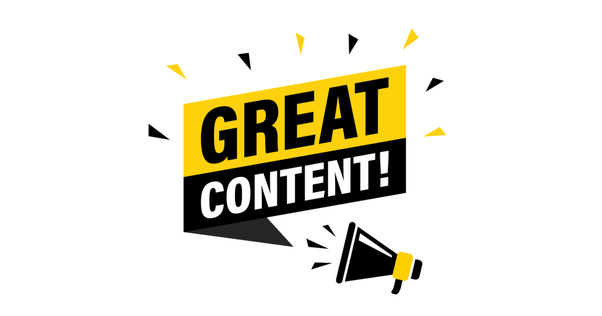 Online content is kind. 
The secret to really succeeding in affiliate marketing is to focus on creating excellent content that helps solve your audience's biggest problem and pain.
Don't focus on making money from your audience first.
Rather…
You want to have their interest at heart by purely helping them with high-quality content first and the money will honestly come.
Taking this approach. 
Your audience will keep coming back to your site for more, which overtime will result in massive sales.
Step #7: Build An Email List Of Visitors On Your Content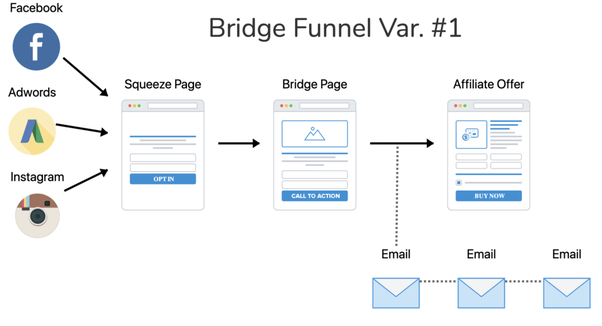 I believe you've heard this saying before "The money is in the List"?
Well, that's absolutely true, the money you want to make it's in the list you build.
Building an email list is one of the best ways to actually make money online, especially with affiliate marketing.
Why?
The thing is, people don't normally buy the first time of seeing an offer. 
Research shows that… People get to see an offer seven times before actually deciding to buy it. 
Now… 
if you're sending visitors from your content to direct affiliate links.
Well, guess what?
You're leaving huge money on the table.
That said…
Here is the plan – First build a bridge between the affiliate products sales page before sending people there.
Why?
So you can capture their email addresses.
Why?
So if they don't buy the product at that first exposure which the majority of them are not going to do.
Now…
You have the chance to remarket the product to them over and over again using an autoresponder until they're ready to buy.
That's leverage! Lol.
Step #8: Learn Marketing
If you're marketing to anybody you find online you're marketing to nobody.
As an affiliate marketer, you must understand who your ideal customers are and how to correctly market to them only.
Knowing who your ideal customers are and knowing how to pitch them is very essential.
Knowing this will result in more sales. 
Step #9:Use Paid Ads To Scale Your Business
This is optional.
When you start to make a profit in your affiliate business, you can scale your business using paid advertisement.
NB: Make sure you know how to run paid ads properly before attempting it otherwise you'll lose money.
What Are Some Of The Mistakes You Should Avoid As An Affiliate Marketer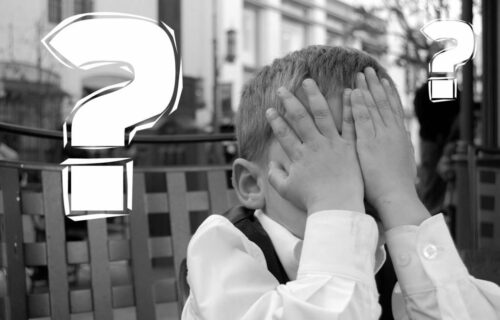 There are so many reasons why affiliate marketers fail online.
A lot of people approach affiliate marketing as an easy-get-rich-quick kind of stuff. 
They think the moment they join affiliate networks and start posting their links everywhere online (this is a big problem). 
Then they'll start making thousands of dollars per day.
And the funny thing is that.
If that doesn't happen in their expected time they get discouraged and give up before they actually become successful.
Nope! It doesn't work that way.
As with anything in order to be successful, it takes time, and hard work, and you have to learn the industry.
I mean you need to know and understand your niche and what your targeted audience wants and provide them with exactly that.
P.S: I have another post where I share with you more on why affiliates fail. In that post, I share with you 16 reasons and how to avoid them.
Let's take a look at how you can become a successful affiliate but first:
Who Is The Right Person To Follow To Be Successful As An Affiliate Marketer
Well, there are a handful of people out there who are teaching affiliate marketing and it is hard to say who is the best.
In my opinion, I think the best affiliate marketing mentor to follow is the person who resonates with you.
Someone who's also doing the same thing as you are and has the results that you want.
That said…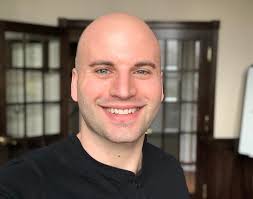 To me, I recommend Nathan Lucas as the best teacher when it comes to affiliate marketing, he may not be the best for some of you, I don't know.
You can check him out on YouTube with the name Freedom Influencer. 
This guy really has great knowledge when it comes to affiliate marketing.
He has some really great videos on his channel.
But now he doesn't post more often as first but his old videos are still relevant and valuable.
Remember.
The goal is to find someone that resonates with you and knows what he's talking about and go with them.
How To Become A Successful Affiliate Marketer
As an affiliate marketer myself, I think the best way you can actually become a successful affiliate is to find and follow someone who has already done it successfully and just learn from them directly.
Find people who have been in the affiliate marketing industry for years.
And are making significant income per month from their business.
And implement their tactics and techniques that have actually worked for them.
Also… You should be prepared to invest in a training course.
Not just any course out there but a quality affiliate marketing training course, that teaches the in-depth of affiliate marketing, not just the basics.
Also…
Be humble and reach out for help. 
Try asking your fellow affiliates who are a little bit more successful and experienced than you.
And ask them what's working for them and what you can do to succeed.
Taking this approach… 
You'll be far better off than the rest of the people who are trying to figure out everything by themselves.
That said…
Trying to become successful as an affiliate takes a lot of time, learning, testing, trial and error especially if you're just starting out.
My advice is, don't try to take shortcuts, commit to learning and trust the process.
What Separates Successful Affiliate Marketers From Unsuccessful Affiliate Marketers
Success in affiliate marketing is based on knowledge and experience. 
The more knowledge or experience you have, you can be assured that you will be successful in whatever niche or area you find yourself in.
That said…
What distinguishes successful affiliates from struggling ones is that.
Successful affiliates are constantly looking for ways to improve their knowledge and skills.
So, they're always investing in knowledge to improve their skill set.
While…
The unsuccessful ones are not willing to invest in knowledge… 
They're always looking for free stuff online which actually leads them to the wrong path and failure.
That said…
It takes GOOD knowledge and a proper skill set to stand right as an affiliate.
So… Be willing to invest in yourself to learn the best way to go about affiliate marketing.
If you're not willing to do that, well, I think affiliate marketing is not for you, find something else online to do.
Who Are The Top Affiliate In The World
There are a handful of affiliate marketers out there but Nathan Lucas is the affiliate marketer I admire a lot.
I know when it comes to affiliate marketing Pat Flynn is considered to be a top affiliate by the majority of people. 
But Nathan Lucas has been able to take his business to a whole new level in just a couple of 3 years.
Nathan Lucas is recently ranked as one of the most successful and richest YouTubers out there.
Nathan Lucas started from nothing and today his estimated monthly income is well over $500k.
You may not believe that figure but it's very true.
As an aspiring marketer, you can check his YouTube channel and find out more about him and probably learn a few things from him.
Main website: Freedominfluencer.com
Here Is A List Of Some Of The Successful Affiliate Marketer Out There:
There are lots of entrepreneurs who are making huge money as affiliate marketers. 
You may recognize some of these people as successful marketers:
(Appreciate If You Pin This Into Your Pinterest Board)

READ NEXT: Who Is An Affiliate Marketing Manager
FAQs!
Who Is An Online Affiliate Marketer?
An online affiliate marketer is simply someone or an advertiser who promotes other people's or companies' products over the internet using various online platforms. They promote the product using their affiliate link and once a customer has bought the product using their affiliate links – they get paid a commission by the merchant.
Are Affiliate Marketers Consider As An Employee?
No, they are not. Affiliate marketers are actually considered as a partner with the company, not employees. Employees have a contract agreement with the company but affiliates are self-employed and work independently. Employees get paid salary or wages but affiliate marketers, get paid depending on how many products they sell through their unique affiliate links.
Affiliate marketers can decide or choose what program or company to work with or promote. And they can promote as many companies as they like, so I personally would not consider an affiliate as an employee
Who Can Be An Affiliate Marketer?
Anyone can become an affiliate marketer provided they have a laptop with an internet connection and a willingness to learn and put in the necessary work that is required to succeed as an affiliate marketer.
Do Affiliate Marketers Make Money?
Yes, there are a lot of affiliate marketers who are making decent income simply by promoting other people's products. 
That said, to earn a good income as an affiliate you need to have proper knowledge about affiliate marketing.
The more you know about affiliate marketing hopefully, the more you'll earn.
Money is made mainly through successful Ads, engaging and valuable content, sales conversions from followers, and a growing client base. There are some more, but these are my main ones.
How To Sell As An Affiliate Marketer?
There are many great ways you can sell your affiliate product. 
One of the best ways to sell affiliate products is to find a marketplace with a high demand for a product and market your product there.
You can create an in-depth video or write an article about the product, that'll guide your audience through the process of using the product, and then place your affiliate link within the post.
In your review make sure you place the affiliate link in a specific location within the post.
Including a link in a specific location will encourage your audience to check the product out.
Another way to promote affiliate products is through emails. If you have an email list, you can write email content and include your affiliate link in the post, and send it to your list.
How Do Affiliate Marketers Make Money?
Affiliate marketers make money by sharing useful and valuable content to their audience either on a blog, YouTube channel, or social media platforms. 
And then add their affiliate links within the content and when their readers or viewers see and click on the link and purchase the item they get paid.
The more engagement their content gets, the more money they're likely to make.
How To Find Affiliate Marketer?
According to user Hetty Korsten on Quora, if you're looking for affiliate marketers to promote your product, find influencers and experts in your niche. These are the people with the right audience and perhaps the interest in becoming your affiliate.
Who Is The Target Audience For Affiliate Marketers?
Well, the target audience for affiliate marketers will be determined by the niche you're in and what you're selling, and who you serve. 
For instance, if you're in the health & fitness space, naturally your targeted audiences are people who have health issues and are looking to improve their health.
So, it all depends on the niche you're in.
What Are The Responsibility Of An Affiliate Marketer?
There are so many responsibilities that affiliate marketers undergo, below are a few of them:
To promote the vendors' products and generate as many sales as possible.
To track and keep a record of every single number.
To make as much money as possible.
To generate the highest ROI on his or her marketing campaign.
To pay taxes on time.
To delegate tasks that don't need his or her personal attention or effort.
Why Can't I Make Money As An Affiliate?
If you're not getting any sales with your affiliate product or services, that simply means you're going the wrong way. There are right and wrong ways to do affiliate marketing.
That said, one of the major things that can prevent you from getting affiliate sales is when you're not providing any useful value and building trust and relationships with your audience.
P.S: You can read more on some of the reasons why you're not making any affiliate sales.
That's It Folks!
Wrapping up on who is an affiliate marketer? And how to become an affiliate marketer? Affiliate marketers are parties or people who spread the word about someone else's product in order to help the product creators to generate sales in exchange for percentage commissions.
Being an affiliate marketer is a great way to make money online by selling products that you don't create yourself and still make a good income.
However…
Being an affiliate marketer is real work, those that'll be consistent in putting in the work and the time are the ones that will see real success.
Because…
Affiliate marketing is a business if you approach it as a business, you'll get business results.
If you approach it as a hobby, you'll absolutely get a hobby result.
ALSO, READ!
Is Affiliate Marketing Worth The Effort