How to become successful on Fiverr? How to make money on Fiverr? What gets sells most on Fiverr?…
These are what people normally ask every day about making money on Fiverr. So I did a little bit of research to help you with how you can make money on Fiverr.
You can make somewhere between $5 to $10 a day or even more depends on what you offer and the work you put in.
There are many ways one can make money on Fiverr and in this post, I'm going to show you some actual ways you can make money on Fiverr as a beginner and the strategies I use that help me to make $200+ a day on Fiverr.
If you are new to fiverr I'm going to walk you through some of the best ways that you can possibly make money on fiverr and how to take advantage of each of them.
And if you are already using Fiverr to make money online, stay behind because I will be sharing some strategies that you can leverage to increase your income using Fiverr.
(This page may contain affiliate links, if you go through the link I will make a small commission which is no additional cost to you but help me to focus on delivering more content that will help you and others) Thanks For Your Support!
Now before we dive into how to make money on Fiverr let's first take a look at what really Fiverr is?…
And what are some ways to make money with this platform?
Fiverr is a website and at the same time a marketing place where people can offer their services, also known as "gigs", such as ebooks, blog posts, logo design, business cards, etc for as low as $5.
However, there are many ways to increase the amount that you can earn depending on what you are selling. 
If you implement the strategy that I will be sharing with you here in this post, you can earn more than $5 that most people are earning on Fiverr a day. 
But before we go over all these things, I want to give you my affiliate marketing ebook for free to learn step-by-step how to build a 6-figure business leveraging the power of the internet.
Because we'll be looking at how to use Fiverr to generate leads for your affiliate product. Download the ebook here
This Is What To Expert In This Post:
1. What Is The Best Way To Make Money Fiverr
2. What Should A Beginner Know To Make Money On Fiverr
3. How To Become Successful On Fiverr
4. How Much Can You Earn On Fiverr In The First 2-3 Month
5. What Get Sell On Fiverr Fast
With that being said let dive in:
What Is The Best Way To Make Money On Fiverr?
There's no best way or trick to making money on Fiverr. The only TRICKS or best way to be successful and make money on Fiverr is to start working on the METHOD of making money on Fiverr and also focus on the niche you are in.
You need to treat Fiverr as a place for business NOT just to make money quick, and focus on taking massive actions as a business owner.
You need to market yourself and also spend time making whatever you are going to sell on the platform to look best, and also make your profile picture look a little professional, I mean your profile should look great so it can attract people to you.
Also make sure everything you offer is valuable, quality and can help people meet their needs and work on ways to bring clients to your Fiverr account so you can get eyeballs on what you offer.
And most importantly it takes time, effort, and commitment to see success on this platform, so be patient and take massive action.
 Now, let me share some of the ways that you can take advantage of to start making some income on Fiverr…
 Here are some 10 best ways to make money on fiverr:
1. Sell Ebook
Most of the ways to make money on this platform require you working a job before making some money and instead of you working over and over again earning $5 per order.
You can instead write an ebook that provides value and sell it to customers that's in need of it again and again so far as you own that ebook by yourself.
2. Become A Virtual Assistant
You can spend some hours of your day doing virtual assistant, working for entrepreneurs or businesses from a remote location. You can do work such as marketing, scheduling appointments, etc. Virtual assistants normally do everything that involves work.
3. Design Business Cards
If you have the skill on how to design a beautiful business card, you can put yourself on Fiverr and advertise yourself. There are tons of entrepreneurs who are in need of business cards and will hire you to design one for them. 
4. Offer social media services
If you are an influencer or have tons of followers on social media such as Facebook, Twitter, Instagram, youtube, etc and can help people drive traffic from those social media to their websites.
You can earn $5 on Fiverr by driving just traffic to their web pages because people are very eager for traffic to promote their services.
5. Design flyers
Graphic design has become so popular as the journey of online entrepreneurship is growing day by day.
Most entrepreneurs are in need of a design that will enhance their website and business as well… SO is a plus for you to make some income if you have knowledge in this field.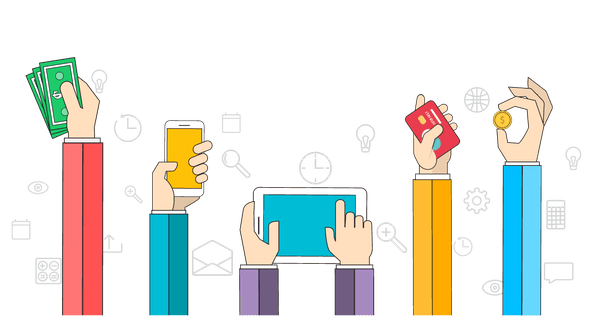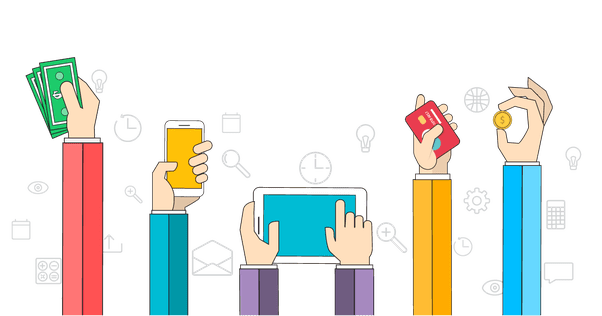 6. Write a review
Companies and individuals who have their own product to sell on the internet want people to write very good reviews about the product before they can put it out there for sale.
And If you have the skill of writing faster and can write a very good review and can write between 500 to 1000 words in just less than 10 to 20 minutes, you can offer a gig on Fiverr, and people will find you and hire you.
7. Alter pictures
If you can edit Photo by removing the background off  and making it look beautiful you can make some decent income on fiverr.
There are a lot of companies and individuals who are looking for ways to remove photo background and use it on their website.
8. Create digital drawings
In the world of the internet we live in now, people are always looking for awesome custom graphics for their pictures and if you can create digital drawing, you can make money doing that.
9. Get paid to write
If you can write quality content, there are tons of companies and bloggers out there, looking for people that will write content for them to post on their website, you can get paid handsomely.
The key here is to write high quality and valuable content so your buyers will keep coming back.
10.  Marketing and get paid
You can use traffic sources to promote other client services or websites and can send tons of views to their site, you can make $5 in as little as a minute.
These are some proven ways to make money on Fiverr and if you can focus on one of these ways, you can make some decent income…
Remember: There's no trick or shortcut to make money on Fiverr. The only "Trick" of becoming successful and making money on Fiverr is to provide value to buyers who are in need of it.
Again there's nothing like a trick on Fiverr so never spend your precious time searching for tricks and shortcuts, instead, what you should do is to focus on doing what you do best and learn a skill on how to position yourself in a way that will be beneficial to your buyers.
Next, looking at how you can use Fiverr to generate leads for affiliate marketing products and how you can increase your income as a beginner…
Do you want to learn how to make money with affiliate marketing from scratch? CLICK HERE to join now
What Should A Beginner Know To Make Money On Fiverr?
There are alot that goes into making money on Fiverr and what you should do as a beginner or expert to be successful with this platform.
And there are also some things to consider while using Fiverr to avoid being blocked from the platform and will share all of that with you here.
Fiverr is still a fantastic way for beginners to start making some money online.
So let me walk you through and show you guys exactly what you should do to find some success on the platform.
I think this strategy is still more effective today and maybe it's something that you should focus on more and more.
I will also show you strategy to use Fiverr for affiliate marketing and how to make more from a customer in terms of upselling and how you can automate the process.
But that doesn't mean you won't put in the work, with any business you still have to keep eye on the business.
You need to make sure things are into place on the the platform 
You need to make sure things are converting and are optimized. 
You need to keep your eyes on the business. 
Make sure things are converting and optimized well. 
Promote your gigs regularly. 
Make sure your gigs are profitable and successful on Fiverr.
Take a careful look at the following to increase your chance of succeeding on Fiverr:  
1. Setting up your gigs
Setting up your gigs on Fiverr successfully is the number one thing you should focus on doing first and it's pretty easy. All you need to do is to just pick a very good title that stands out and that will get attention from people.
You need to place some really good keywords in your title so when people search on Fiverr for those keywords then your gigs will show up in the search result. You need to have a very standing and eye catching image of your gigs so people can get to click on it.
If you are a beginner you need to have a really good description and a very quality offer. Having this done can help you get more sales and help you to get more reviews from your buyers and as you start getting reviews and feedback it will help you to boost your Fiverr account and your gigs to become popular.
2. Have a video for each of your gig
Having video to go along with your gigs can really help you have more success on Fiverr because it helps you stand out as an expert and someone who knows what he or she is doing.
You can convert your customers a lot better and faster when you upload very quality video to your gigs. You can show yourself in the camera to explain what your gigs is, what it does and it will make people feel you are really person and be able to connect with you more.
3. Be Patience
 Making money on Fiverr, You need a whole lot of patience and know that it takes time. And when it comes to selling your gig on Fiverr, you need to have patience with the buyers.
Don't charge them a lot of money and if they don't buy your offer don't bother, move on.
Also be smart and reply instantly when people message you because buyers contact more than one seller at the same time and if you are able to reply to them fast they will want to buy or order what you offer.
And as you are starting up, you need to offer $50 to $100 worth of work just $5 to build trust with your buyers and to get some good reviews from them.
4. Use Fiverr to generation leads for affiliate product
Most successful marketers you see on Fiverr making a lot of the money, probable making a full-time income on Fiverr use the platform to generate lead for other product by giving away some that is valuable to their buyer and then promote different product to them being affiliate product or their own product, which would increase the lifetime value of the customer.
Using Fiverr to generate leads for your online business or affiliate product and promote more products to them can help you earn a lot more money from them…
If your main focus is just to earn money from the gigs that you are offering on Fiverr then you are missing out a whole lot.
Making $5, $10, or $20 uploading those gigs on Fiverr and manually doing the work won't give you financial freedom, not talk of making a full-time income on Fiverr.
 –  How to capture leads on Fiverr…?
So the smart way to do this, to capture your buyer's email address and make more money from them is to set up a page where you give them something for free, being an affiliate marketing course or something that's helpful that show them how to do something or how to make money online or to do something that's profitable.
And the only way for them to get that is to sign up for a free account and as they sign up to get that, you already capture their email address.
And as the course was more valuable to them and add value to their lives they will want to get into the entire course.
And the only option to get the entire course is to purchase to have full access to the course and That's how you can make more money from Fiverr and be able to make a profit from the platform.
By providing more value that will better your customer's lives and then promote a different product to them being an affiliate product or your own product.
How Do I Sell More Product To My customers?  Great!
Building trust and a relationship with them is one of the best ways you can sell more products to your customers and make more money from them.
So how do you build the TRUST and RELATIONSHIP…?
You do this by first surveying them to identify their biggest problem and as you have identified their problem, now you need to find a way to help them solve that problem.
You can solve their problem through creating valuable content, free ebook, free training course, and give them for free on a daily basis, but it must be valuable that solve a specific problem they are having challenged with.
And as you have given them that for free, you are building relationships with them and as time goes on they will begin to know, like and trust you and from there you can promote more of a different product to them.
They are more likely to buy because they now know and trust you that what you are recommending is going to help them.
All this is going to be done through an email provider AND the email software i recommend using for this is call Getresponse.
Getresponse is an email provider that I have used myself and it has very helpful features that will help you to capture leads and at the same time follow up with your leads with an autoresponder.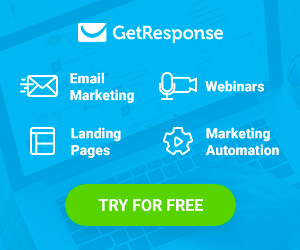 If you are ready to build an email list you can get started HERE with 30 days free trial…
I'm an affiliate to this service and if you do go through the link I will receive a small commission which is no additional cost to you but help me to focus on delivering more content to help you and others… Thanks for your support
Here is the link  one more time…
– Passive income
Building an email list and promoting other products to your list can get you to a position where you'll be earning passive income.
Why? Because email marketing is powerful and you can make money just by pushing a button if you have really built a strong relationship with your list.
Focusing on offering gigs on Fiverr is an active income where it always requires your time and effort, you're trading your time for money and that's not a smart way I think…
You want to be making passive income, and these strategies on Fiverr can allow you to do that.
.
Every successful affiliate marketer you see online today focuses on Fiverr to generate leads for their affiliate product because they get high quality leads that convert quickly.
I have an affiliate marketing course that I give away for free to generate tons of leads a day. You can check it out HERE  it has tons of free training you can give away in exchange for leads if you join.
It's a step-by-step video training course that teaches people how to build 6-figure businesses leveraging the power of the internet, how to make money with Affiliate marketing and everything. 
BONUS TIPS: You can create Fiverr gigs to intentionally attract customers and make $5 or $10 and more importantly to capture leads and promote Affiliate marketing courses or products that could  benefit them. That's the strategy that most successful marketers utilize.
5. Create Original Gigs
When creating your gigs on Fiverr you need to make sure you are not copying anyone's gigs, your gigs description and text should be different from others and it should be in unique form.
Your images, audio, videos, and profile should not be similar to others.
6.  Maintain a Professionalism
You need to be polite and calm when chanting with a buyer or a seller on the platform, absolute professionalism should be something that you should practice on the platform to be able to become successful.
If people don't see any professionalism in you, you might lose customers and make no sale. Professionalism should not be practiced on Fiverr only but on every platform.
7. Do not spam or indulge in Phishing-
Posting things such as offers and questions, etc which are not relevant or about gigs order with sellers or buyers can get your account get blocked.
Sending spam links may also result in your account being blocked as well, so be mindful of what you post on the platform and how you relate with others with some kind of stuff.
If you are using the platform for business then focus on that. 
8. NO Adult Content
If you are using Fiverr to grow your business then you don't need to post ANY adult content on the platform apart from your gigs.
Posting adult content it's strictly prohibited on Fiverr and your account can be permanently deleted from the platform.
If you really want to make money on Fiverr then provide value that is helpful and never post any harmful content on the platform.
9. Automate Your process
Doing a lot of thing on Fiverr require a lot of time and effort. I know you must be wondering how a lot of people on Fiverr putting in all of these work and make just $5 per gig?.
Setting up a gig, creating a video, and promoting your gigs and make just $5 all seem to be time-consuming and waste of time right…
Guess what! There are a few ways you can automate your process and can do this when someone requests an order.
1. Set up automated messages –  setting up an automated message can help boost your process and make things faster for you.
You can pre-write a message template ahead and if a customer orders, all you have to do is to just copy and paste the message template and send it to them.
Copy and paste are some of the best and fastest ways to deliver your gigs to your customers.
Because as time goes on your gigs will become popular, you might be getting hundreds of orders a day and copy and paste can make the process faster.
2. Hire Virtual Assistant – The other way of automating your process is if you have a virtual assistant, you can let them make a complete gig for you for $3. 
And if you upload that gig Fiverr will pay you actually pay you $4, you would be earning $1 in profit.
You can find a virtual assistant that is cheaper than $3 and let them do the work for you.


10. Provide more value than what customers you pay for
When you provide more value than what your customers pay for, they are going to like you and eventually become a loyal fan of you.
They are going to buy whatever you offer, they are going to buy more of your gigs and follow you on Fiverr and buy different things you offer because of the value you provide along with your offer.
Thses are some of the things to look up to when starting up on Fiverr and if you can take this step into action and practice them, success is bound to happen for you.
You Can Get Started With Fiverr HERE And Start Your Journey Of Success


BONUS TIPS: The key to be successful with your gigs, is to have gigs that people want and what people are looking for on Fiverr, that's popular on Fiverr, that's trending AND what people searching for.
Fiverr is a search engine as well and you can take advantage of all that to know what to do.
They have a lot of different categories. You can search some of their categories, and see what's popular, and see what skills do you have that people would be interested in that they would be willing to pay for.
You can find other successful people on the platform that have successful gigs and model them but don't copy exactly what they do.
Just model them and create your own unique gigs that are far better than theirs. If you can do this you can really take off fast and make this whole thing a really successful business.
How To Become Success on Fiverr
Everyone who wants to be successful on Fiverr has to learn the platform. You should know what works best and what doesn't work on the platform
And as you know what works best you need to find what you love doing and work hard to become an expert in it.
As a beginner choose a niche that's trending and master a skill set that can help you make more sale because as a beginner you won't be able to get orders fast so the skill you should leverage is to send 10 request to buyers on a daily basis.
How Much Can You Earn On Fiverr In The First 2-3 Month?
How much you can earn on Fiverr it all depends on our level of expertise and skills you have and the number of orders you get and deliver on a daily basis or weekly.
And If you are just starting up on Fiverr then you have to start taking every work at a low price that others are not willing to do and deliver more than your competitors are doing a day.
You need to deliver good work to get reviews and positive feedback from your customers so you can get more orders every day from others. 
Also the amount you can earn on Fiverr depends on the niche you are in and what type of project you offer.
You can make more if you offer services like Video marketing, Mobile App Development, Website building, Search and Display Marketing, Chatbox development, 3D and 2D Models, Graphic Design, Business Copy-Writing.
According to Fiverr these are the highest gigs on the platform that people pay a lot for.
That being said let's go over how much each of these costs if you wanted to get into one…
These are what sells most on Fiverr:
| | |
| --- | --- |
| SERVICES | INCOME |
| 1. VIDEO MARKETING | $300- $18,000  |
| 2. MOBILE APP DEVELOMENT | $300-$3,000 |
| 3. WEBSITE BUILDING | $100-$3,000 |
| 4. SEARCH AND DISPLAY MARKETING | $100-$2,000 |
| 5. CHATBOX DEVELOPMENT | $10-$2,000 |
| 6. 2D AND 3D MODEL | $100-2,000 |
| 7.GRAPHIC DESIGN | $100-$3,000 |
| 8. BUSINESS COPY-WRITING | $100-$2,000 |
WHAT SELLS MOST ON FIVERR
When you offer the highest paying gigs on Fiverr you can probably make thousands of dollars a day. There are a lot of people using just Fiverr to earn a full-time income.
Thses are what sells most on Fiverr, providing this service can really help you interms of income because of it high demand in the market.
conclusion!
There's so much more potential beyond making money on Fiverr and become successful. And if you can take action on this few this i just provide you with, you can make a very good decent using the platform Fiverr.
The name of the game of making money online is by taking action and doing it consistency amd more importantly have Faith and belive everything is possible.
In some point along the way, it seem nothing is work but i have one word for you…  PRESS ON! PRESS ON!! PRESS ON!!!
Do You Want To Learn How To Make A 6-Figure A Month With Affiliate Marketing From Scratch?  CLICK HERE To Join Now.
Download my Ebook for FREE and learn step-by-step How To Build A 6-figure Business Leveraging The Power Of The Affiliate Marketing
SEND ME THE EBOOK
This website is dedicated to how to start an online business and make money online with affiliate marketing…
If this is something you love Please be sure to "Bookmark this page to come back to read more of our content.
Hope To Hear Your Success Story Soon.
BRIGHT KERSH ( RETIRED INFLUENCER.COM )