Affiliate marketing has become one of the biggest income sources for almost every online entrepreneur simply because they commit to learning and then implement what they learn. If you're just getting started, there are some action steps you need to follow in order to succeed online with affiliate marketing.
To succeed online with affiliate marketing, it all depends on your willingness to learn a few strategies to build the right foundations and then taking action on what you learn and having a long term mindset is the main key to affiliate marketing success.
The major reason why 97% of people who started affiliate marketing business fail is that they take a small action and expect to make money immediately.
And when they don't see the result they want, they tell themselves this isn't working, and guess what they quit.
When you approach affiliate marketing as a quick way of making money online and think I don't really have to do anything, you've already paralyzed your success.
The only difference between successful affiliates and the struggling ones is the action they take. Successful affiliates know that without putting in EFFORT and time, they won't get the desired result, so they put in massive work.
So in order to become successful, you must change the way you look at things and focus on taking action.
NB: Successful people never make excuses, they take action.
Without wasting much time let's dive into these steps to affiliate marketing success…
Be sure to read to the end, we'll be covering a lot here today and can literally help you.
(Disclosure: This page contains affiliate links, meaning I receive a small commission if you decide to make a purchase through my links, which is no cost to you. This helps me to focus on delivering more content for you and others ) Thanks For Support!
 6 Steps To  Affiliate Marketing Success
Affiliate marketing is a 14 billion industry but the sad news is that out of that only 3% of people are actually making really good income doing affiliate marketing.
The reason why that 3% of affiliate marketers are succeeding is that they treat this as a real business, they put in more effort and stay consistent.
The other 97% of affiliates who fail at affiliate marketing give up the first 6 months or a year simply because they don't get the result they desired. 
The amazing thing is that most people approach affiliate marketing as a get-rich-quick scheme or as a solution to their financial problems. 
To be honest with you, there's nothing like an overnight success, you need to follow a proven step, take massive action, and persevere to the end.
Here Are The 6 Actionable Steps To Affiliate Marketing Success:
Step #1 – Pick A Niche
Niche is a topic you're passionate about or interested in or even want to learn about. So pick a topic you like that you can continue to show up every single day irrespective of how you feel because it actually going to require you to show up everyday and work on it.
If you don't enjoy what you are doing, guess what, you'll quit, so it's important to pick something you enjoy.
Before picking a niche here some important questions to ask yourself:
Is there money in this niche?
Is there a high demand for products in this niche?
Are there good affiliate products in this niche?
And if you have found the answer to those questions and you're okay with them, then go ahead and pick that niche.
Finally, as you pick your niche you need to at least have a bit of knowledge about it. So the next thing you need to do is to enroll in a program that'll guide you step-by-step on what to do to succeed in that niche.
If you can't afford it, there are tons of free video tutorials on YouTube that can help you as well, however, the best thing is to enroll in a program.
Step #2 – Find A Converting Product
Here's where a lot of people get caught up by picking any kind of product they came across on the internet.
When it comes to selecting a product to promote, you need to pick something that's congruent with your niche.
And when you have found that product, take time to find out whether the program is actually good to meet your potential customer's needs or not. 
Furthermore, go ahead and purchase the product yourself and use it to see if it actually does what it promises.
Also check to see if:
Other entrepreneurs in your space are making money promoting this product or not?
How much commission are you likely to earn from the product?
Do they have strong customer service in case of troubleshooting? etc
This is all-important because this is where your income will come from and you don't want your effort to be in vain.
There tons of affiliate programs available on the internet. To find one you can Google ( Your Niche + Affiliate Programs) and you'll discover some cool ones.
If don't want to stretch yourself, you can choose among these popular ones;
Amazon Associate
ClickBank
ShareAsale
CJ Affiliate
JVZoo, etc.
You need to sign up with one of these programs and get approved before you can start promoting their product.
Step #3 – Pick A Marketing Strategy
Apart from picking your niche and product, marketing is the most important aspect of any business, it doesn't matter what business it is. Without a proper marketing strategy or plan your business won't grow and along the way you'll fail.
Whatever business or product you're promoting, you need to get that business or product in front of potential customers or people who it will help or who are actually looking for that product and all that will come with effective marketing.
But, with the help of the internet, there are many platforms, ways, and strategies you can promote your product and reach thousands of people.
You can use platforms like:
Pinterest
FaceBook
Forums
YouTube
Instagrams. etc
To promote your business or product. The only thing here is to figure out what will work best for you and stick to it and then be consistent.
Step #4 – Learn Funnel Building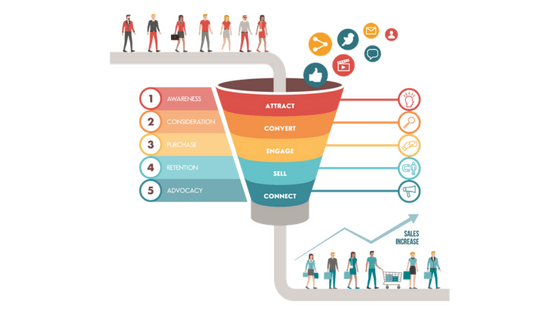 A sales funnel is a marketing strategy utilized to drive traffic to a business or an offer and guide people to become potential customers of a business. 
You need sales funnels in your business because it leads people to take the desired action without you having to do every step.
Sale funnels also help you if you want to automate and scale your business.
Here are the stages of sales funnels:
AWARENESS – At this stage your target interested audience in order to make your brand or business known and then start to collect their email addresses (leads).
       |
INTEREST – At this stage, they just (your leads) want to know more about your brand or business but they are not ready to buy yet.
       |
DECISION – Now, at this stage, it's where your leads show interest in your brand or business and are now considering making a purchase move.
       |
ACTION – After your leads go through all the processes, they'll now decide to buy your product. Here you have to make sure the product is going to help them accomplish their goals.
REMEMBER: Most people who visit your site enter a funnel but only a few will make their way to the bottom (thus, decide to buy a product you're promoting).
Now, the best way to build a sales funnel is to find a course that teaches how to build sales funnels step by step. You can also find some cool courses on Udemy about funnel building and it's free.
Step #5 – Learn Email Marketing
Up to now a lot of people still say email marketing is dead, in my opinion, that's not true. Email marketing still remains the number way for growing and scaling a business right here online. I know so many entrepreneurs who are making 6 to7 and even 8-figures per month with email marketing alone.
You need to understand this, all those social media out there, you and I don't own none of them and they can decide to shut or block our account anytime especially Facebook.
Building an email list, you own the list and you can do whatever you want to do with it because it's your email list. You can do a repeated sale with the same person over and over again so far as what you're promoting to them is going to help them.
If you call yourself an entrepreneur and you're not doing email marketing, guess what, you're leaving huge money on the table.
To start building an email list and leverage the power of email marketing, there are a couple of tools you're going to need such as (LeadPage, Aweber, Getresponse and convertKit, etc) but the one I'll suggest for you is Getresponse.
At the time of writing this post I still use Getresponse and my experience with them was amazing.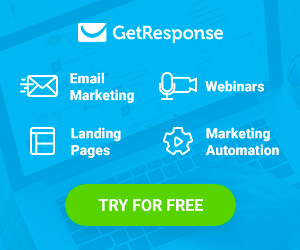 You can get started with Getresponse Here for free ( 30-days free trial)
(I'm an affiliate to Getresponse meaning if you sign up through my link I'll receive a small commission which is no additional cost to you but help me to focus on delivering more helpful content for you and others) Thanks For Support!
Here is The Link To Getresponse Again…
Email marketing has been one of the effective marketing strategies over the years and it's still effective up to date. It's reported that 87% of brands and marketers all across the world utilize email marketing to reach their target audience.
Here's some benefit of email marketing:
To Attract Prospects – 94% of people open their email at least 3-5 times a day. Leveraging the power of email marketing can help you grab the attention of those prospects to your offer or business and turn them into potential customers and buyers. 
It Helps Increase Sale – Email marketing can help you increase sales fast, most people decide to purchase a product after receiving an email. 
Easy To Get Started – You don't need to be a university graduate or technical expertise in order to be successful with email marketing. You can easily use already templates, images to create an amazing campaign.
Easy To Measure – One Of the amazing things about email marketing is that you can absolutely track and measure click-through rate (CRT) and the performance of your campaign. All email software has this feature.
Easy To Share – Your subscriber can easily share your message or offer to other people with just a click of a button. This literally can help you reach new ideal customers.
Step #6 – Take Action
Making money online is not as easy as it may sound, there's work involved. Don't believe anyone who said you can make this and that amount of money online without having to do anything.
All those promises are lies and they are just trying to deceive you in order to sell their course to you.
It takes real hard work, effort, and dedication to make money online. So you need to focus and be willing to work and if you can do that affiliate marketing can filthy make you rich.
CONCLUSION!
Above are the steps to follow if you want to succeed with affiliate marketing, however, you need to commit to the process and also learn as you go.
Important: Pick one method of making money online and then focus on it for a very long time until you start seeing the result before you move to a different one.
If you have reached the end of this post, BRAVO, let me know your thoughts on this post, and if you have something I can add to this post let me know in the comment as well.
What action steps have worked for you in affiliate marketing?